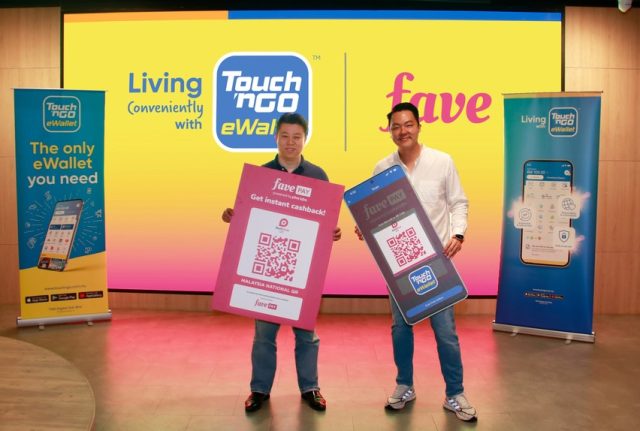 Touch 'n Go eWallet integrates with Fave to offer a brand new, convenient scan payment flow within the eWallet app that offers cashback rewards
More than 18 million Touch 'n Go eWallet users can earn cashback and The Goal Hunter stamps when scanning Fave DuitNow QR code at over 17,000 merchant locations in Malaysia
Fave is offering additional rewards during the launch campaign period from 7 January until 31 March 2023.
Kuala Lumpur, 11 January 2023 — Fave, Southeast Asia's smart payments app, has announced its partnership with TNG Digital Sdn Bhd ("TNG Digital") owner and operator of Touch 'n Go eWallet, and the launch of the Fave Loyalty Programme within Touch 'n Go eWallet. Through the partnership with Fave, Touch 'n Go eWallet users can now scan any Fave DuitNow QR, and earn up to 15 per cent cashback across 17,000 F&B outlets and retailers. Participating outlets include Subway, Auntie Anne's, San Francisco Coffee, Puma, Clarks and more.
The new service will create an easy, quick and rewarding digital payment experience on one platform. More than 18 million Touch 'n Go eWallet users will be able to earn cashback every time they pay for purchases by scanning the Fave-issued DuitNow QR code with a Touch 'n Go eWallet scanner and deduct it from the payable amount upon the next purchase. Users will also be able to link their Fave account and import all cashback, view and use the cashback for their purchases to create a unified experience and maximise their savings.
The partnership reinforces how Fave's vision aligns with Touch 'n Go eWallet's in providing a seamless and convenient mode of payment while rewarding a new generation of smart consumers in their day-to-day transactions. Merchants will now have access to more than 18 million Touch 'n Go eWallet users nationwide via the Fave DuitNow QR and extend their loyalty cashback to more customers, reconciling them under one FaveBiz platform.
"We are excited to be partnering with Touch 'n Go eWallet which manifests our continuous effort to create an integrated payment ecosystem that enhances user experience and creates more value with every digital transaction for all Malaysians. This partnership integrates both fintech capabilities on one single platform, enabling a smoother, faster, and simpler payment flow. As for our merchants, this partnership helps them capture new businesses while retaining customers as we brave through the uncertainties of the retail landscape together," said Joel Neoh, Chief Executive Officer of Fave.
"Rewards programmes are a proven strategy for growing and sustaining market share. Besides tapping into Fave's Loyalty Programme, this new partnership grants access to Fave's capabilities of offering rewards and savings options which will encourage consumers to shop digitally. We are pleased to team up with Fave to continue providing our seasoned and new customers with more value-added services coupled with the flexibility to pay and transact," said Alan Ni, Chief Executive Officer of TNG Digital.
From 7 January until 31 March 2023, Touch 'n Go eWallet users who make a purchase by scanning a Fave DuitNow QR code with the Touch 'n Go eWallet scanner will receive an additional 10% discount (capped at RM2) on top of the Fave Partner Cashback. Users can also collect Touch 'n Go eWallet's The Goal Hunter Campaign stamps for every transaction of RM10 and above throughout the campaign period.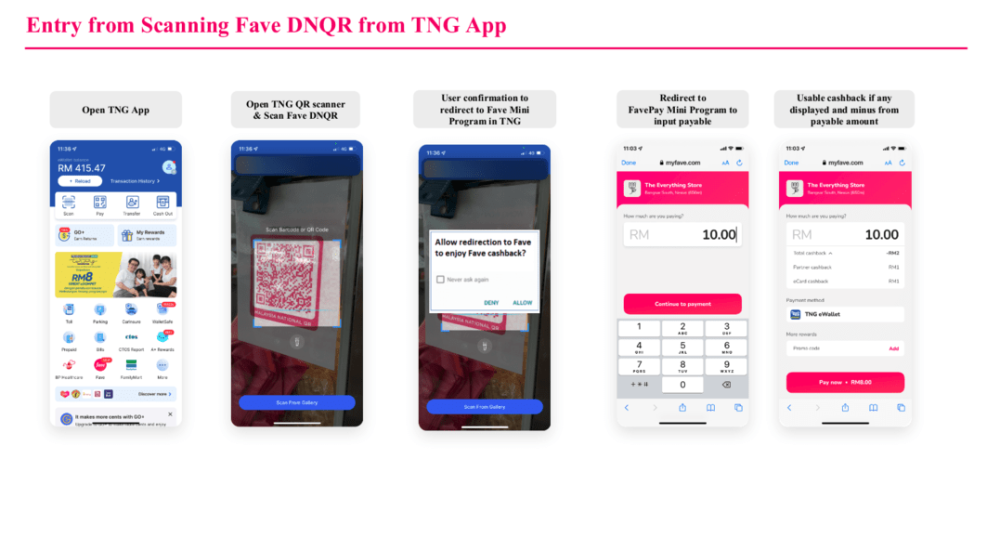 Here are the steps to earn Fave cashback and how to link an existing Fave account to the "Fave icon" in Touch 'n Go eWallet:
Scan Fave DuitNow QR with your Touch 'n Go eWallet
Tap "Yes I Want It" to continue to payment
Complete transaction
To link account to import Fave cashback:
Tap the Fave icon in your Touch 'n Go eWallet
Tap "Link your Fave account"
Enter your phone number for Fave account linkage
Upon successful account linkage, your cashback will be merged into your Fave account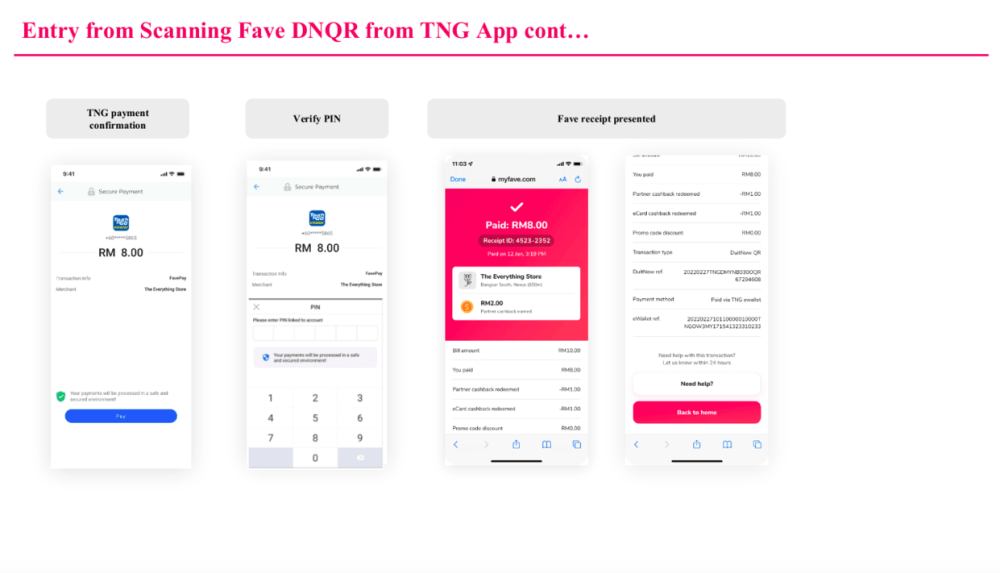 For more information visit: https://www.touchngo.com.my/promotion/