INDONESIA, 27 May 2019 – Millions of LINE's messaging application users in Indonesia can now enjoy seamless online shopping experience with LINE SHOPPING, launched in partnership with iPrice Group. Users can easily access the new content by tapping on the LINE SHOPPING tab now available on LINE Indonesia's messaging mobile app.
"We are committed to improving users experience in using LINE SHOPPING. E-commerce landscape in Indonesia is continuously evolving and we're always finding ways to enhance user experience. After thoughtful deliberation, we found that aggregator format is on-trend and has a promising future in Indonesia. This format gives convenience to ou­r users and will ease their journey in finding the best product with the best price, which is in line with our commitment in enhancing the user experience," explained Dale Kim, Managing Director LINE Indonesia.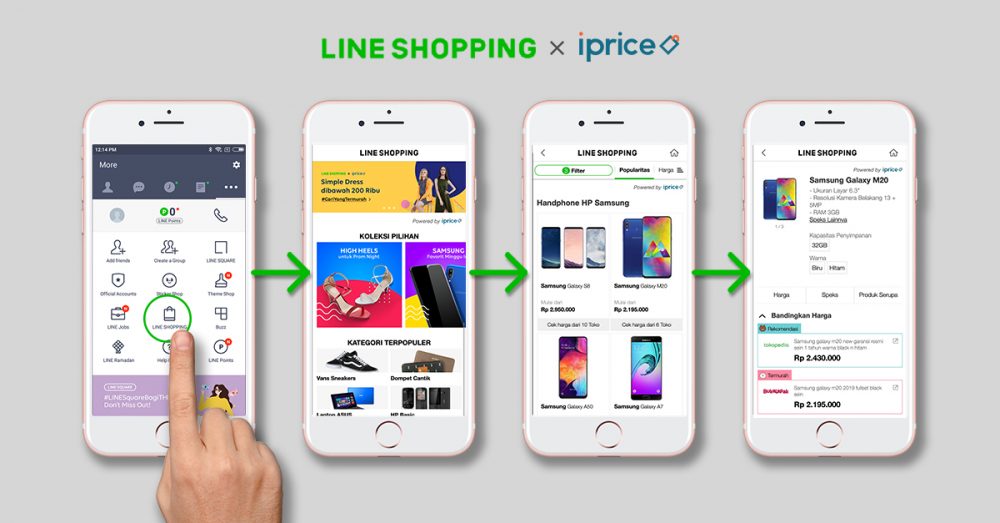 Screenshots of the all-new LINE SHOPPING feature powered by iPrice Group
LINE users can now experience a seamless journey in finding the best deals in a convenient manner and tailored to their preferences. Powered by iPrice Group, users can easily access the following categories on LINE SHOPPING:
Cheapest deals and affordable electronics, fashion, health & beauty products
Highly curated deals in conjunction with special occasions and festivals (E.g. Top red dress for Chinese New Year, top deals for Hari Raya)
Most popular and trending products
The introduction of this new feature is an expansion of the established relationship between iPrice Group and LINE which began since Q3 2018.
"iPrice is the expert in this field and has a wide range network within the e-commerce industry. We believe with LINE SHOPPING user base and iPrice expertise, we can give the best and most convenient shopping experience to our users," explained Fanny Verona, Strategy Director of LINE Indonesia.
On a wider scale, iPrice Group's meta-search platform currently curates more than 500 million products from hundreds of e-commerce merchants and marketplaces across seven major countries in Southeast Asia. †
"As the world of online shopping is increasingly saturated and sometimes confusing, iPrice aims to make online shopping more enjoyable by helping users find the best deals through our price comparison and product discovery platform. Through LINE SHOPPING, millions of users can now easily find the best deals and discover products curated specifically to their needs," said David Chmelař, CEO and Co-Founder of iPrice Group.
Currently, LINE Indonesia is the dominant communication and content platform for millennials in Indonesia which covers 85 percent of the messaging app's total active users. This is highly significant as 24 percent of Indonesia's population is made up of millennials, according to The Indonesia Millennial Report 2019.
To maintain continuous improvement in user experience for LINE's users, iPrice Group will be working closely with LINE to provide timely updates and engaging content for LINE SHOPPING. Currently, LINE Ventures and NAVER Corp, South Korea's leading Search Engine and parent company of mobile messenger app, LINE, are direct investors of iPrice Group.
About LINE Corporation
Based in Japan, LINE Corporation (NYSE:LN/TSE:3938) is dedicated to the mission of "Closing the Distance," bringing together information, services and people. The LINE messaging app launched in June 2011 and since then has grown into a diverse, global ecosystem that includes AI technology, fintech and more.
About iPrice Group
iPrice Group is a meta-search website operating in seven countries across Southeast Asia namely in; Malaysia Singapore, Indonesia, Thailand, Philippines, Vietnam, and Hong Kong. Currently, iPrice compares and catalogues more than 500 million products and receives about 20 million monthly visits across the region. iPrice currently operates three business lines: price comparison for electronics and health & beauty; product discovery for fashion and home & living; and coupons across all verticals.