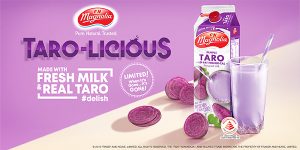 F&N Magnolia has introduced the new Purple Taro Milk in Singapore. It is made from fresh milk and real taro. This limited edition low fat, higher calcium flavoured milk is certified as a Healthier Choice by the Singapore Health Promotion Board for lower in sugar and lower in saturated fat.
The same company has earlier launched the limited edition NutriSoy Fresh Soya Milk with Purple Sweet Potato in early 2019. This soy drink is dubbed "Purple is the new soy" and has 3x more protein and 28x more calcium with antioxidant and anthocyanins than other 'fresh soya milk'.
It is clear F&N is harnessing the nutritional qualities of purple vegetables sweet potato and taro to improve its soy milk and milk drinks. Taro is trending at the moment and has found its way into the popular milk tea category.