Singapore, 28 May 2021    If chocolate makes everything in this world better, the darker side of chocolate is sublime. You can now delight your fondness for the distinctively enticing dark chocolate by drinking it. Introducing the new FARMHOUSE Dark Chocolate Low Fat Flavoured Milk, it is the rich and dark chocolatey goodness in a pack for that everyday indulgent treat you deserve.
Dark chocolate is increasingly gaining the favour of more chocolate lovers and aficionados due it its intense and splendidly balanced taste profiles ranging from sweetness, bitterness, and sourness. The top note of dark chocolate which comprises the alluring scents of roasted cocoa and fruitiness, along with its creamy and melty mouthfeel adds to the some of the many reasons as to why the treat is regarded as a prized pleasure around the world.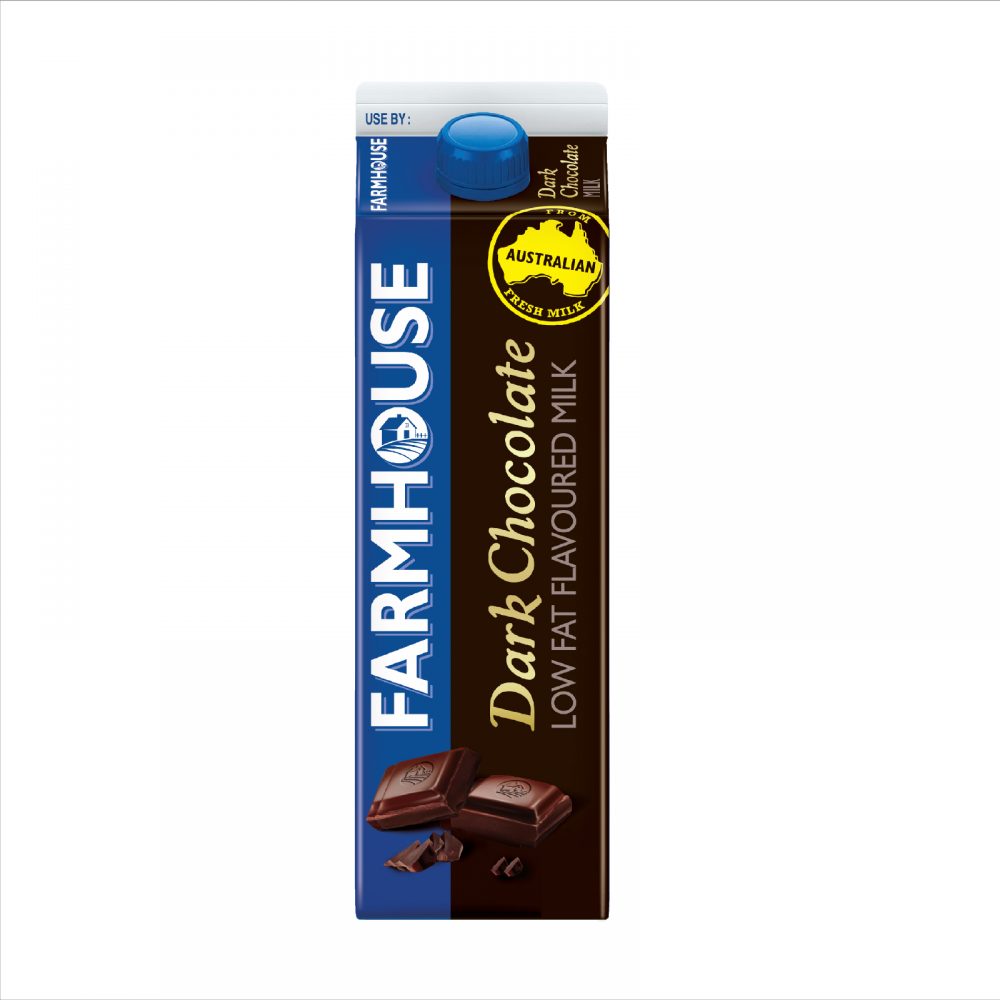 FARMHOUSE Dark Chocolate Low Fat Flavoured Milk is made using only the freshest and best-tasting ingredients Australia has to offer – vividly bittersweet premium cocoa with a 100% delicious fresh milk to fete you with the heavenly taste of bliss in a glass, perfect for all occasions.
For more enjoyment of 100% farm-fresh milk from Australia, FARMHOUSE also offers plain milk for everyone. With a world-class prominence and reputation in the production of fresh milk and fresh produce of the highest quality, everyone in the family can enjoy tasty and nutritious Australian milk with pasteurised FARMHOUSE Fresh Milk, and Low Fat Milk. Served as the excellent treat and nutrition for general well-being and strong bones, FARMHOUSE Pasteurised Milk is available in 1-litre and 490ml packs. For longer storage and convenience, FARMHOUSE Fresh Milk and Low Fat Milk are available in 1-litre UHT packs.
The halal-certified FARMHOUSE Dark Chocolate Low Fat Flavoured Milk is low in fat and high in calcium, and carries the Healthier Choice Symbol by the Health Promotion Board (HPB). It is available at the Recommended Selling Price (RSP) of S$3.30 for 1-litre pack, and S$2.50 for 490ml pack at most supermarkets, hypermarkets, and participating retails outlets. 
For more information, please visit www.farmhouse.com.sg
#FnN #FARMHOUSEMilk #FARMHOUSEDarkChocolate