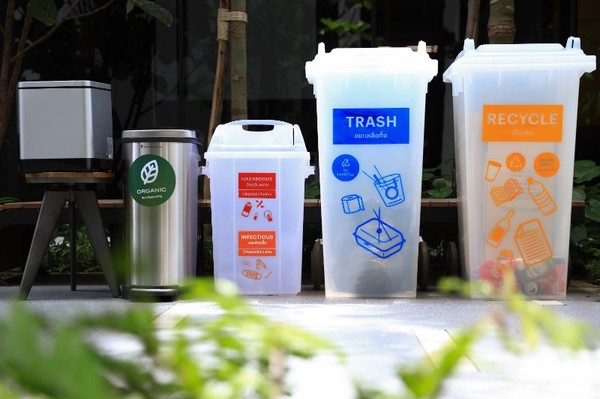 Bangkok–24 Aug 2020
The Coca-Cola system in Thailand comprising ThaiNamthip Co. Ltd., Haad Thip Public Co. Ltd., and Coca-Cola Thailand Ltd., is partnering with Sansiri PLC to pass on the vision of a 'World Without Waste' to the real estate industry by promoting waste separation at source through the 'Coke Collects x Sansiri Waste to Worth' project. Joining forces with Plus Property, a professional provider of comprehensive real estate services, this project will collect recyclable waste including beverage packaging generated from six residential projects in the T77 community and deliver those materials to proper recycling systems. This partnership reflects a mutual commitment of companies from different industries (non-alcoholic beverages and real estate) aimed at effective waste management to help minimize environmental impacts in a sustainable way.
'Coke Collects x Sansiri Waste to Worth' is another milestone for the 'Coke Collects' initiative that began with collaboration in supporting a source separation system for recyclable waste at Central Group's restaurants in 2019. This project is also a continuing partnership between Coca-Cola and Sansiri after the social experiment on nudging waste sorting behavior in collaboration with the Center for Behavioral and Experimental Economics (CBEE), Faculty of Economics, Chulalongkorn University. The results of this experiment suggested that the critical success factor to promoting waste separation was making the experience less burdensome and less complicated, which led to the introduction of newly designed bins in the T77 Community, and new communications to change the residents' perception towards waste sorting and drive implementation in the long term.
Pornwut Sarasin, Chairman, ThaiNamthip Company Limited, said: "One of the global goals from Coca-Cola's 'World Without Waste' commitment is to collect and recycle the bottles and cans sold by the company and achieve 100% packaging recovery by 2030. The Coca-Cola system in Thailand is working closely with partners who have shared objectives in an attempt to accomplish this challenging goal, and Sansiri is a partner also committed to promoting source segregation, which is considered key to reducing waste and maximizing the recycling of recyclable materials. As it is necessary to make waste sorting less burdensome and less complicated (the two main factors that prevent source segregation), Coca-Cola has engaged GEPP, a start-up that has developed a modern online waste collection platform, to oversee the project and help create a successful seamless operation."
In this collaboration, GEPP plays a role in supporting Sansiri's operations through Survey-Simplify-Educate procedures starting with an online survey to learn and assess residents' understanding of proper waste sorting. Sansiri has established a brand-new set of bins with basic illustrations and short messages designed from the findings of a social experiment to help simplify waste disposal among residents facilitated by Plus Property. GEPP is also responsible for educating staff and housekeepers about proper waste management and effective ways to communicate with the residents as well as liaising with the staff to make the waste collection schedule more specific. The data on waste collection by residential projects will be compiled by GEPP to further develop and standardize the system so that it can be adopted extensively in Sansiri's other residential projects in the future. After being prepared in late 2019, the actual operation of the project started in January this year.