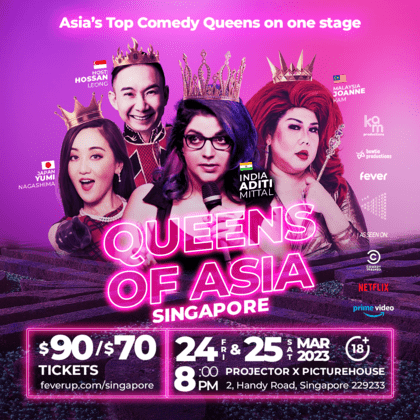 17 February 2023, Singapore – Come celebrate International Women's Month with stand up comedy female powerhouses Aditi Mittal (India), Yumi Nagashima (Japan) and Joanne Kam (Malaysia).
Aditi boasts a Netflix special 'Things They Wouldn't Let Me Say', Yumi is a Youtube sensation with over 31 million views and Joanne is the original Queen of Malaysia comedy.
Hosted by Singaporean national treasure Hossan Leong, the 1 hour 45 mins long comedy show promises to deliver a delightful night out featuring three different flavours of standup comedy packed into one!
From sex jokes, to shopping stories and savage truths, to the controversial topic of Singapore vs Malaysia, these three iconic women will put the "power" in "empowerment" with their trailblazing stand up sets.
Witness this femme fatale trio in a first-time-ever female-empowered comedy extravaganza 'Queens of Asia' at Projector X: Picturehouse at The Cathay.
Date: 24 & 25 March 2023 (Friday/Saturday) – 8pm
Duration: 1 hour 45 minutes
Rating: 18+ (coarse language)
Tickets are on sale now and available here.
Early Bird prices ($10 OFF): Zone A – $80, Zone B: $60
Normal ticket prices: Zone A – $90 , Zone B: $70