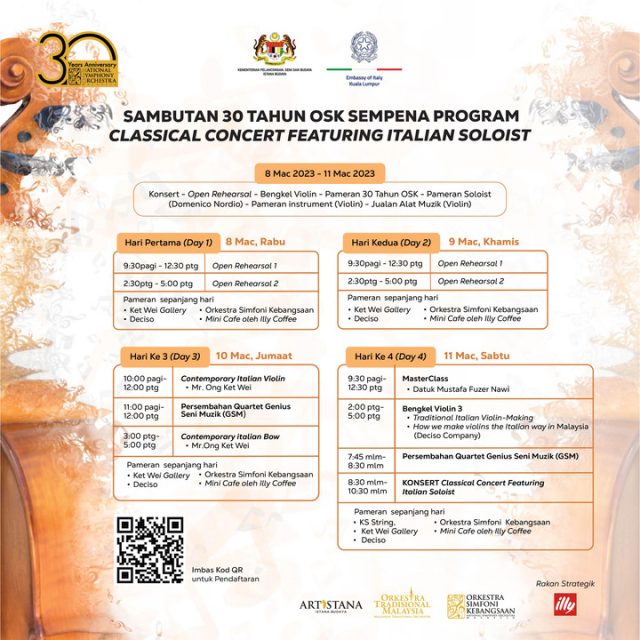 The Classical Concert Featuring Italian Soloist, Domenico Nordio will be the inaugural programme for National Symphony Orchestra (NSO) in conjunction with its 30th Anniversary celebrations. Since its launch in 1993, NSO has successfully staged various performances with famous local stars such as Wings, Anuar Zain, Dato' Sri Siti Nurhaliza, Dayang Nurfaizah, Yuna and many others. Among NSO's overseas performances are at the Esplanade, Singapore (2003), Tokyo and Osaka, Japan in conjunction with the Asia Orchestra Week 2004.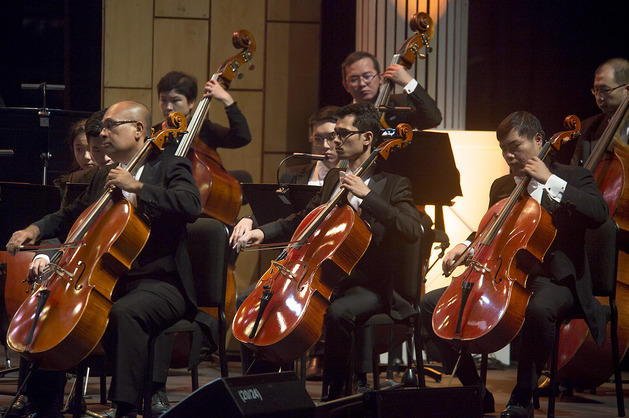 This collaborative programme with the Embassy of Italy in Malaysia will feature the most famous violinist, Domenico Nordio. He gave his first recital at the age of ten (10) and won the Viotti International Competition in Vercelli when he was sixteen (16) years old. His talent in mastering the violin musical instrument has engraved his name on the international stage as he was often invited to perform with the leading orchestras in the world.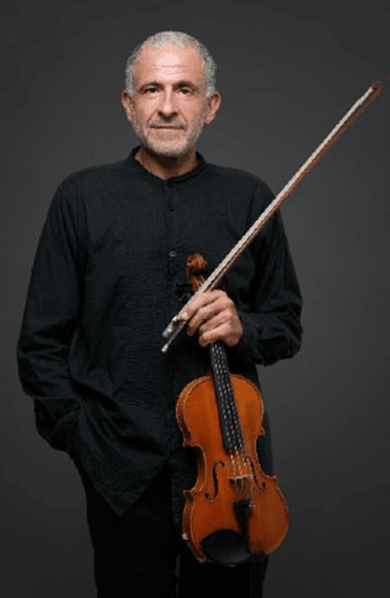 Mr. Nasran Nawi, Conductor of NSO when speaking about their recent preparation for the concert said 'First and foremost, we are enormously thankful to the Embassy of Italy in Malaysia for allowing NSO to perform with this prominent soloist, Domenico Nordio. Secondly, this kind of performance helps NSO's musicians to hone their skills as professional musicians, a total of 39 NSO professional musicians will be performing for this concert'.
Director General of Istana Budaya, YBrs. Puan Zubaidah Mukhtar also mentioned that this programme mainly focuses on promoting NSO as the National Orchestra and Panggung Sari Theatre as one of the prestigious performance spaces in Malaysia. "We hope this programme will give exposure and draw the younger generation's interest to know about symphony orchestras and western classical compositions. Concurrently, we work closely with the Italian Embassy in Malaysia to encourage more cultural programmes to be staged at Istana Budaya and believe this show will boost our country's tourism sector".
The 30th Anniversary celebration of NSO's establishment will be held from 8th-11th March 2023 (9.00 a.m. to 5.00 p.m.) at Lobby Area, Istana Budaya. Various interesting activities await music lovers at Istana Budaya. Among the programmes are; Open Rehearsal, 30 Years of NSO Exhibition, Exhibition and Sale of Violin Musical Instruments, Violin Workshop, Soloist Domenico Nordio's Exhibition, MasterClass by Datuk Mustafa Fuzer Nawi, Contemporary Italian Bow, Contemporary Italian Violin, Quartet by Genius Seni Muzik (GSM), Merchandise Sale and the most awaited performance, Classical Concert Featuring Italian Soloist, Domenico Nordio.
Istana Budaya welcome the public to participate in the programmes scheduled throughout the week, interested parties do not hesitate to contact Promotion Unit, Istana Budaya at 03-4026 5555 for more information. Tickets for the Classical Concert Featuring Italian Soloist, Domenico Nordio on sale from 27th February 2023 through Istana Budaya's website, www.istanabudaya.gov.my and Box Office Counter, Istana Budaya starting 8th March – 10th March 2023 (11.00 a.m. to 4.30 p.m.), 11th March 2023 (2.00 p.m. to 9.00 p.m.) for RM30.00 (Grand Circle & Upper Circle).