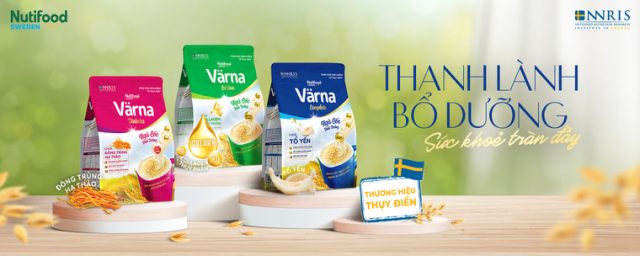 Vietnam's Nutifood has expanded into instant cereal drink with three functional cereal products catering to three specific segments. Nutifood developed the nutritious cereal with formulation from the Nutifood Nutrition Research Institute in Sweden (NNRIS) taking into account the Vietnamese health conditions.
Nutifood Värna Calcium contains nano calcium and hydrolyzed collagen to help strengthen bones and joints.
Nutifood Värna Complete comes with 12 vitamins and minerals to help maintain healthy bones, digestion and the immune system.
Nutifood Värna Diabetes is low in GI and has cordyceps and 9 essential vitamins and minerals to help strengthen the immune system. The cereal contains isomaltulose and fiber to help stabilize the blood sugar levels. It also has MUFA and PUFA, which may lower levels of unhealthy cholesterol and reduce the risk of heart disease.
Nutifood's new cereal drink products can serve as inspiration for other cereal drink players from Southeast Asia when they want to innovate in the functional space.