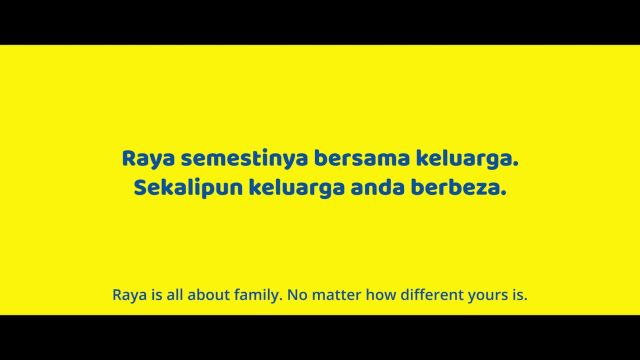 Bringing to light the issues faced by atypical families in its new festive campaign
Kuala Lumpur, 10 April 2023 – Julie's continues its tradition of creating provocative festive campaigns by launching their latest short film called Kisah Raya P.E.R.I.T (A Raya Story of P.E.R.I.T). This short film is part of Julie's annual Hari Raya campaign and ongoing efforts to break down stereotypes that people often face during the festive season as well as promoting unity and understanding between family members and in the community.
This year's short film features Timah and her daughter Farah, bringing the audience on a journey through their 'balik kampung' drive to attend Hari Raya celebrations throughout the years. The film brings to attention the challenges that Timah faced by being a single parent. In multiple scenes, viewers are brought through the typical, yet critical judgements usually dished out to single parents especially during the festive season.
The film goes on to highlight how these inconsiderate judgements affect those on the receiving end. Affected by the challenges faced during Hari Raya, this single mother goes out of her way to delay her trip every year to ensure that she spends less time with family members. The film done in both comedic and sentimental fashion shows how the single mother as part of this secret society called P.E.R.I.T (Persatuan Rahsia Ibu Tunggal) looks to end Hari Raya celebrations in 2023.
Tzy Horng Sai, Director of Julie's Biscuits said, "We have always used our creative short films to showcase stories of empowerment. This year, Kisah Raya P.E.R.I.T features the trials and tribulations of a single parent celebrating Hari Raya. We hope this will inspire people to be more understanding towards each other."
"Hari Raya is the best time to foster stronger relationships between families. Through Kisah Raya P.E.R.I.T, we invite viewers to practice forgiveness, embrace the diversity that exists within families and appreciate family members for who they are."
Kisah Raya P.E.R.I.T is produced in collaboration with Govt Singapore, the creative agency that helped create Julie's multiple thought-provoking festive campaigns. "Over the years, we've managed to gain a good following for the topics we choose for our Raya films. This year is no different, we wanted to embark on something that would trigger a conversation that would usually get swept under the rug because it's inconvenient or uncomfortable.
The story is a love letter to a single mum, told through the eyes of her daughter. The journey follows a rather different Raya celebration between mum and daughter, and slowly peels off the layers of single parenthood and the seasonal stigma that comes along with it.", said Aaron Koh, creative partner of GOVT.  
The Julie's Hari Raya short film is now available for viewing on their official YouTube channel. Scan the QR code here to find out the ending of Kisah Raya P.E.R.I.T. In conjunction with Hari Raya, Julie's is running a festive promotion #RiangRiaRaya, featuring its popular Love Letters with complimentary money packets. The promotion will also include Love Letters in lemon flavour, a festive only flavour and its classic flavours such as chocolate, vanilla, and strawberry. 
Get started on your Hari Raya preparation by purchasing the Love Letters at your nearest retail stores or online at the official Julie's Shopee and Lazada flagship store. To get continuous updates on Julie's latest promotions, contests, and activities, visit our website or follow us on Facebook at www.facebook.com/JuliesBiscuits and Instagram at www.instagram.com/juliesbiscuits.