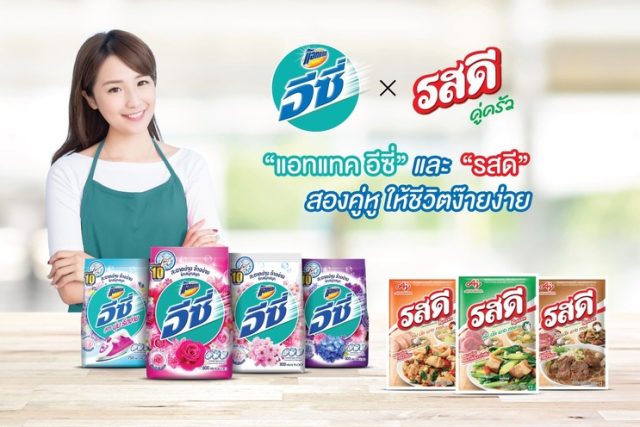 Monday 17 April 2023 – It's the first time ever for this pair of consumer giants company, laundry detergent maker "Attack Easy", part of Kao Industrial Thailand, and "RosDee", the multi-purpose seasonings by Ajinomoto Thailand, to launch a joint campaign, "Attack Easy x RosDee : Make Life Easier". The combined campaign aims to help out homemakers of every age group to save time with greater convenience in the promotion "serving up simplicity for happiness", for more people to have fun.
Khun Suphasiri Suthadkul, Marketing Director of Kao Industrial (Thailand) Co., Ltd. commented, "At present, most people live hurried lives and are spending more time working outside of their homes, which gives them less time to manage household tasks and next to no time left for themselves and their families. So we hooked up with Ajinomoto (Thailand) Co., Ltd. for the campaign "Attack Easy x RosDee just made life easier" which is all about alleviating the burdens of housework, whether cooking or laundry. Homemakers get a lot more convenience, and particularly the younger generation who are still learning homemaking skills."
The campaign, "Attack Easy x RosDee : Make Life Easier" is based on a series of activities and tips to make life easier and promote happiness as well as exclusive promotions. RosDee is the seasoning to spice up any dish, whether the food is boiled, fried, curried or even deep fried, to ensure great aroma and taste in a second. Attack Easy is the industrial-strength laundry detergent with a 10-fold force to completely eliminate any food stain in a jiffy. The effect is the same whether washed by machine or by hand. The hand-wash is a super satin feel, while the detergent gets deep into the fibers of the fabric, leaving a delightful and long-lasting fragrance with perfumed bubbles.
Khun Pimsorn Lert-utsahakul, Flavor and Menu Seasoning Business Department Manager, at Ajinomoto (Thailand) Co., Ltd. added, "This partnership has combined the strengths of these two huge brands who supply the answer to housework for consumers. We make difficult things easy. RosDee is the expert at cooking any number of dishes, while Attack Easy is able to remove kind of food stains completely. This campaign is aimed at the segment of younger people who are still learning homemaking skills, as it addresses the demands of fast-paced urban lives to give them more happy time. This also aligns with our consistent policy of The Ajinomoto Group Creating Shared Value: ASV)".
Discover the "Attack Easy x RosDee : Make Life Easier" campaign at participating stores and on Shopee. Catch up with the latest events and learn more tips on the fanpages of Attack Family and Ajinomoto Home Cooking.