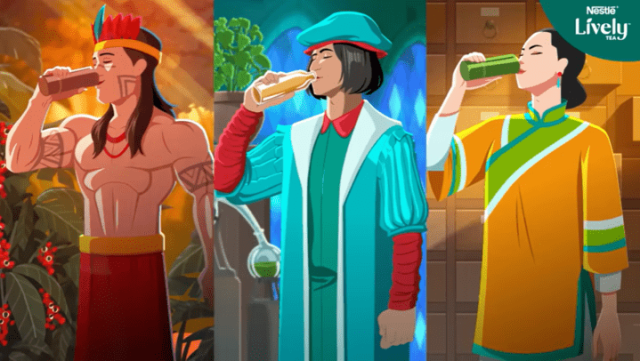 Nestlé Malaysia's latest commercial for Lively Tea uses cultural cues to educate consumers on the functionalities of its functional tea drinks. The objective of the commercial is to make Lively Tea relevant to its target audience. The first thing that Nestlé needs to address is how to inform consumers about the benefits of guarana, lemon balm and schisandra.
Lively Tea as a refreshingly delicious iced tea with botanical extracts that are known to help the body adapt and deal with day-to-day challenge.
The company achieves this by highlighting the functionalities and the origins of the ingredients using scenes from the deep jungles of Amazon to medieval Europe and into the traditional Chinese medicine hall in China.
In the commercial, the modern day white collar office worker is transformed into an Amazon warrior who uses the guarana ingredient, which is native to the Amazon rainforest, to help him to focus when hunting for wild animals in the jungle.
For lemon balm, the scene brings us to Medieval Europe where an alchemist exudes a sense of calm, thanks to the use of lemon balm, which is an ingredient native to Europe.
For schisandra, a Chinese looking lady is shown concocting traditional Chinese medicine in a medicine parlour. She demonstrates persistence, which is ascribed to schisandra. Schisandra is native to forests of Northern China, the Russian Far East and Korea.
All these ingredients help the modern day warriors deal with their everyday challenges.