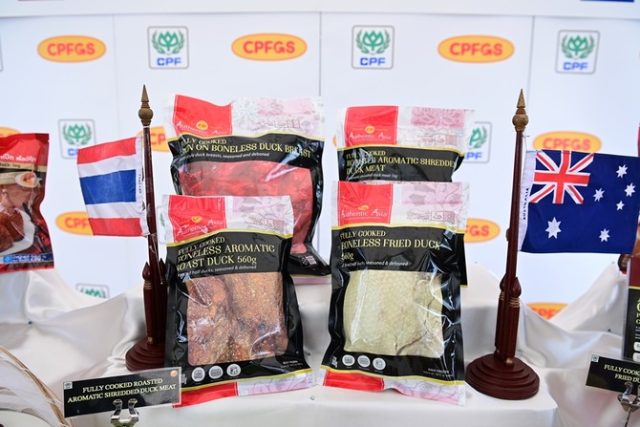 Charoen Pokphand Foods Public Company Limited (CP Foods) has been the first company in Thailand to send cooked duck meat to Australia, marking a significant collaborative trade achievement between the two countries. Around 500–600 tons of cooked duck meat, are expected to be shipped from CP Foods to Australia this year. 
The historic import of cooked duck into Australia took place after seven years of negotiation. The approval from Australia's Department of Agriculture, Fisheries, and Forestry came into effect on May 16. 
On June 12, 2023, Mr. Prayoon Inskul, the permanent secretary of the Ministry of Agriculture and Cooperatives, Dr. Somchuan Ratanamungklanon, director general of the Department of Livestock Development (DLD), and Mr. Prasit Boonduangprasert, the Chief Executive Officer of CP Foods, participated in the historic launch ceremony held at CP Foods' Minburi Poultry Processing Plant 2. The ceremony was attended by management members from both organizations, including Dr. Sopat Chavalkul, the deputy director-general of DLD, and Mr. Ekpiya Ua-wutthikrerk, Head of International Trade Business of CPF Global Food Solution Public Company Limited (CPFGS). 
Dr. Somchuan said that Thailand is the first country in the world to successfully export cooked duck meat to Australia, where the highest level of sanitary and biosecurity measures for food and agricultural goods are implemented. This first export batch is the result of collaboration between related government agencies and private sectors to develop the quality standards of duck meat production throughout the supply chain, as well as the 7-year-long negotiation that began in 2016. This achievement demonstrates that Thailand's duck meat quality and safety have been well-accepted at the international level and are ready for the global market arena. 
"Congratulations to CP Foods for being the first company to export cooked duck products to Australia. CP Foods has successfully complied with the highest level of sanitary and biosecurity import conditions of Australia and the Department of Livestock Development (DLD). This helps ensure that Thailand's food safety standards reach global standards," said Dr.Somchuan. 
Mr. Prasit revealed that Australia is not only a milestone for the company's market expansion but also a reflection of Thai companies' high ability to produce agricultural goods. Australia is a potentially strong market for duck meat, with an annual consumption of 50,000 tons, and the company sees an increasing demand for ready-to-eat duck meat in this market.  
This first batch of cooked duck meat will arrive in Australia this week by air. The company plans to export around 500-600 tons of cooked duck products per year, mainly including roast duck, shredded duck meat, and crispy duck pancakes. 
"The company expresses its gratitude to the Director General of DLD and the officials from DLD and other relevant organizations for their successful penetration of the Australian duck meat market. This achievement enhances the competitiveness of Thailand's livestock industry. The company remains committed to exploring opportunities for exporting cooked duck meat in potential markets," said Prasit. 
The duck meat products are certified with internationally recognized standards such as BRC (British Retail Consortium), SEDEX, and SMETA (Sedex Members Ethical Trade Audit). 
As a result, CP Foods' duck meat products are recognized by leading modern trade retailers in Europe and worldwide, including highly competitive markets such as Germany, the United Kingdom, European Union countries, Japan, Singapore, New Zealand, and more.