Starting with Singapore in 2022, the company is bringing its plant-based meats — including Asia's first whole-cut meatless steak — to Malaysia, South Korea, the Philippines and Vietnam, ahead of a series A funding exercise
Malaysia, 20 June 2023 — Green Rebel, Indonesia's leading food tech start-up, is ramping up its growth across the Asia-Pacific this year with partnerships with leading QSRs (quick service restaurants) such as Starbucks Malaysia and Nando's Singapore, ahead of a series A funding exercise by end 2023.
Since launching in Singapore — its first market outside of Indonesia — in March 2022, Green Rebel has rolled out in Malaysia (December 2022) and South Korea (April 2023), with the Philippines and Vietnam (August 2023) and other markets in the pipeline.
"From the very beginning, we have been building Green Rebel to be a global company," says Green Rebel CEO and co-founder Helga Angelina Tjahjadi. "We believe in taking a strategic yet personal approach to our expansion plan, and choose to work with B2B and B2C partners whose vision and business approach are in alignment with ours."
BRINGING PLANT-BASED FLAVOURS TO ASIA — AND BEYOND
Established in Indonesia in September 2020 at the height of the Covid-19 pandemic, Green Rebel's mission from the get-go has been to offer whole-cut plant-based meat alternatives for consumers in search of a healthier flexitarian diet.
"Over the past few years, we have seen a rise in flexitarianism — a diet that encourages eating mostly plant-based foods while allowing meat and other animal products in moderation — especially in Asia," observes Helga.
Part of the Burgreens Group, one of Indonesia's largest leading plant-based eatery chains, Green Rebel is available in over 1,800 distribution points in Indonesia, Singapore, Malaysia, and South Korea — including Starbucks Indonesia, IKEA Indonesia, Nando's Singapore, and most recently, Starbucks Malaysia.
With each rollout, Green Rebel's expansion strategy covers B2B and B2C partnerships specific to each market, backed by on-ground market research that delves in-depth into local tastes and preferences.
This month in Malaysia, Green Rebel partners with Starbucks to launch a special meatless menu featuring Green Rebel's Beefless Rendang and Chick'n Fillet. The Philly Steak Rendang Sandwich and Black Pepper Chic-ken Sandwich are available in 364 Starbucks outlets nationwide.
"In order to maximise the success of plant-based protein adoption in new markets, we always emphasise the importance of flavour localisation," says Max Mandias, Green Rebel co-founder and Chief Innovation Officer. "Our partnership with Starbucks Malaysia is exciting because it is a celebration of the culinary diversity of the Asian region, where beloved local flavours take centre stage."
Green Rebel is also distributed in 25 Jaya Grocer outlets as well as Qra Grocers, vegan specialty stores such as Vegan District Malaysia and Energize by Yobros, and SALA Kitchen — the largest vegan food chain in Kuala Lumpur.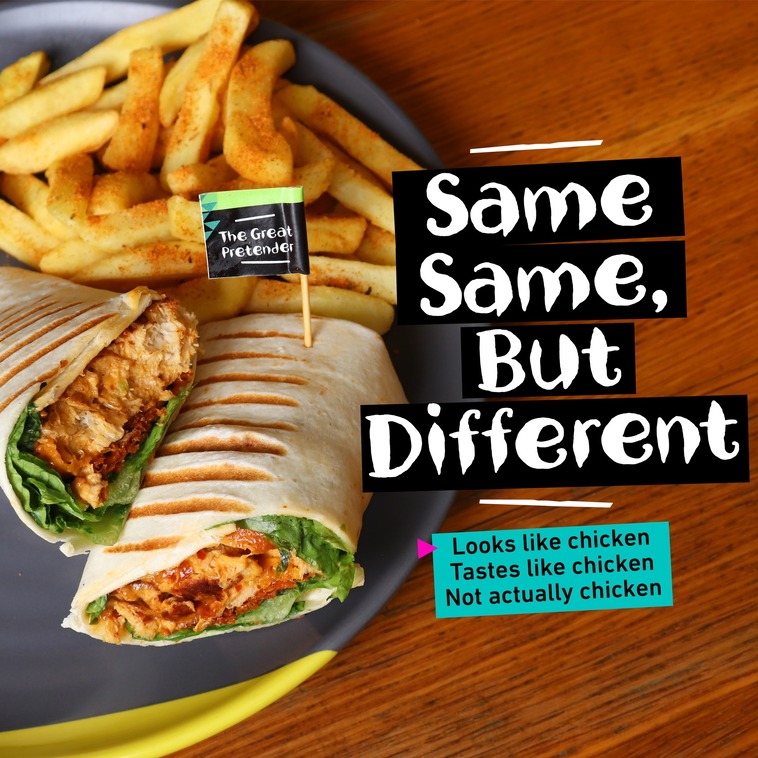 In Singapore, in addition to retailing its bestsellers like Beefless Rendang and Whole-Cut Steak in FairPrice Finest supermarkets and online grocer Redmart, Green Rebel has partnered with F&B concepts such as plant-based butcher Love Handle, local grill chain COLLIN'S® and most recently, South African chicken restaurant chain, Nando's Singapore. Part of The Great Pretender special menu, Green Rebel is the first plant-based brand that Nando's Singapore has partnered with since it launched in 2010. The vegetarian items are a plant-based twist on Nando's signature sandwiches — The Classic Chicken Wrap, The Classic Thigh Burger, and The Classic Chicken Pita — and are available islandwide since May 2023.
Green Rebel launched in South Korea in April with plant-based casual dining restaurants, Food Does Matter as well as Foodeome in Samsong and Jeju while frozen products are retailing on Eating Does Matter, an online marketplace specialising in plant-based brands. Green Rebel has also partnered with SDF International to distribute key SKUs including Chick'n Satay, Chick'n Chunks, Chick'n Karaage, Chick'n Katsu, Beefless Steak and Shroom Balls.
"While South Korea is a market known for being one of the world's top consumers of meat, in particular beef, interest in plant-based alt protein is on the rise with a projected 11.25% CAGR (compound annual growth rate) from 2023 to 2030," says Helga. "Awareness of mindful consumption and an appetite for alternative, plant-based food options have emerged at the centre of food trends in South Korea in recent years."
This is why, says Max, that Green Rebel's most popular products in South Korea so far are the Plant Mince and Crispy Fried Chick'n. "It simply shows us that there is potential for plant-based alt protein with Asian flavours in South Korea."
Coming up are plans to roll out in the Philippines and Vietnam in August, and a partnership with a regional airline to offer vegan meal options in Southeast Asian flavours — a first for Green Rebel.
THE ROAD AHEAD
One of the most exciting alt-meat brands to launch in this part of the world, Green Rebel's current regional and APAC expansion was funded by an oversubscribed US$10 million pre-A round in 2022 ahead of series A funding.
Investors included:
Unovis, a leader in alt protein investment with over 15 years' experience that has backed the likes of dairy alternative brand Oatly, and alternative protein brands Beyond Meat, Good Catch and Starfield (China's top alt protein brand);
Teja Ventures, a gender-lense venture capital fund investing in women-led and women-impacting startups
Better Bite Ventures, a mission-driven venture capital fund investing in APAC alternative protein startups with unicorn potential;
AgFunder, a venture capital fund investing in bold and impactful technologies that rapidly transform our food and agriculture system;
CJ Group (CheilJedang Group), the leading conglomerate focusing on Asian and Korean flavours
Kane Lim, Singapore-born entrepreneur and Netflix star who is also a Green Rebel ambassador
"We are also planning to launch a series A funding exercise by the end of this year, with a target of  USD8 to USD10 million," says Helga. "This will be used for global expansion as well as pave our path to profitability, so we are looking for strategic investors who can help us penetrate deeper in Asia, as well as expand markets geographically to Europe and the US."
"We have been hard at work launching in new markets, but also creating new innovative whole-cut plant-based meats and dairy-free alternatives for the growing flexitarian market in Asia," says Helga. "We're excited at the possibilities as mindfulness about healthy and sustainable eating grows in this part of the world."