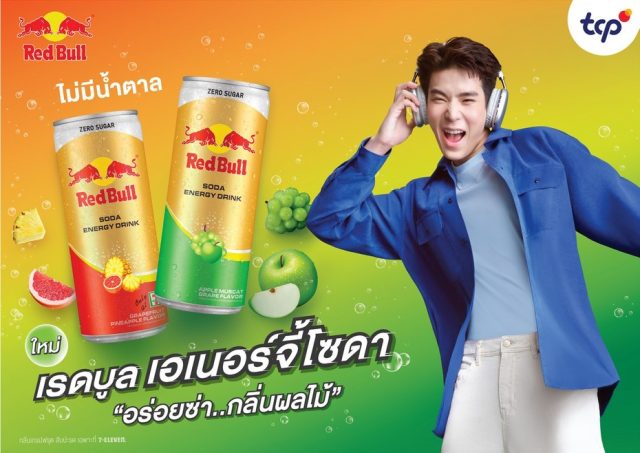 TCP Group has launched Red Bull Energy Soda in Thailand to offer a 'delightful combination of fizziness and fruity flavors,' according to the company's press release. The company mentions the 'launch of this product aims to capitalize on new growth prospects within the Refreshment Booster segment, which merges energy drinks with refreshments.'
The new Red Bull Energy Soda can be described as a hybrid drink, which combines two beverage categories into one. This hybrid drink has the upperhand in taste and functionality with the purpose of making energy drinks more acceptable by consumers who are wary of the taste of traditional energy drinks but still desire the benefits of energy drinks specifically energy boosting.
In Southeast Asia, we have already seen brands combining energy drinks with coffee to launch various coffee-flavoured energy drinks with TCP's Red Bull Cold Brew stretching the flavour concept to the furthest. The Coca-Cola Co has rolled out its very own Energy Coke, which was a flopped. Undeterred by the failure of Energy Coke, the beverage giant tried again with Sprite Lemon+ with vitamin B3 but this time focusing on the more subtle approach of using vitamin B3. With the inclusion of brain-beneficial vitamin B3 and the zesty lemon flavour, the new Sprite Lemon+ is able to claim that it encourages people to 'think zesty' and refresh mentally.
Now, TCP is taking Red Bull into the carbonated soft drink territory to connect with the wider carbonated soft drink consumers who are typically young and may not be the traditional energy drink consumers. Red Bull Energy Soda's fruity taste Green Apple and Muscat Grapes and carbonation have strong appeal among young consumers. Red Bull Energy Soda is formulated to be a sugar-free drink in line with the current health demand.
TCP is also using Red Bull Energy Soda to play in the premium energy drink category by pricing each can at THB 20/250ml.
To connect with younger audiences, TCP has appointed the 26-year-old Thai actor, singer and songwriter JJ-Krissanapoom Pibulsonggram as the brand ambassador.
Ultimately, refreshment still has the bigger share of throat in the drinking occasions compared to functionally driven consumption. By blurring the line between carbonated soft drinks and energy drinks, Red Bull Energy Soda has a good chance to tap into more occasions.