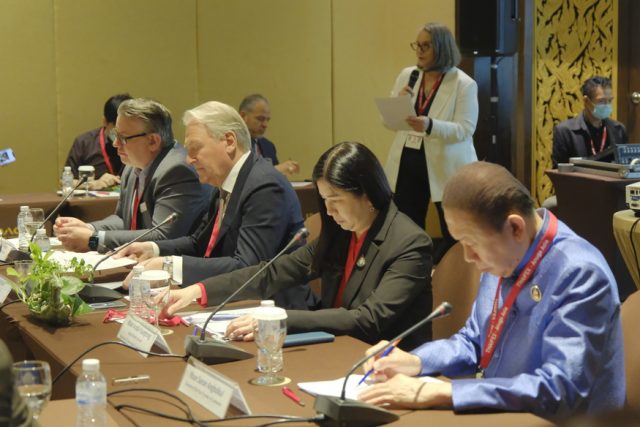 Anuga 2023 aims to challenge norms, and to build a sustainable future for the Food and Beverage Industry by advocating for new business models, providing a platform for international collaboration, and through showcasing sustainable business practices.
In the food and beverage industry, one of the most dynamic and essential sectors of the global economy, a catalyst is needed for change and innovation, to foster new business models, build international collaborations, and to promote sustainable practices within the industry. In 2023, Koelnmesse has given Anuga renewed purpose as a platform to catalyse sustainability in the food supply chain and its end-to-end business model. Anuga 2023 will shift the paradigm from conducting business to conducting business that matters – for the industry, the community, and the planet.
Organized by Koelnmesse and held in Cologne, Germany, globally Anuga is one of the most significant food and beverage events. Spanning 10 trade shows consisting of a collective 7,500 exhibitors spread across 160,000 square meters, and with visitors from more than 100 countries, Anuga is an important platform for international and local participants to showcase their innovative solutions. 
At this year's event, the focal point is sustainability. Anuga's fresh direction is testament to its commitment to addressing the pressing global challenges of our time, such as climate change, biodiversity loss, and disrupted supply chains.
At a media roundtable event held alongside THAIFEX- Anuga Asia 2023 in late May, which was held to present Anuga 2023 to participants, Gerald Böse, CEO of Koelnmesse spoke of the role of such trade fairs. "Here at Koelnmesse, we see trade fairs as a peaceful way of exchanging knowledge and networking – we consider ourselves 'global bridge builders'," Mr Böse shared. He described how Anuga, as a global hub, connects businesses and individuals across the world and stimulates the cross-pollination of ideas and innovations. 
This was reiterated by Bastian Mingers, Vice President of Trade Fair Management, Koelnmesse, who explained how the significance of Anuga extends beyond being a business platform: "Anuga… sits at the heart of a successful family of shows… It serves as much more than a business platform—it is a stage for inspiration, innovation, and trend-spotting in the international food industry." 
Anuga 2023 will acknowledge the challenges faced by the global food industry, including population growth, climate change, water and energy scarcity, loss of biodiversity, disrupted supply chains, and rising costs. 
To bring these issues to the fore, Koelnmesse has established partnerships with institutions like the European Institute of Technologies for Food (EIT) and the United Nations Industrial Development Organisation (UNIDO) to develop a platform to foster dialogue and cooperation towards a sustainable food system and rural economic development during the Anuga HORIZON Conference. Mingers said that this year, "The Anuga HORIZON conference experience will be a significant part of our trade fair, providing a platform for discussions and knowledge sharing."
At the media roundtable, which was held at IMPACT Muang Thong Thani in Bangkok, Thailand, Khun Arada Fuangtong, who is the Deputy Director-General of the Department of International Trade and Promotion (DITP)–DITP is one of three organisers of THAIFEX – Anuga Asia)–described Thailand's role as a strategic partner of Anuga. "Thailand holds a strategic position due to its location in the center of Southeast Asia and the diversity of its products and services. The Thai food and beverage industry is renowned for its hospitality, adaptability, and willingness to learn. The industry is moving towards sustainability with an emphasis on providing balanced benefits to all, including offering good food for everyone and showing respect for our planet. The Thai government fully supports Thai companies in these endeavours."
In demonstrating support for Koelnmesse and Anuga, Khun Fuangtong continued, "For the 26th edition of Anuga in 2023, we look forward to the participation of VIPs and over 140 Thai companies, all seeking trade opportunities and eager to learn from others." 
Khun Sanan Angubolkul, Chairman of the Thai Chamber of Commerce, said that he expects not only big players but also small and medium-sized Thai companies to be attracted to attend Anuga 2023. "Despite conflicts in places like Ukraine and Russia leading to food shortages in several countries, Thailand has remained self-sufficient and continues to export a significant amount of food to aid other nations," he remarked. "Last year, as hosts of the APEC summit, we announced the Bangkok goal to drive a bio-circular and green economy in the country by 2021. Our Thai exhibitors selected to participate in the trade show are assured to be highly prepared." 
Currently, Thai exhibitors represent about 3,000 square metres of space in Cologne in October 2023.
Extensive market research into trends in the food and beverage industry have found a notable shift towards sustainability, according to Myrthe de Beukelaar, Senior Market Analyst at Innova Market Insights. At the roundtable she stated that, "The past five years have seen a 47% increase in new food and beverage product launches claiming to be carbon-neutral, which showcases brands' efforts to appeal to environmentally conscious consumers." 
"Despite these strides, it is crucial that businesses engage honestly with consumers to prevent the risk of 'greenwashing'," she said. "It's about guiding consumers through their options and involving them in the journey towards more sustainable practices."
Anuga's influence on the industry cannot be understated. In showcasing innovative new business models, Anuga helps underscore and demonstrate the importance of embracing creative solutions to address on-going issues, and to maximise what we do with food waste, for example. 
At THAIFEX – Anuga Asia 2023, one such use case-study was AlterPacks, an alternative packaging solution from Singapore. "Since our inception in 2019, AlterPacks has… successfully created a product from food waste that serves as an alternative to plastic containers, helping to address global concerns regarding food waste and loss," Karen Cheah, Founder & CEO of AlterPacks told roundtable participants. "This aligns us with the United Nations Sustainable Development Goal 12, which aims to halve food waste by 2030". 
She continued, "We've commercialized a technology that turns discarded food grains into a versatile material capable of replacing plastic food containers, suitable for a variety of temperatures, from freezer storage to microwaving and open flame cooking. We're thrilled to have graduated from a startup section to a full booth at THAIFEX-Anuga due to the growing interest in our product. Our mission at AlterPacks is to give second chances to discarded materials. We believe in the potential of agricultural waste and plant fibers to be upcycled and reused, transforming what would otherwise be waste into valuable resources."
Another business example exhibited at the roundtable was that of leveraging technology to bring together a niche group of buyers and sellers. "In representing the Thai Organic Consumers Association (TOCA), an initiative supported by the Tourism Authority of Thailand, I can attest to the value of bridging local organic farmers with hotels and restaurants," says Arrut Navaraj, President of TOCA. 
"With my 15 years of experience working with organic farmers in Bangkok, I've seen the significant advantages this direct link can provide, not only in terms of organic food provision but also for agricultural tourism opportunities." With funding from the Thai National Innovation Agency, TOCA developed a digital platform that enhances transparency by allowing farmers to share their activities with the hotels and restaurants they supply. This connection not only reduces costs by eliminating middlemen but also aids in tracking and reducing food waste from hotels, thereby helping calculate associated carbon reductions.
"Furthermore, we assist these businesses in converting food waste into pre-compost, which is then utilized by local farmers to create premium organic compost," Navaraj commented. "Despite these advances, we realize that there's still much to do since less than 1% of Thailand's farmland is organic. Our mission is to educate consumers about the benefits of organic consumption for personal health, community wellbeing, and environmental conservation."
As an incubator for innovation and a platform for fostering partnerships and collaborations that advance sustainability, Anuga, is at the crux of global issues such as climate change and food security. Facilitating making decisions is vital for our collective future. 
The initiatives and partnerships exhibited by companies like AlterPacks and TOCA indicate the industry's willingness to take on these challenges, catalyzed by events like Anuga. As we strive for a more sustainable future, the importance of Anuga's role as a facilitator of innovation, dialogue, and sustainable growth in the food and beverage industry cannot be overstated.