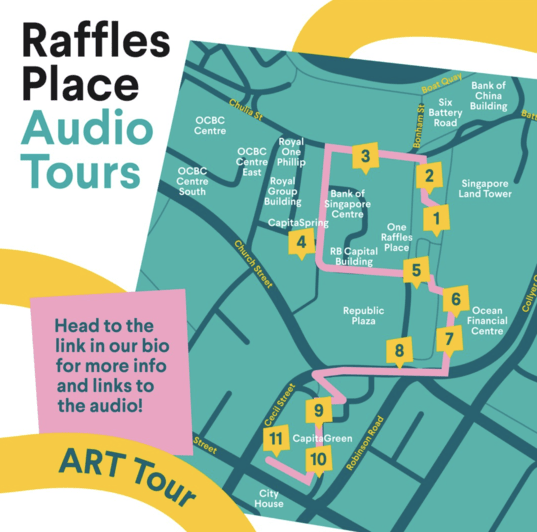 National Day is just around the corner and it is always a wonderful time to celebrate our nation's birthday by coming together for some family fun – From audio tours at Raffles Place led by prominent Singaporean artists, to private boat tours of Singapore's lesser known northern islands with Get Hooked and delightful food promotions at The Woodleigh Mall, here are some of our top picks of things to do this National day!
Take a trip down memory lane with Raffles Place's audio tours
As we celebrate Singapore's upcoming National Day, immerse yourself in the rich tapestry of its history and vibrant art scene of some of its most iconic districts. Join the Raffles Place Alliance on an incredible trip through the city's centre with our special audio tours, The Heritage and ART tours, which are meant to capture the essence of Raffles Place.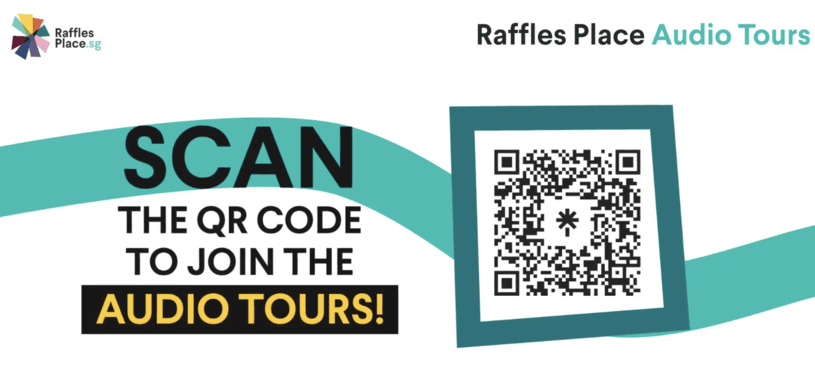 Heritage Tour
Narrated by musician Tim De Cotta and audio-producer Carisa An-Yi Davies, the Heritage Tour of Raffles Place delves into its captivating history, tracing its transformation since the 1800s. This immersive journey covers five zones, starting at the iconic Singapore River, a vibrant lifeline of the precinct. Explore the cultural evolution and architectural diversity of the surrounding areas along Chulia Street. Then, uncover the origins of Raffles Place and experience the allure of Collyer Quay near Battery Road. Finally, discover the striking modern architecture of Market Street, a testament to Raffles Place's unique charm.
ART Tour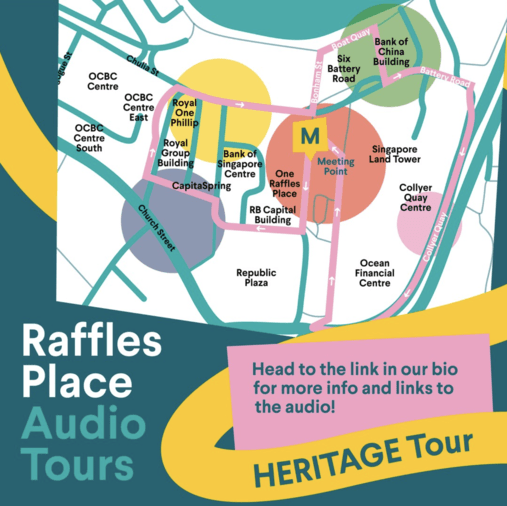 Following the Heritage Tour, visitors can continue their exploration of the vibrant district by joining the ART Tour. Immerse yourself in the captivating world of art, surrounded by stunning creations from talented local and international artists. Discover mesmerising sculptures, installations, and dazzling artworks that grace the streets of Raffles Place. Through the ART Tour, gain fresh perspectives and insights into the artistic process behind these magnificent masterpieces. The tour, featuring musician Tim De Cotta and voices of renowned artists like Weish, Marc Gabrielle, Jeanette Adrienne Wee, and Chris Chai promises an enriching artistic journey through Raffles Place.
For more information, visit Raffles Place Audio Tours.
Discover Singapore's northern islands with Get Hooked SG's private boat tours
Get ready to embark on the ultimate high seas adventure with Get Hooked SG's exclusive private tour packages! Celebrate National Day in style as you choose from a variety of tours, ensuring a memorable experience for you and your loved ones.
Plus, they are running a special promotion for National Day: From now until August 9, enjoy $58 off all tour packages!
Set sail with them and discover the beauty of Singapore's waters like never before!
Get Looked (Scenic and Sunset Tours)
Experience the serene allure of Singapore's Northeastern cluster of islands with Get Hooked SG's Scenic and Sunset Tours. Immerse yourself in the untouched beauty of mangrove swamps and pristine wildlife as you explore these laid-back havens. The highlight of the tour is a family-friendly visit to Pulau Ubin, the sole inhabited island among Singapore's 63 islands. After a day of enchanting exploration, indulge in a unique gastronomic delight at Smith Marine, Singapore's first and only floating restaurant and fish farm. Savour a hearty meal while getting a taste of the idyllic life on a floating fish farm.
Get Spooked (Sundown Tour)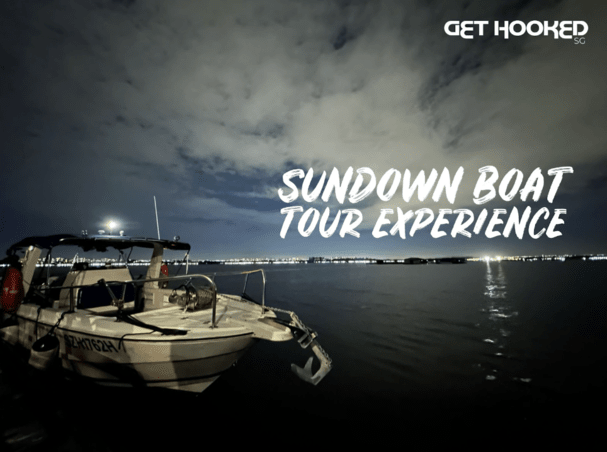 Journey into the mysteries of Singapore's Northeastern islands with the Get Spooked Tour, a spine-tingling boat adventure like no other. Discover the chilling and educational tales of the TJ Tajam Shrine and the eerie Sungai Puaka, offering a unique insight into the islands' captivating background. Guided by experienced storytellers, venture into the creepiest spots at night, as they share their own supernatural encounters. After the thrills, find solace stargazing under the unpolluted night sky with loved ones, creating unforgettable memories together.
Get Hooked Fishing Expedition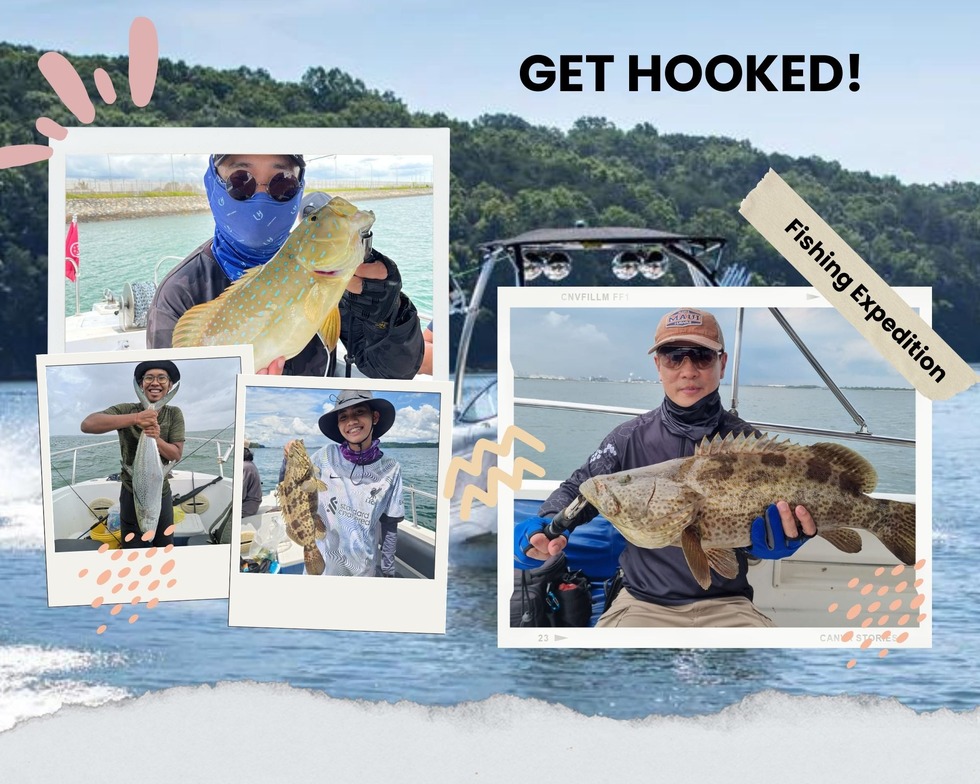 Calling all passionate anglers! Set sail towards the enchanting Northern Islands of Singapore and cast your line for an unforgettable Fishing Experience. Get ready to hook groupers, snappers, breams, tusk fish, and more! Charter the entire boat for a private fishing adventure equipped with onboard toilets, light refreshments, and live prawn bait provided. You'll also have the option to explore other popular offshore fishing spots or visit nearby kelongs where you can even purchase fresh catch. If you're new to fishing, Get Hooked SG's skilled anglers will be by your side, sharing valuable tips and tricks to ensure you make a memorable first catch.
For more Details on Get Hooked SG's range of tours, check out their booking page at https://sg.trip.com/w/gethooked.
Indulge in Singapore's foodie culture with delicious weekday treats at The  Woodleigh Mall
If you're a foodie constantly on the hunt for new menus, The Woodleigh Mall is your next go-to place! With over 70 food establishments, the newly opened mall, situated in the heart of Bidadari, is a food heaven offering a wide array of food options, from hearty meals to sweet desserts.
Here are our top picks for delicious weekday treats, coupled with exclusive promotions you don't want to miss!
Smöoy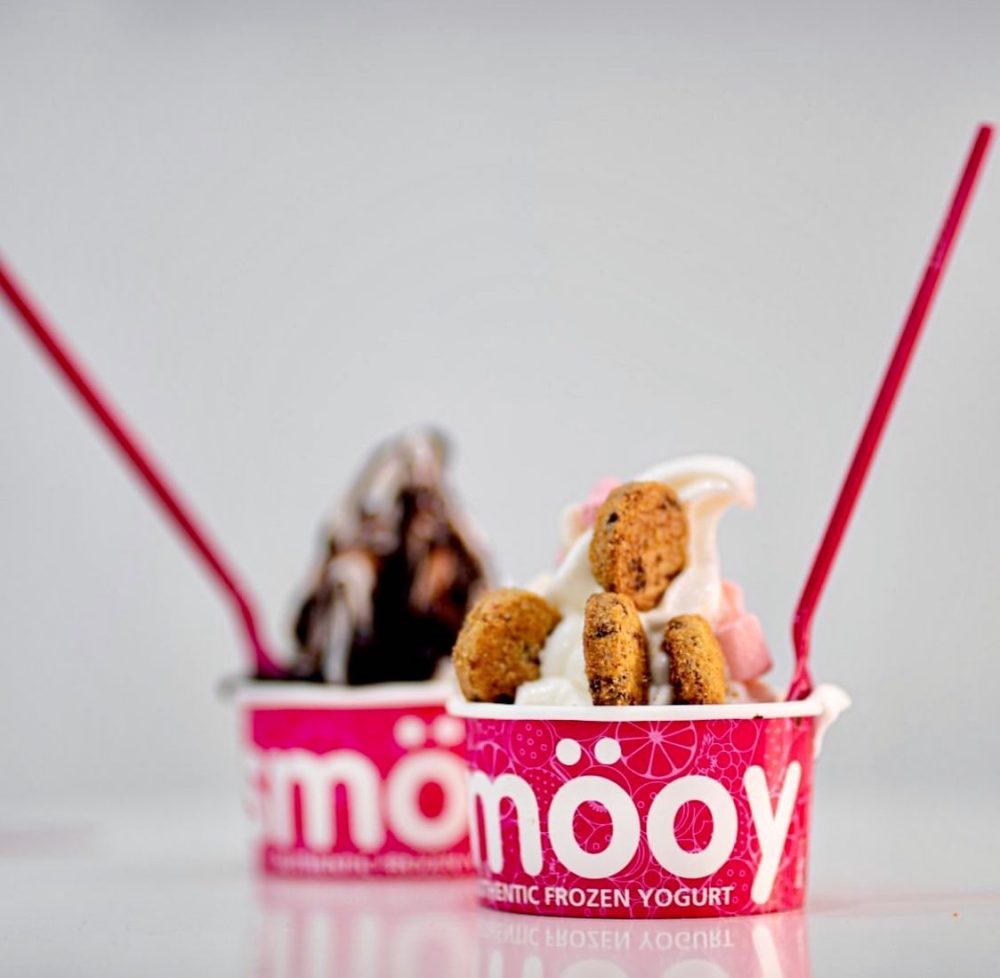 Enjoy smooth and creamy frozen yoghurt creations, crafted with the finest ingredients and packed with wholesome goodness at Smöoy (#B1-K2). Whether you're a health-conscious individual or a self-proclaimed dessert connoisseur, Smöoy's low-fat, high-fibre and gluten-free frozen yoghurt, is a guilt-free treat that everyone can enjoy. With a wide array of toppings, such as fresh fruits, crunchy nuts and delectable sauces, craft unique combinations that satisfy your cravings. From now till 31 Aug, enjoy any 2 items for $10 – grab this limited-time deal today!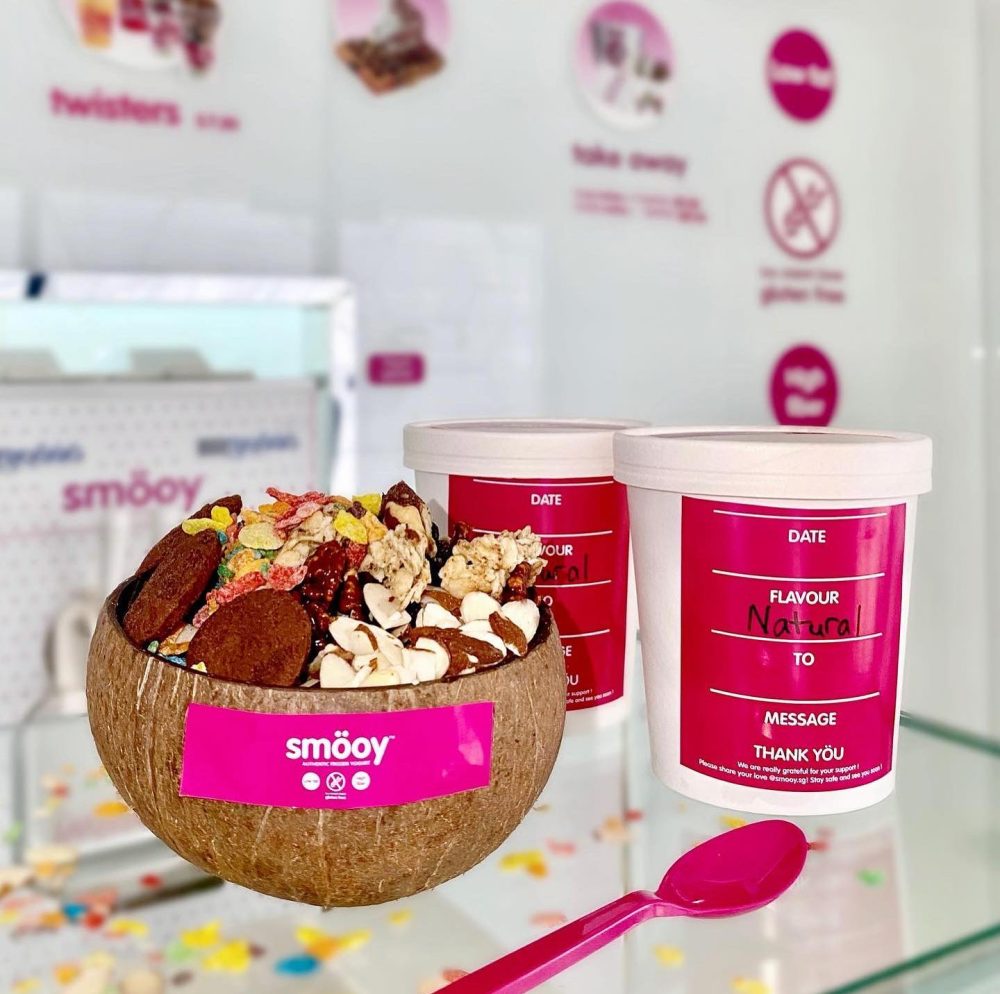 *Terms and conditions may apply. Visit their website at https://smooy.sg/ or check in-store for more details.
Pasta Express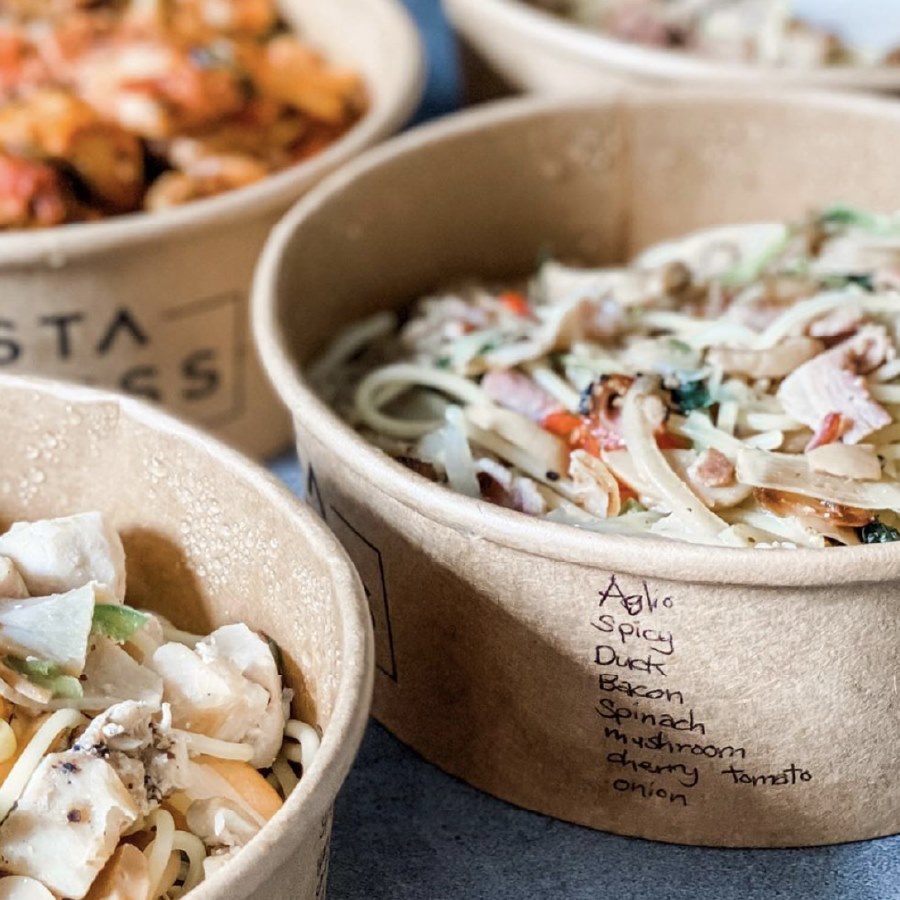 If you're looking for an affordable and quick meal on the go, Pasta Express (#B1-K23) has got you covered! Offering a "Build Your Own Pasta" menu, you too can be a chef and create your own dish. Simply select one out of the three sauces, Aglio Olio, Tomato Sauce or Cream Sauce, and choose your toppings from their selection of meat and veggie toppings, such as Smoked Duck Breast and Cherry Tomatoes. From now till 31 December, all students can simply present a valid student pass and enjoy 20% off their total bill on weekdays.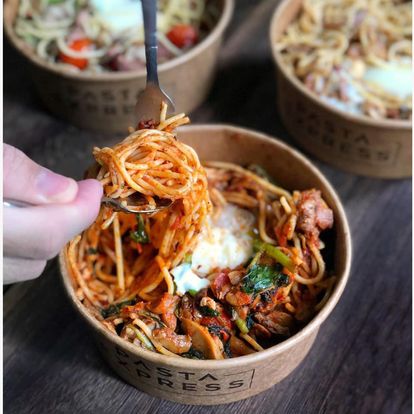 *Terms and conditions may apply. Visit their Instagram page at @pastaexpress.sg or check in-store for more details.
Watami Japanese Dining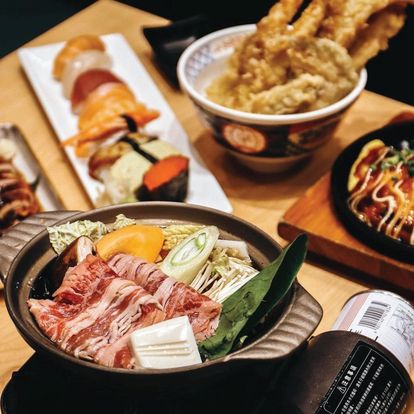 From crunchy Chicken Cutlets to flavourful Shoyu Ramen, Watami Japanese Dining (#02-21) promises an authentic and delectable taste of Japanese delicacies, with a comfortable and relaxing space suitable for all occasions, from casual gatherings to business lunches. From now till 31 December, enjoy Weekday Lunch Sets from only $9.90++, served with a complimentary mini salad and drink.
*Valid from Monday to Friday, 11.30am to 5pm, excluding eve of, and Public Holidays. Other terms and conditions may apply. Visit their website at https://www.watami.com.sg/ or check in-store for more details.