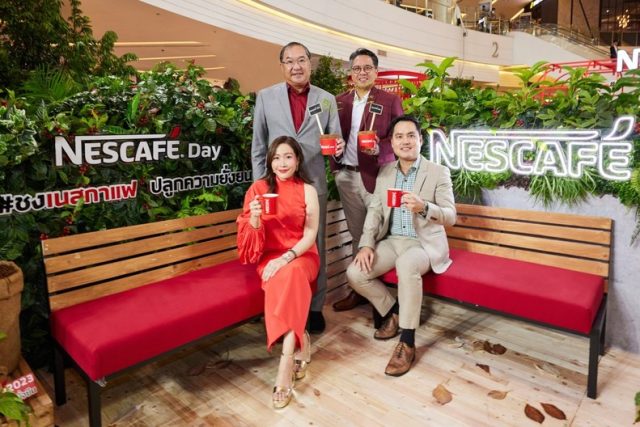 NESCAFE Day Drives the Brand's Global Sustainability Mission, Inviting Thais to Join in Planting Trees and be a Part of a Regenerative Agriculture in Celebration of International Coffee Day 2023
Friday 29 September 2023 – NESCAFE, Thailand's favorite coffee brand under Nestle, continues its sustainability strategy with the grand launch of a NESCAFE Day campaign inviting Thais to join in planting trees to drive sustainability based on regenerative agriculture. The effort falls under the NESCAFE Plan 2030, a global sustainability initiative, to celebrate International Coffee Day, which takes place annually on October 1.
This year's NESCAFE Day event, under the "Making a Cup of NESCAFE, Supporting Sustainability" concept, took place at Fashion Hall, Siam Paragon. It focused on educating people about the NESCAFE Plan 2030, which encourages Thai farmers to use regenerative agriculture techniques. The event also showcased a model coffee farm grown sustainably by following regenerative agriculture practices in the Glass House for the first time in the heart of Bangkok.
At the event, NESCAFE offered coffee lovers the opportunity to enjoy high-quality coffee from a sustainably grown coffee farm at its Sustainability Cafe. NESCAFE presenters including Nadech Kugimiya, Gulf-Kanawut Traipipattanapong, Tor-Thanapob Leeratanakachorn, Noom-Kanchai Kamnerdploy, and Jam-Rachata Hampanont, were present to share tips on how to contribute to sustainability for the planet and tell a great story about NESCAFE's sustainable packaging, followed by planting four kinds of trees including Yang Na, Iron wood, Neem, and Magnolia Champaca. This was part of an effort to drive regenerative agriculture to promote soil health and biodiversity in coffee plantations to ensure sustainability. These trees provide shade in coffee farms covering the soil and can retain moisture and help absorb carbon. Event attendees had the opportunity to have their names on plant tags and enjoy taking cool photos with a giant red mug.
Mr. Victor Seah, Chairman and CEO, Nestle Indochina, said, "The NESCAFE Day campaign is part of our efforts to drive regenerative agriculture under the NESCAFE Plan 2030. Our goal is to create a sustainable future for Thailand's coffee sector as part of Nestle's commitment to achieving Net Zero by 2050."
Ms. Sriprapha Chingprasertsuk, Business Manager-Coffee and Creamer, Nestle (Thai) Co., Ltd., said, "Nestle started promoting regenerative agriculture to help ensure the co-existence of coffee farming and a sustainable environment, which is central to Nestle's global sustainability initiative, the NESCAFE Plan 2030. Nestle has supported and educated Thai coffee farmers for decades. Every coffee bean the company buys from farmers to produce NESCAFE is 100% certified to 4C (Common Code for the Coffee Community) international standards, for responsible coffee sourcing.
The core of regenerative agriculture in coffee farming revolves around the concept of protect-renew-restore to conserve the abundance of resources involved, especially soil and water. This includes promoting cover cropping, preventing soil sheet erosion, and reusing farm waste to make compost, an organic fertilizer, instead of using chemical fertilizer. NESCAFE also encourages farmers to implement inter-cropping to enhance biodiversity and gain a diverse source of income.
Regenerative agriculture can drive values throughout Thai society, acting as a "Triple Win+ for the Planet and All of Us". The first win is Nestle's commitment to ensuring food security through stable and sufficient agricultural production. The second win is supporting farmers to increase better yields, earn a sustainable income, and be better prepared to cope with climate change. The third win involves restoring the environment by replenishing soil fertility and forests, protecting water resources, enhancing biodiversity, and reducing carbon emissions. The plus (+) sign represents creating value for consumers by delivering quality coffee made from the best ingredients to Thai coffee drinkers, while promoting a sustainable world for future generations.
"This is NESCAFE's promise to elevate the world of coffee, ensuring every cup contributes to better living and well-being. The dedication of coffee farmers is behind our quality coffee. The trees planted in NESCAFE Day campaign this year will be grown at coffee farms in Chumphon and some of them will also be delivered to the Office of Natural Resources and Environmental Policy and Planning, Ministry of Natural Resources and Environment, to contribute to sustainability and restore natural biodiversity in many provinces in Thailand. Every cup of NESCAFE is high-quality coffee that takes care of our planet and farmers. People who drink NESCAFE can be confident in our product quality while contributing to sustainability," concluded Ms. Sriprapha.