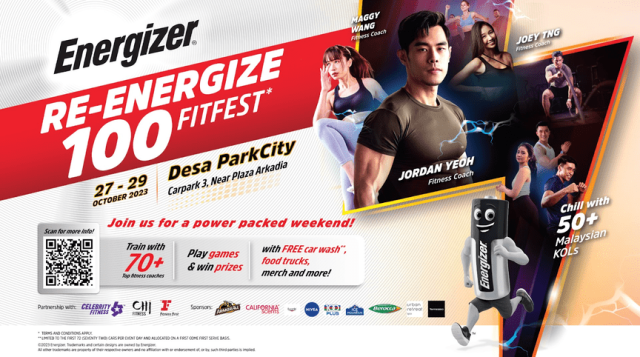 Happening from 27 October to 29 October 2023, get ready to sweat, move, and have fun with friends and family at the ultimate fitness festival.
KUALA LUMPUR, 18 OCTOBER 2023 – Don't miss out on signing up for the most anticipated fitness festival this October, Energizer's Re-Energize 100% Fitfest. Taking place from 27 October to 29 October 2023 from 10AM to 10PM, this will be the place to be with friends and family to enjoy a fun-filled weekend. Located at Desa Parkcity, Carpark 3, Plaza Arkadia, the festival is open to fitness enthusiasts of all levels aged 13 and above. Are you up for the challenge?
With more than 30 classes across the 3-day fitness fest, customers can sign up for different 1-hour classes, including Dance, Zumba, HIIT, Strength, Cardio and more. Led by experienced instructors from leading fitness studios such as Celebrity Fitness, CHI Fitness and Fitness First,  Don't miss out on joining in for exclusive classes from top fitness influencers such as Jordan Yeoh, Maggy Wang and Joey Tng!
Registration and class bookings for Energizer's Re-Energize Fitfest can be made at www.enerfitfest.com. To be eligible for entry during the event, customers are required to purchase at least RM30 worth of Energizer products in a single receipt. The original receipt must be kept as proof. One (1) receipt permits entry for one (1) day per individual. Fret not, purchases can also be made at the event to gain entry. Goodie bags worth up to RM120 from NIVEA, Eucerin, F&N Ice Mountain, Berocca, 100PLUS, Urban Retreat Spa, Pressio, and more will also be given upon entry to the event.
For more information about Energizer's Re-Energize 100% Fitfest and to stay updated on the latest announcements, please visit Visit Energizer's Facebook event page.