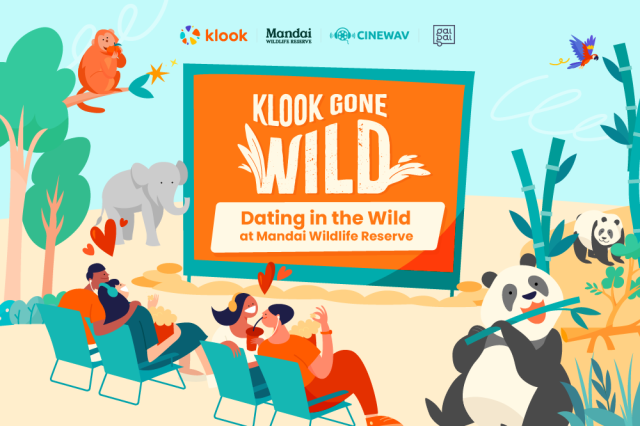 Singapore, October 19, 2023 — Make it a date to remember and enjoy the latest cinematic adventure while you cosy up in nature with "Movies in the Wild". It's a unique collaboration by Mandai Wildlife Group, GaiGai (Singapore's leading dating agency), Cinewav, and Klook (Asia's leading experiences and travel platform). The experience blends a delightful romantic movie night with outdoorsy moments from Singapore's wildlife parks that will create wildly unique memories. It's also the first cinema experience to be held at Singapore's iconic and nature wildlife destination, the Mandai Wildlife Reserve, which is home to world-renowned wildlife parks – Singapore Zoo, Bird Paradise, River Wonders and Night Safari.
The 'Movies in the Wild' experience comes with:
One (1) admission to Singapore Zoo, River Wonders or Night Safari
One (1) admission to Movie experience at River Wonders (Amazon Flooded Forest)
at 7.30pm.
The 'Movies in the Wild' experience will be held at River Wonders' Amazon Flooded Forest.
Set against the magical backdrop of manatees swimming gracefully through the water, it
offers a cinematic journey like no other. After the movie, visitors can venture into the Night Safari for a nocturnal adventure under the moonlit sky. Alternatively, they can opt to go on a date in the day at Singapore Zoo or River Wonders before the evening movie.
Prices start from SGD 49.50 per person, which includes park admission. This silent cinema
experience will take place from 7.45pm on selected Saturdays, starting from 11 November 2023 to 23 December 2023. Visitors are required to bring their own earphones or headphones for maximum enjoyment. They can look forward to a specially curated
selection of movie genres, such as romance, comedy, and action, with one
GaiGai-exclusive session each month designed to promote visitor interaction.
Tickets for Dating in the Wild: Movie Experience at Mandai Wildlife Reserve are available for sale exclusively on Klook.
'Movies in the Wild' experience is one of the initiatives under Mandai Wildlife Group and Klook's three-year, multi-market partnership which began in April 2023. The partnership
aims to co-develop regional marketing campaigns, curate bundles and activities for discerning international visitors and position the precinct of the Mandai Wildlife Reserve as
a top-of-mind destination in Singapore.