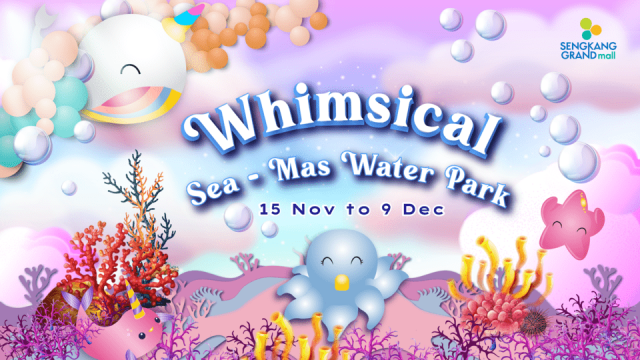 Take on the ultimate water adventure from riding on an inflatable LED water boat, running on an inflatable hamster wheel, and conquering an exciting obstacle course!
SINGAPORE, 10 NOVEMBER 2023 — Grab your swimwear and get ready for a splashing adventure at Sengkang Grand Mall's Whimsical Sea-mas Water Park – Singapore's very first pop-up in-mall inflatable water park happening from 15 November to 9 December 2023!
Held in collaboration with Sengkang Grand Mall and The X Agency and open to all from the age of 4 years old and above, Whimsical Sea-mas Water Park brings shoppers a thrilling series of aquatic activities and sporting experiences in the mall with an exciting list of quests to conquer — from LED-lit sea creatures ride to an extravagant obstacle course. Look forward to a dash of fun and start the festive season and school holidays right with Whimsical Sea-mas Water Park!
Water Play for a Family-Fun Day!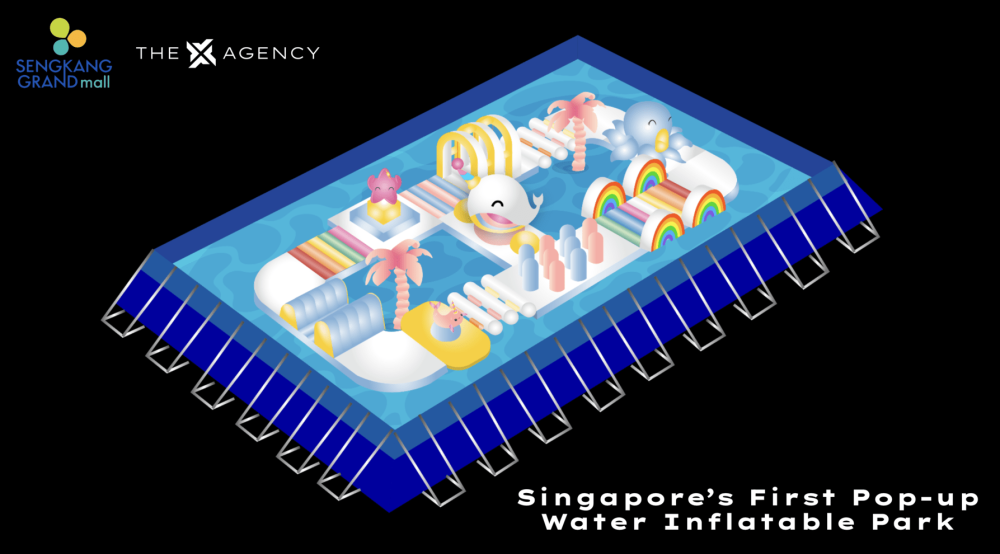 Ready, splash, go! Discover your inner child and live your ultimate Wipeout dream by challenging your family and friends to the whimsical obstacle course. From climbing over high walls to crawling under the slippery rainbow bridge, catapult into the air as you jump on the bouncy float and make a huge splatter! Enjoy a splashing adventure as you run, jump, slide and bounce with the whimsical sea creatures over a 100 sqm play area.
Upon completion of all the challenges at the whimsical obstacle course, everyone is invited to row, row, row your boat, gently down Sengkang Grand Mall! Recreate the coastal retreat and enjoy a relaxing paddle on the LED Paddle Boat Experience from one end of the mall to the other.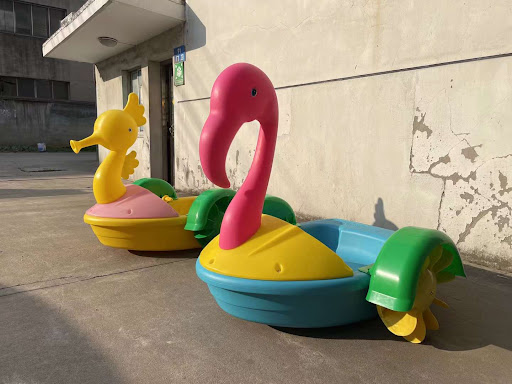 Have you ever wondered how it feels like to be on a hamster wheel? At Whimsical Sea-mas Water Park, you can try it out for yourself and even race with your friends! What better way to make a day memorable by cooling off in the whimsical hamster wheel? Join the pool party and enjoy the endless fun as you run across the pool and race with friends and family.
Ride on your favourite selection of sea creatures with the LED Water Boat Ride! From flamingos to seahorses, chill out on a unique joyride experience as you paddle and pose for the picture-perfect photo in the boats.
For those looking to take a dip in the pool, look forward to swimming with sea treasures such as the LED-lit artificial fluorescent jellyfish in the pool!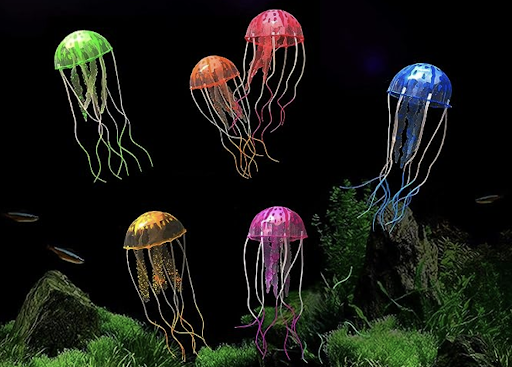 After conquering all the aquatic adventures, freshen up at Sengkang Grand Mall's shower facility – featuring 16 shower cubicles to dry up before continuing the fun at the carnival games, rides, and claw machines!
Carnival Games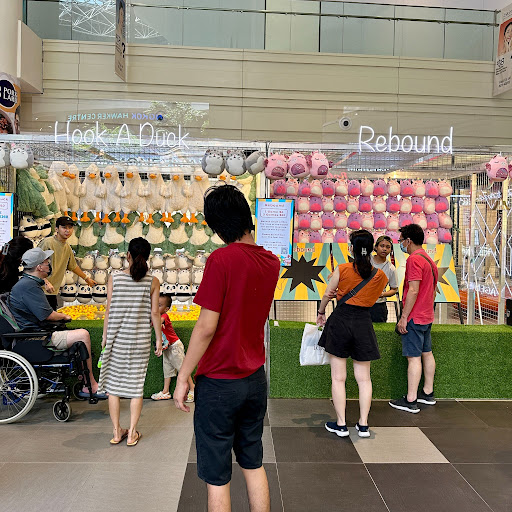 Take the sea adventure to land as you partake in the various carnival games, also available at Whimsical Sea World! Indulge in high win rate games such as Can Smash, Hook a Duck, Goblet Toss and Lobster Pot, and stand a chance to win sea-themed plushies to take home with you!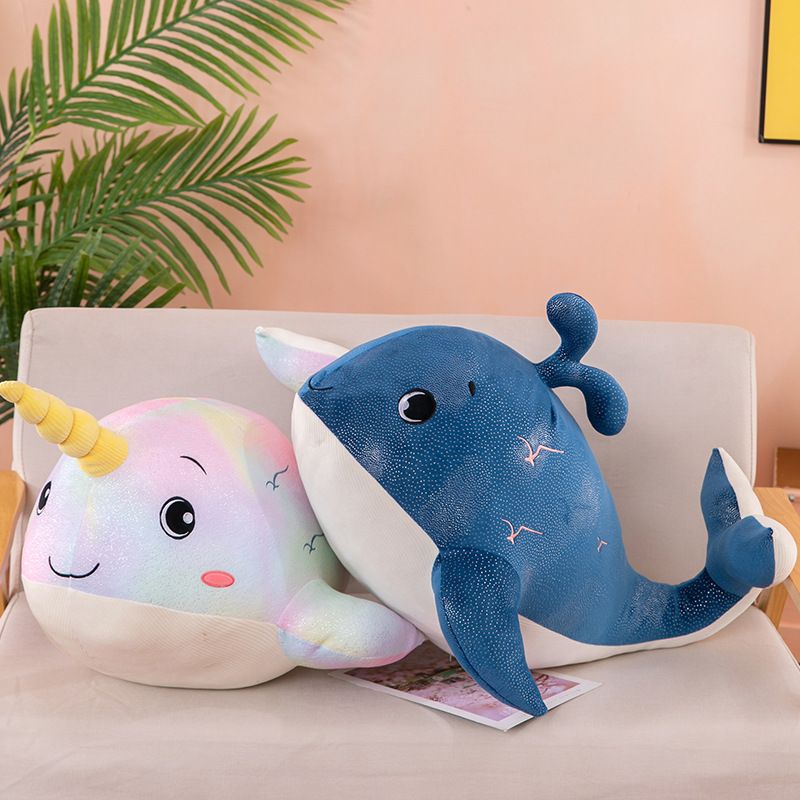 In-Mall Promotions and Exclusives
Shopping at Sengkang Grand Mall has never been more exciting! From 15 November to 9 December 2023, enjoy a list of deals and steals not to be missed.
From Mondays to Thursdays, spend a minimum of S$50* to redeem a free entry pass to Whimsical Sea-mas Water Park.
From Fridays to Sundays and on public holidays, spend a minimum of S$80* to redeem a free entry pass to Whimsical Sea-mas Water Park.
* Excludes Fairprice Finest receipts. There will be limited redemptions per day, and redemptions are available while stocks last.
Ticketing Information
Whimsical Sea-mas Water Park tickets are now available for sale and can be purchased from Trip.com.
Non-Peak Days (Mondays to Fridays)
Per Ticket: $22
Discounted Bundle of 4: $75
Peak Days (Saturdays, Sundays, and Public Holidays)
Per Ticket – $28
Discounted Bundle of 4: $98
Be sure to grab your tickets quickly, for a splash of good fun! Simply scan the QR code below to purchase your tickets today.
https://sg.trip.com/w/Whimsical
Whimsical Sea-mas Water Park is open to the public from 15 November to 9 December 2023. The water park is open from 1pm to 9pm on weekdays, and 11am to 9pm on weekends and public holidays, and it is located at the Level 1 Atrium of Sengkang Grand Mall (70 Compassvale Bow, Singapore 544692, Nearest MRT: Buangkok).
For more information and for the latest updates on Whimsical Sea-mas Water Park, visit The X Agency's website here.
We look forward to having a splashing fun time with you at the Whimsical Sea-mas Waterpark.
See you there!