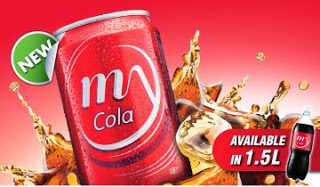 F&N launched its own cola flavoured carbonated soft drinks My Cola in peninsular Malaysia in 2013. F&N ceased to be the bottler of The Coca-Cola Company in Malaysia in 2011, thus losing a major source of revenue. Now, F&N is back with a vengeance to take on Coca-Cola. Both MyCola and Coca-Cola come in red. MyCola is selling at RM 0.10 cheaper than Coca-Cola for the PET version. The two have similar taste.
Looking at My Cola marketing and packaging design, I can't help but wonder why the pack design gives the impression that it is "cheap" with a private label feel to it. The name My Cola, as in Malaysian Cola, also doesn't sound exciting. Driving in KL, you can't help by notice the boring banners at eateries promoting the new drink in town.
Look at our neighbour Thailand. Serm Suk's Est Cola, the Pepsi-lookalike, has all the success ingredients. The name is hype and the use of handsome celebrities makes Est Cola looks cool. The three spokespersons are singers Pakin "Tono" Kumwilaisuk from The Star Season 6, Sukrit "Bee" Wisetkaew from GMM Grammy and Pirat '"Mike'" Nitipaisalkul'. So there is still much to learn from Est Cola if My Cola wants to successfully compete with the giant Coca-Cola.