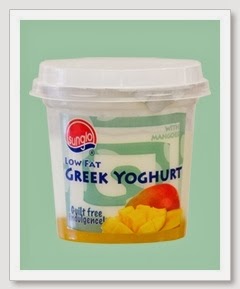 Nestle Greek Yogurt, launched in early 2013, seems to have left the Malaysian market. That was the initial impression I had when I couldn't find it in the usual big hypermarket chain in the suburb, only Sunglo Greek Yogurt was available. During a visit to Mid Valley few days ago, I was surprised to find Nestle Greek Yogurt was still alive and well and was in Aeon Big, Cold Storage and Aeon, stores that are frequented by expats, tourists, office workers and shoppers.
The fact that Nestle Greek Yogurt is not available in most stores shows that Malaysian consumers are not willing to pay a premium for a product that tastes and look rather similar to ordinary yogurt. Moreover, many still do not know what Greek Yogurt is all about apart from the Greek icons on the packaging. Nestle removed the Greek Santorini image from the packaging design, while retaining the blue and white colour scheme in the latest packaging. What the company failed to demonstrate through the Greek Yogurt packaging is stronger presentation of the indulgence, smooth, creamy and low fat attributes of the product. Perhaps a better packaging design may help revive the interest in Greek yogurt.
By the way, Aeon Big at Mid Valley is having a promo for the Nestle Greek Yogurt. The promo price is RM 1.85.
Fat Free
| | | | |
| --- | --- | --- | --- |
| | | | |
| Fage Fruyo 0% Fat Strawberry Greek Yogurt | | | |
| Tamar Valley Greek Style Yogurt | | | |
| Emmi Swiss Premium Yogurt Grapefruit/Plain/Raspberry | | | |
| | | | |
| Farmers Union European Style Greek Yogurt | | | |
| Sunglo Low Fat Greek Yogurt | | | |
| Nestle Yogurt Fat Free Strawberry/Peach/Natural | | | |
| Anlene Yogurt Natural/Strawberry | | | |
| | | | |
| Farm Fresh "Skinny" Low Fat Natural Yogurt | | | |
| Marigold Aloe Vera/Blueberry/Natural 0% Fat | | | |
| Dutch Lady Low Fat Natural | | | |
| Nutrigen Lite Yo Low Fat Yogurt Blueberry | | | |
| Dutch Lady Mixed Berries/Blueberry/Natural Low Fat | | | |

   Store check: Aeon Supermarket, Mid Valley, January 2014  * 2x110g