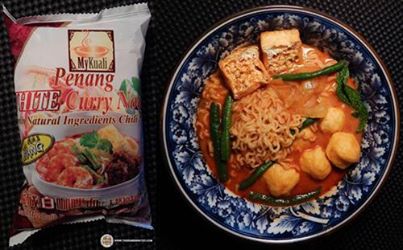 Ramen Rater has named MyKuali Penang White Curry Noodle as the best instant noodle in the world in his latest 2014 list.
This is what he has to say. "The ultimate! The noodles are just the right texture and gauge – not too wide or too narrow with a chewiness that is perfection. The broth is amazing – extremely spicy (hit #7 on the 2013 Spiciest Instant Noodles list), and features a strong curry flavor and a hearty finish. I am truly impressed with this one and would consider it to be the one I would love to eat every day. Bravo!" Link
After the hugely successful Ipoh White Coffee, Malaysia now has another global export item in the making – Penang White Curry Noodle. Sky Thomas Food Industries Sdn Bhd is the company behind the famous MyKuali Penang White Curry Instant Noodle. According to the company, the noodle comes with "natural paste ingredients made with quality imported raw materials."
Geographical identification (GI) is important for hawker food in Malaysia. It is normal for hawkers to stress their food comes from a certain location famous for a certain dish to attract customers. For example, Klang is famous for bak kut teh (herbal soup concoction with various pork cuts), Penang for its char keow teow (fried flat rice noodles) and Ipoh is famous for its white coffee – Ipoh white coffee, among others. Now Penang, a heaven for street food, has gained fame as the birthplace of Penang white curry instant noodle.
Many Penang white curry instant noodles have emerged on the heels of the success of MyKuali, which means "my wok". Among them are Uncle Sun (Asia Food and Beverage Sdn Bhd), Aroi (Facebook link), Granny's Recipe (Dave Dannee Food Industries Sdn Bhd), and The Bridge (AK Koh).
At the moment, Penang white curry instant noodle is popular mainly with ethnic Chinese consumers. However, companies are working to expand its popular to the Malay Muslim market. Dave Dannee Food Industries Sdn Bhd, the maker of the Granny's Recipe Penang white curry instant noodle, has entered into a joint venture with Zinon Food Industry Sdn Bhd, a Alor Setar-based halal food producer, to target the Muslim market. Zinon Food makes the Iman brand instant noodle.
Consumers are finding it hard to get hold of Penang white curry instant noodles. They are either out of stock or not available at the leading stores such as Giant and Tesco. For example, Granny's Recipe was seen at NSK Wholesale Supermarket and Uncle Sun at Aeon Supermarket. Surprisingly, both MyKuali and The Bridge was found selling at the high-end supermarket Village Grocer. MyKuali is available at more places as it the most sought after Penang white curry instant noodle. Aroi is available at 99Speedmart and Aeon Supermarket in Malaysia and in Sheng Siong in Singapore.
Penang white curry instant noodle sells at a premium compared to other curry instant noodles with prices ranging from RM6.9 to RM7.99 per four pack.
Penang white curry instant noodle has the potential to make it big in the instant noodle market, not just in Malaysia but also in other curry-loving countries particularly in Singapore, Hong Kong and Taiwan. At the moment, the key players are SMEs. There is a high chance that Nestle may start launching its own Maggi Penang white curry instant noodle in the future to tap opportunities in the premium market. Penang white curry instant noodle is an ideal product for premiumisation as it now commands a high price.