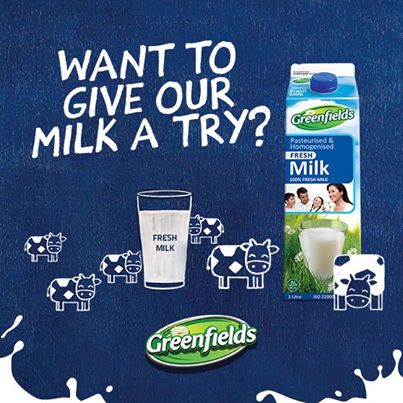 Greenfields Milk, a unit of Indonesia's Japfa recently listed on the Singapore Stock Exchange, said it has sold 1 million litres of products worth RM 8 million since entering Malaysia in October 2013. The four products are fresh milk, choco malt, whipping cream and 200g mozzarella cheese.
According to Austasia Dairy Group, the local distributor of Greenfields Milk, sales are expected to double to two million litres worth RM 18 million by the end of 2015.
Based on Dutch Lady Milk Industries revenue of RM 982.68 million in 2013, Greenfields Milk revenue, assuming RM 8 million is for the full year of 2013, only translates into 0.8% of total Dutch Lady sales in 2013.
Fresh Milk Prices per 1litre*
Store check: Cold Storage, Mid Valley 4 May 2014. *All are fresh milk except Organic Valley and Emmi
Price wise, Greenfields is among the cheapest imported fresh milk in the market at RM 7.99 per litre as of 4 May 2014, sharing the same price as the made-in-Malaysia Dutch Lady Fresh Milk. Taking out Emmi (Switzerland) and Organic Valley (USA), both are UHT milk, the most expensive fresh milk is Pura (Australia), followed by Farm House (Australia) and Greenfields (Indonesia). There is not much difference in price between imported fresh milk and local fresh milk. What matters most is brand awareness. Local Marigold HL Low Fat Milk (RM 7.29) is the number one low fat milk in Malaysia.
Greenfields is new to the market and is not widely available. The key to winning the market is expanding the distribution channel. The good news is Greenfields is now available at Aeon (August 2014). Perhaps Greenfields will soon be available at Tesco but Tesco is notoriously expensive to enter. We will see.