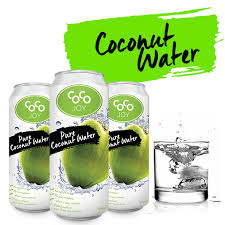 The 100% natural coconut water Coco Joy has entered Malaysia and is available at 7-Eleven. Apart from this 250ml coconut water in slim can, FAL Food and Beverages has also introduced Coco Joy Natural and Flavored Coconut Milk, which makes it likely the first coconut milk-based flavoured drink in the country. CocoJoy is a product of Vietnam. The 250ml drink costs RM 2.70.
In the US/European market, the coconut milk NPDs are moving away from coconut drink to coconut milk-based drink as an alternative to dairy. In Malaysia, coconut milk NPDs are still in the nascent stage of developing a taste for packaged coconut water.
There has been an uptick in the demand for coconut water, thanks to its natural health positioning and as the essential drink for dengue patient. Malaysia is facing a dengue outbreak with fatalities at 293 cases out of the 107,079 reported case as of 21 November 2015. Coconut water is recommended to replace lost electrolytes and minerals for people suffering from dengue.
In terms of marketing, CocoJoy is taking part in the 7-Eleven latest Supahiro Bear promotion.At the moment, not all the 7-Elevens are carrying CocoJoy Pure Coconut Water. Even if they have CocoJoy Pure Coconut Water, CocoJoy Pure Coconut Milk is no where to be seen as of the time of writing.
One thing strange is the Cocojoy I bought on 13 December 2015 was made one year ago on 10 Dec 2014. The product has a two-year shelf life.
A picture of CocoJoy taken by the author at 7-Eleven