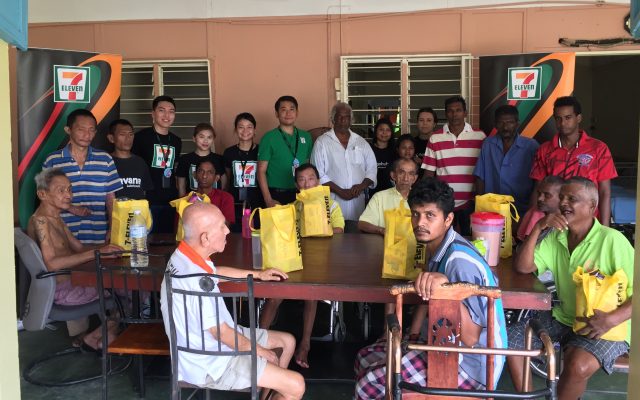 Batu Arang, Selangor – 7-Eleven Malaysia recently conducted its latest CSR initiative by participating in a community clean-up at Positive Living Community in collaboration with its start-up, NGOHub Asia.
Founded in 1997 by Mr. Alex Arokiam, Positive Living Community (PLC) is a shelter home which houses people rejected by society or have become homeless due to AIDS and HIV. The organization, located in Batu Arang, Selangor, also provides support to homeless patients who were recently discharged from hospitals; as well as others who want to overcome drug or alcohol addiction.
"We were the first to establish a shelter home for people with AIDS. Back then, most welfare homes were unwilling to accept them as they were afraid of touching them", said Mr. Alex Arokiam.
"It is difficult to get treatment for AIDS and HIV. However, free treatment is provided if patients have a place of residence, as they would require support that would help them adhere to the treatment regimen. In some cases, families will refer the patient to us due to their inability to support based on their living conditions," he said further.
"Nonetheless, we are grateful to help by offering them a loving home as it is our philosophy to help the least able," he finished with a smile. The shelter currently houses 54 people from all walks of life.
7-Eleven and NGOHub Asia volunteers were assigned into two groups during the cleaning session. 7-Eleven volunteers helped to clear old supplies from the community's storage room, which consist of expired food and miscellaneous items such as clothes, books, among others; while volunteers from NGOHub Asia assisted by weeding and preparing the soil for an empty land that will be used to plant vegetables.
The volunteers also spent time with the residents and distributed goodie bags that contain provisions in the form of biscuits, snacks, dairy products, energy drinks and body shampoo.
Mr. Ronan Lee, 7-Eleven Malaysia General Manager of Marketing said, "We are delighted to have fulfilled our part in this community project. Spending quality time with residents would make them feel appreciated, knowing that they have not been forgotten by society and that there are people who that are still looking out for them. At 7-Eleven Malaysia, we always believe in giving back to the society and uplifting the lives of those who need us. Knowing the positive impact we make encourages us to continue our endeavours of being Always There For You."
About 7-Eleven Malaysia
 7-Eleven Malaysia Holdings Berhad through its subsidiary 7-Eleven Malaysia Sdn. Bhd. is the owner and operator of 7-Eleven stores in Malaysia. Incorporated on 4 June 1984, 7-Eleven Malaysia has made its mark in the retailing scene and have been a prominent icon for over 32 years. 7-Eleven Malaysia is the pioneer and largest 24-hours standalone convenience store operator in Malaysia with over 2,200 outlets nationwide and serves more than 900,000 customers daily. 7-Eleven stores can be found across bustling commercial districts to serene suburban residential compounds throughout Malaysia, from petrol stations and LRT stations to shopping malls and medical institutions. 7-Eleven is Always There For You.