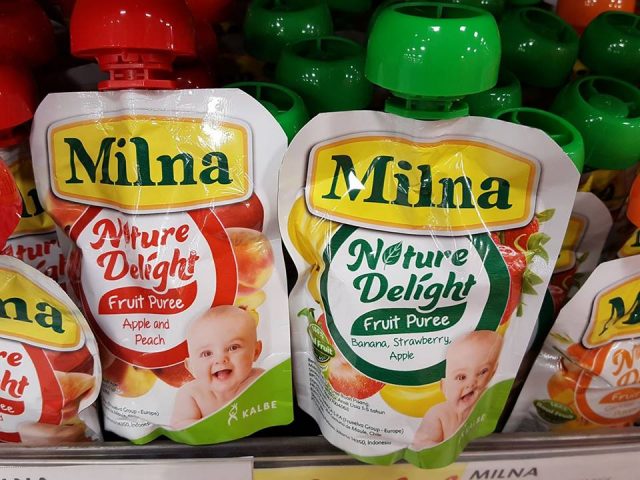 Indonesian baby supplement food manufacturers are moving into segments such as fruit puree and baby puffs that were previously dominated by foreign multinationals. A good example was in June 2017 when Indofood officially launched its Promina puffs.
Recently, Milna, the baby food brand of PT Kalbe Farma Tbk, has made available fruit purees in the market but has not been officially launched at the time of writing. The Nature Delight fruit purees (80g) are made with 100% real fruits with no added sugar. They are meant for children aged one to five. The three variants are:
Carrot, Apple & Pumpkin
Banana, Strawberry & Apple
Apple & Peach
Each pack is priced at IDR 14,900 (USD 1.10).
The fruit purees are imported by PT Sanghiang Perkasa from Fruselva America S.P.A., a Chilean manufacturer of juices, nectars, smoothies and nutritional drinks premium quality private label. The fact that this fruit puree is made in Chile and not locally shows it is still not cost effective to produce it locally.