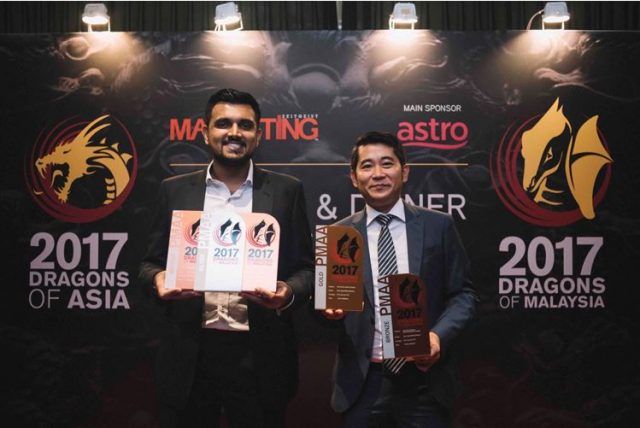 Kuala Lumpur, 17 October 2017 – 7-Eleven celebrates its win of receiving 5 prestigious awards during the 2017 Dragons of Malaysia Awards dinner ceremony held recently in RUYI & LYN Restaurant, Kuala Lumpur. The awards consist of a Gold and Silver for Best Brand Loyalty Campaign; and three Bronzes for Best Social Media or Word of Mouth Campaign; Best Brand Building and/or Awareness Campaign; and Best Cause, Charity Marketing or Public Sector.

7-Eleven Malaysia General Manager of Marketing Mr. Ronan Lee shared, "We are sincerely honored that 7-Eleven Malaysia has been recognized under several categories in Dragons of Malaysia Awards 2017, receiving not only one, but five awards. These achievements signify the joint efforts of the 7-Eleven team and our partner agency, Orion Social Media, and we are gratified to have our employees, partners, as well as the public for being continuously supportive of our initiatives. All of us at 7-Eleven Malaysia are further motivated by these successes and will continue to roll-out more innovative initiatives and consumer engagement activities such as our well received sticker loyalty redemption programs and CSR awareness activities among others while continually striving to introduce the latest in-store services, the most sought after merchandize range and a wide selection of delicious fresh food options as we are all about providing true convenience to the public."
Since 2000, the PMAA Dragons of Asia has recognized the best agencies and clients across all countries in Asia Pacific on results-driven marketing communications. In 2012, the Dragons of Asia launched the Dragons of Malaysia and winners are awarded Gold, Silver & Bronze Dragon Trophies for each respective category.
7-Eleven Malaysia is the pioneer and the largest standalone 24-hours convenience store operator in the country with over 2,200 outlets nationwide. For more information, please log on to www.7eleven.com.my or follow 7ElevenMalaysia on Facebook, Instagram and Twitter.
About 7-Eleven Malaysia
7-Eleven Malaysia Holdings Berhad through its subsidiary 7-Eleven Malaysia Sdn. Bhd. is the owner and operator of 7-Eleven stores in Malaysia. Incorporated on 4 June 1984, 7-Eleven Malaysia has made its mark in the retailing scene and have been a prominent icon for over 32 years. 7-Eleven Malaysia is the pioneer and largest 24-hours standalone convenience store operator in Malaysia with over 2,200 outlets nationwide and serves more than 900,000 customers daily. 7-Eleven stores can be found across bustling commercial districts to serene suburban residential compounds throughout Malaysia, from petrol stations and LRT stations to shopping malls and medical institutions. 7-Eleven is Always There For You.