PepsiCo's Revive isotonic drink was given a new makeover new a new logo and formulation. The new logo was first featured in new 7UP Revive for India. Noticed the new font for Revive, which has more distinctive edges, making the brand more masculine.

PepsiCo launched 7UP Revive in April 2016 and positioning it as a 'hydrotonic' drink with vitamins and electrolytes for hydration. 'Hydrotonic' is short for hydration and isotonic.
In Vietnam, the new logo and the new formulation i-HYDRA8 System debuted in May 2016. The pack design is now more colourful and vibrant to better suit the preference of young consumers.
In Malaysia, the new Revive made its appearance in May 2016 in conjunction with the new Pepsi Emoji bottle campaign. The new Revive comes in a smaller 390ml PET bottle with an affordable price of just RM 0.99.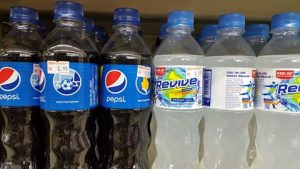 It features the same i-HYDRA8 system with the tagline 'Cool the Core' for fast hydration. The RM 0.99 price makes Revive extremely competitive in price compared with market leader 100Plus, which sells in a standard 500ml pack. However, the new Revive is only available in at few retail chains such as 99Speedmart, which makes it rather out of reach to most consumers. I bet most consumers are not aware of about the new Revive.
In Malaysia, there is no marketing for the new Revive for now and the official Facebook page does not even mention about the new product. The price and the small bottle does make it very competitive. Pretty soon, F&N 100Plus will likely to come up with a slimmer pack with a similar price in the near future.