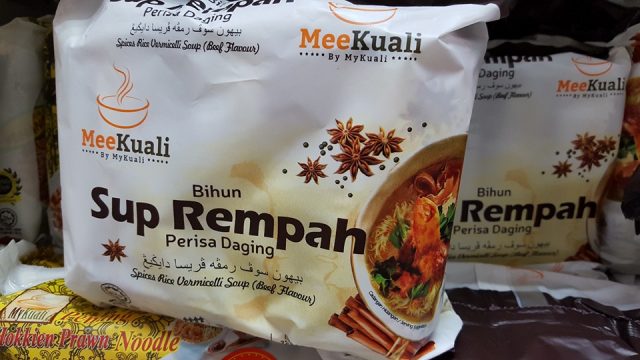 With Muslims now entering their one-month fasting, Sky Thomas Food Industries, the maker of MyKuali, gave us a little surprise for Ramadan. The new MeeKuali by MyKuali Spices Rice Vermicelli Soup (Beef Flavour) or in Malay Bihun Sup Rempah Perisa Daging was recently spotted at Giant Supermarket.
The new product is inspired by sup daging/tulang at the ubiquitous mamak stalls in Malaysia. Mamak restaurants are operated by Indian Muslims serving local favourites like roti canai and teh tarik.
The taste of MeeKuali is geared towards the Malay with the use of local spices like star anise, tumeric and cinnamon. To make it more appealing to Malay consumers, the packaging features the use of Jawi or Arabic script, which is not found in the other MyKuali range where Chinese characters are on the pack. It can be surmised that the new noodle is aimed largely at the Malay market. It is important to reach out to Malay consumers as they have the biggest share of the population at over 50%. The new MeeKuali will build into the success of MyKuali among the local Chinese who represent about 22% of the population.
The noodle comes in a pack of four x 80g selling at a promotional price of RM 5.79 at Giant. The normal price is RM 5.99. MeeKuali The MyKuali Spices Rice Vermicelli Soup (Beef Flavour) appears cheaper (on face value) compared to the flagship MyKuali Penang White Curry Noodle RM 6.99 (4 packs x 110g).
Upcoming Product – Mi Soto Perisa Ayam
A search on MeeKuali on the Malaysian Halal authority website shows Mi Soto Perisa Ayam (Soto Noodle Chicken Flavour) together with three other in the MeeKuali range have received the halal certification. Mini Me Insights will be keeping readers posted once soto noodle appears on the market.