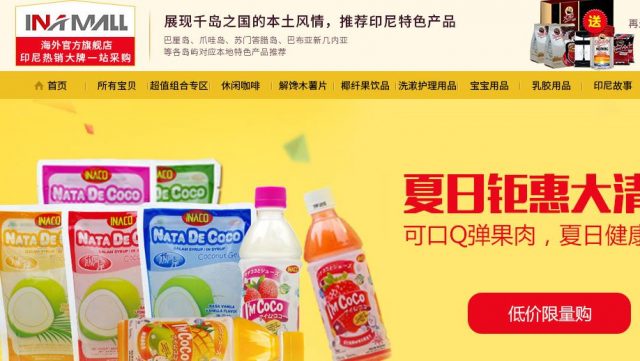 The Indonesian online marketplace on China's biggest B2C platform Tmall was launched on 8 July 2016. The new marketplace Inamall is a platform to selling Indonesian products directly to Chinese consumers. Inamall is hosted on the HK site of Tmall.
Limited range of F&B
Inamall carries a limited range of food and beverage products. Among them are Kusuka cassava chips, Kapal Api (civet coffee and white coffee), Luwak White Koffie and Inaco (nata de coco drink and nata de coco).
No price advantage
Products sold on Inamall is actually more expensive than similar products sold by other merchants on Tmall. Take Kapal Api as an example. On Inamall, Kapal Ali Kopi Luwak carries a price tag of RMB 199, while Kapal Api White Coffee is selling for RMB 48. The same Kapal Api Kopi Luwak sold by other merchants on Tmal can go as low as RMB 145, while Kapal Api White Coffee is cheaper at RMB 32, that's a 33.3% discount. However, Inamall does provide consumers with better protection against fake goods as products sold on the site are directly supplied by the manufacturers.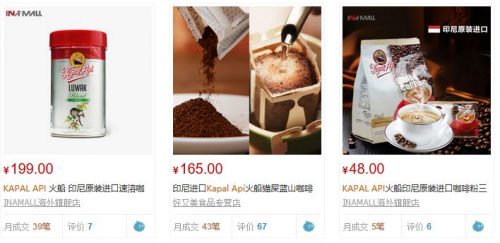 Exclusive
Kusuka, Inaco and Luwak White Koffie are exclusively available on Inamall as these Chinese consumers are not familiar with these brands.
Most popular

As of 23 July 2016, the most popular items on Inamall are Safe Care Roll On Refreshing Oil Aromatherapy, followed by Kusuka cassava chips and Kapal Api White Coffee and Kapal Api Kopi Luwak.
More Indonesian companies are likely to join Inamall in due course since getting the right logistics partner presents a challenge for Indonesian companies doing online business in China.