Overnight oatmeal is growing in popularity in Malaysia and Indonesia with consumers eating it as a way to aid weight loss and to keep their hunger under control. Some people find it easier to digest soaked oats than eating cooked oatmeals as the digestibility of oats improves by soaking it overnight.  Soaked oat also makes a quick breakfast as the oatmeals were prepared the day before. Image above comes from Google Trends for overnight oats (Malaysia)


The overnight oatmeat concept has taken hold in Malaysia and Indonesia. Practitioners do it at home but some companies have started to turn it into a ready-to-eat variant selling through special order or making it available in specialty stores and supermarkets.
In Malaysia, Healthy Jar, founded in April 2015 claims to be the 'oatmeal sifu that serves oatmeal in a jar.' The products are available at over 20 retail stores. Image below shows Healthy Jar Granola Yoghurt Parfait at RM 16.90 per bottle.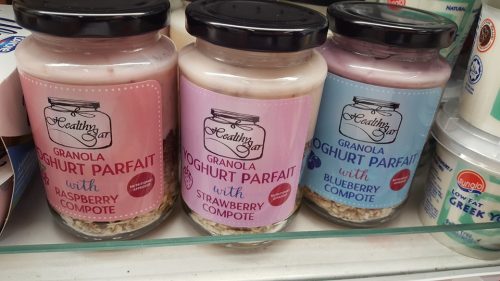 In Indonesia, the overnight oat scene is more vibrant with more choices and players. Yourganic, established in May 2013, has three overnight oatmeals in 250g selling online and via speciality stores like Kem Chicks and Ranch Supermarket. On the website, each bottled is priced at a price of IDR 55,000, which is higher at physical outlets.
Overnight Oatmeal Kakaoat
Overnight Oatmeal Berryoatsy
Overnight Oatmeal Bananarama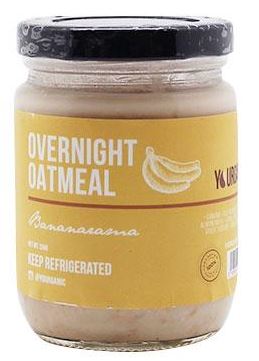 Jakarta-based Overjoyed sells smoothies, pressed juice and overnight oatmeals. The overnight oatmeas are mixed with plain yoghurt, almond milk and fresh toppings. The shelf life is two days. Each bottle is priced at IDR 50,000.

Trim Eats claims to be the 'first and leading savoury oats innovator' in Indonesia. As stated on the website, the company 'provides overnight oats that are made with 100% wholegrain rolled oats and soaked overnight with non dairy milk (unsweetened almond milk, hazelnut milk, or soy milk).'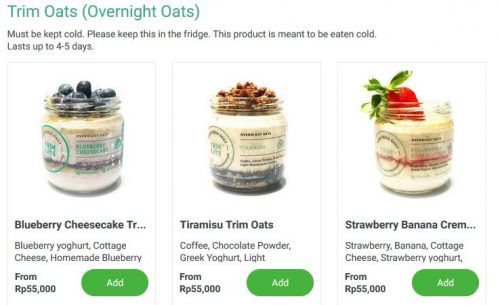 Image above from Trim Eats website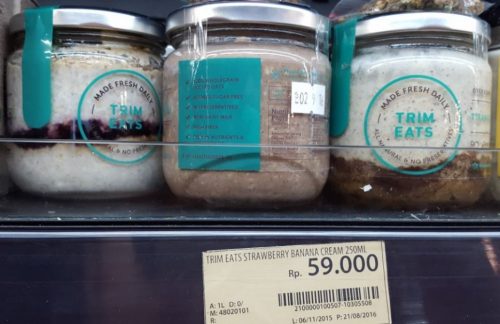 Image was taken by the author at Ranch Supermarket
Other players in the overnight oat scene include KREATÉ and PÜRA VÏDA.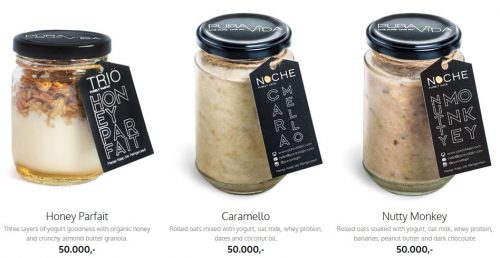 Most of the specialty food players in Indonesia and Malaysia sell overnight oatmeals through social media (Instagram and Facebook) and directly on their website with some having presence in physical stores. The overnight oats are priced at a premium around IDR 50,000 to IDR 55,000 in Indonesia (USD 3.8 to USD 4.2), which suggests they are targeting the middle and upper class consumers who are health conscious and who are keenly following the latest health fad.
Perhaps dairy and oat manufacturers can take a cue from what's happening in the overnight oatmeal scene with cross-category marketing involving dairy and oatmeal.
Update on 8 October 2016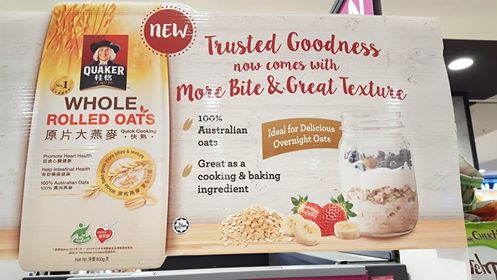 PepsiCo (Malaysia) Sdn Bhd has made available Quaker Whole Rolled Oats. The product is promoted as ideal for overnight oat. The Quaker Whole Rolled Oats features the logo of being the number 1 oat in Hong Kong as audited by Nielsen from January 2011 to December 2013. PepsiCo is importing this product from Hong Kong to into the trend of overnight oat in the country.