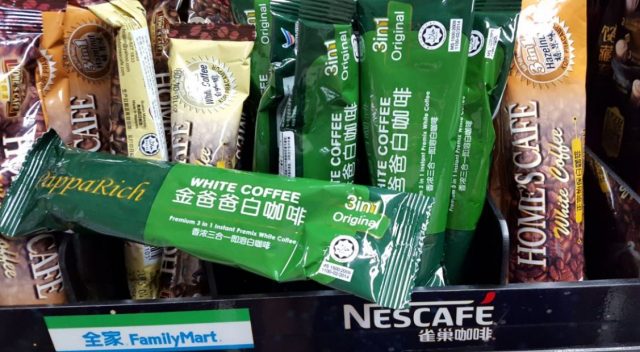 Instant coffee is popular in Asia. It is commonly sold in individual sachet in convenience stores, a store format that is currently booming in the region. Here is a pictorial overview of the instant coffee in sachet in three Asian countries (China, Thailand and the Philippines) with actual on-the-ground observation in convenience stores. The objective is to highlight brands that have captured opportunities in the on-the-go category.
Malaysian coffee at FamilyMart, Shanghai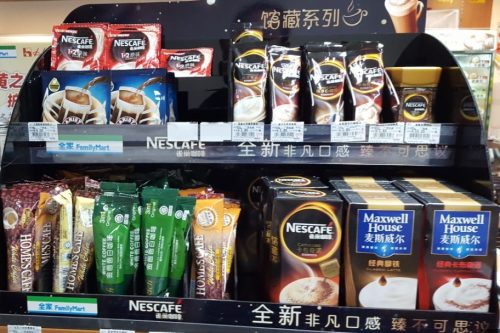 Nescafe is the market leader in China's instant coffee (3-in-1s and 2-in-1s). Maxwell House (Jacobs Douwe Egberts) has always been a distant second and has since lost popularity. Recent reports mentioned the only Maxwell House factory in the southern Chinese city of Guangzhou will close by the end of 2016. From 2017, all the Maxwell House coffee selling in China will be imported from the factory in Bangkok, Thailand.
Two Malaysian white coffee brands Home's Cafe (Ipoh Home's Cafe Sdn Bhd) and PappaRich were seen at FamilyMart, Shanghai. Malaysian companies are well known for white coffee. The PappaRich (金爸爸) or 'Gold Daddy' in Mandarin is a stevia-based white coffee produced by the PappaRich restaurant chain.
Nestle has its own white coffee in China selling under the Authentic Collection Series (馆藏系列).
Indonesian Kopiko at Lawson, Shanghai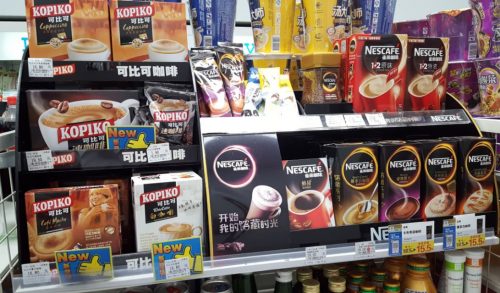 Indonesia's Kopiko (可比可) has a dedicated store placement at the Lawson convenience store chain in Shanghai. Nearly all the instant coffee at this Lawson outlet comes in a box rather than in individual sachet. Kopiko has been aggressively making inroad into China's instant coffee scene focusing on Italian coffee such as cappuccino, latte and mocha. Mayora Indah, the owner of the Kopiko brand, has subsequently introduced its own white coffee.
Cephei at C-Store, Shanghai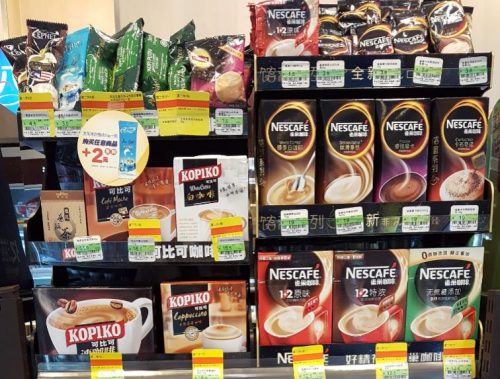 On the top left hand corner in C-Store (喜士多) in Shanghai are instant coffees in individual sachets by Cephei. According to the official website, Cephei (奢婓咖啡) was founded in Frankfurt, Germany in January 2012 with operations in Germany, Malaysia, Italy and other parts of the world. The background of this company is sketchy but it appears to have a factory in Malaysia producing instant coffee such as white coffee.
All the images above were taken by the author in Shanghai in July 2016.
Private label coffee at 7-Eleven Thailand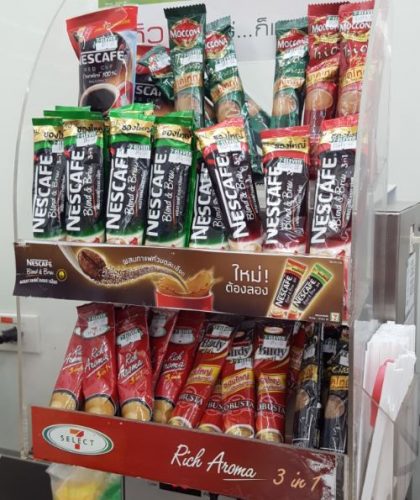 In 7-Eleven, Thailand market leader Nescafe gets the largest space. The other brands are Moccana (Jacobs Douwe Egberts), Birdy (Ajinomoto) and 7-Select (7-Eleven private label). See image above.
Coffee Bean and Tea Leaf at 7-Eleven, Manila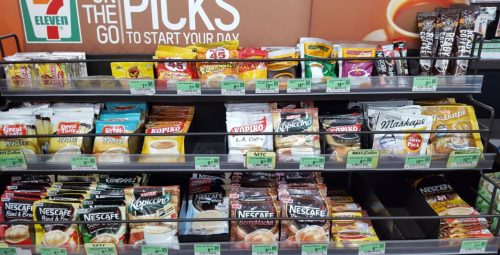 Coffee Bean and Tea Leaf (CBTL) instant coffee was selling at 7-Eleven, Manila. Nescafe is the market in the Philippines, followed by URC's Great White and Mayora Indah's Kopiko. Others include Glorious Blend Slimmax Coffee and 7-in-1 Coffemix with no sugar added (stevia) and fortified with calcium and iron as well as Maskape coffee.
UCC and Good Day at FamilyMart, Manila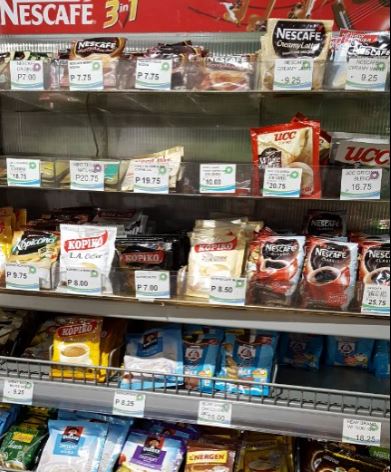 Selling at FamilyMart, Manila are coffee from UCC (white coffee, Colombia coffee and original blend), Nescafe, Kopiko, CBTL, PT Santos Jaya Abadi (Good Day) and Nice Day (5-in-1 White and 10-in-1 Cleanse).
All the images of coffee in Manila were taken by the author in July 2016.