The Edge Daily on 4 November 2016 confirmed F&N is holding talks with McDonald's to supply the fast food chain in Malaysia with 100Plus isotonic drink. However, nothing is concrete at the moment. This follows a recent trial involving the selling of 100Plus and The Coca-Cola Co's Aquarius at selected McDonald's outlets.
Who is the key supplier of beverage to QSR?
The PepsiCo bottler Etika Group of Companies is the biggest QSR (quick service restaurant) beverage supplier. Under its accounts are KFC, Pizza Hut and Domino's, which collectively had 1,160 outlets in Malaysia at the end of 2015.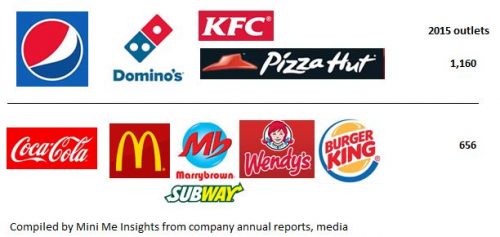 The Coca-Cola Co is the second biggest player in terms of the number of outlets served. Its clients include McDonald's, MarryBrown, Subway, Wendy's and Burger King. They have a combined 656 stores in 2015.
McDonald's account most lucrative
McDonald's made up for fewer stores with high turnover per outlet. In 2015, the US-based burger chain had 259 outlets compared with 645 for KFC and 378 for Pizza Hut. McDonald's annual turnover per store is approximately RM 4.8 million, much higher than KFC's RM 3.3 million and Pizza Hut's RM 1.3 million.
KFC registers fastest growth in store count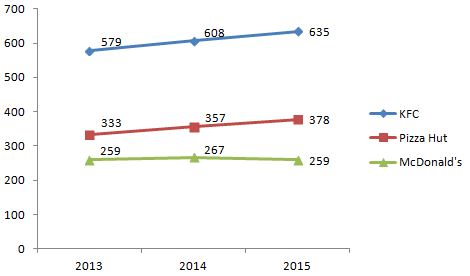 KFC is focusing on expansion. From 2013 to 2015, the net increase of outlet for KFC is 56 stores, followed by Pizza Hut with 45. The number of McDonald's outlets remained unchanged.
Looking at the financials, KFC will remain a key account for PepsiCo not only because of the fast expanding network but also because of the growth in revenue. In the past, KFC has been growing at a high single-digit with the exception of 2014.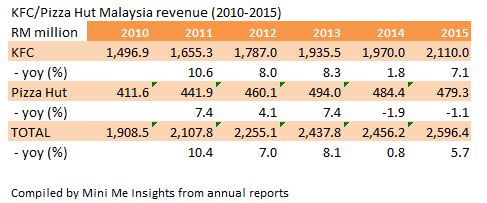 Coca-Cola extends partnership with GSC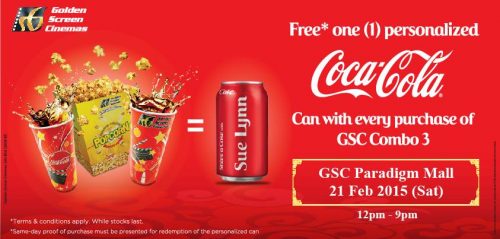 Apart from QSR, cinema is an important non-retail sales channel for soft drinks. The idea food pairing for movie goers is popcorn and carbonated soft drinks.
Coca-Cola Malaysia surprised movie goers at GSC Cinema with an activation campaign for Coca-Cola Zero in 2015.
Recently, The Coca-Cola Co has extended its concession with GSC Cinema by another five years, adding to their existing partnership since 1987. At the end of 2015, GSC owned 302 screens in 33 locations in Malaysia capturing a market share of more than 40%.
PepsiCo's key customer is TGV Cinema. According to TGV Cinema's website, it has 32 multiplexes with 235 screens.
Box office receipts stagnating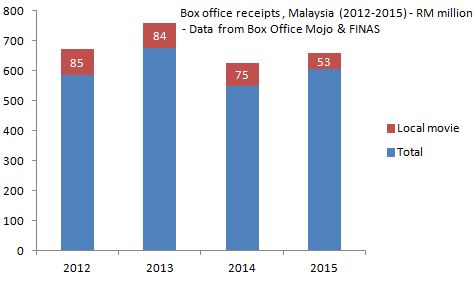 The bad news for cinema is box office receipts in Malaysia is stagnating. Receipts are very much driven by the availability of blockbuster movies such as Iron Man 3, Thor and Fast and Furious 6 in 2013. Receipts from local movie is falling with 2015 registering a decline of 29%, according to FINAS (National Film Development Corporation).
With movie receipts struggling to grow, this means the QSR and the foodservice channel is the key source of growth for beverage suppliers like PepsiCo, The Coca-Cola Co and F&N. The challenge now is to look for emerging QSR chains such as GCH Retail's Uncle Jacks Fried Chicken that have the potential to scale up and grow quickly.