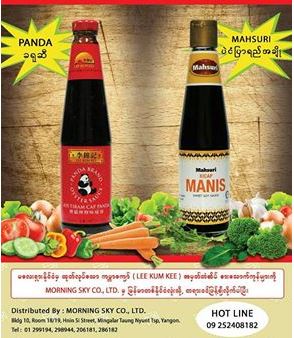 Mahsuri launches in Myanmar

Lee Kum Kee has recently launched the Mahsuri brand in Myanmar as part of the expansion of its existing lineup of Panda oyster sauce. Lee Kum Kee sauces are distributed by Morning Sky Co., Ltd.
♦ ♦ ♦ ♦ ♦ေန႔စဥ္ စားသံုးတဲ့ ဟင္းလ်ာေတြကိုပိုမိုအရသာရွိၿပီး ေကာင္းမြန္တဲ့ ဟင္းပြဲေတြျဖစ္ေအာင္ကမၻာေက်ာ္ LEE KUM KEE အမွတ္တံဆိပ္ ♠ ♠ ♠ Oyster Sauce ( Panda )♠ ♠ ♠ Sweet Soy Sauce ( Mahsuri )♠ ♠ ♠ Hot Sweet Soy Sauce ( Mahsuri )♠ ♠ ♠ Vegetarian Oyster Flavoured Sauce♠ ♠ ♠ Seasoned Soy Sauce For Seafoodစားေသာက္ကုန္မ်ား သံုးၿပီးဖန္တီးလိုက္ၾကရေအာင္ ♦ ♦ ♦ ♦ ♦٭ ٭ ٭ ٭ ٭ မေလးရွားႏိုင္ငံမွ ထုတ္လုပ္ေသာ ကမၻာေက်ာ္ LEE KUM KEE အမွတ္တံဆိပ္ စားေသာက္ကုန္မ်ားအားMORNING SKY COMPANY LTD. မွ ျမန္မာတစ္ႏိုင္ငံလံုးသို႔ တရား၀င္ျဖန္႔ခ်ိလိုက္ပါၿပီး ٭ ٭ ٭ ٭ ٭ အေသးစိတ္သိရွိလိုပါက … HOT LINE – 09 252408182 ….. ဆက္သြယ္ေမးျမန္းႏိုင္ပါတယ္ ….

Posted by Morning Sky Myanmar Co.,Ltd. on 27hb Oktober 2016
Taste and affordability
The reason for introducing Mahsuri in the Myanmar market is to have a product that suits the local taste and is affordability for the masses. The Mahsuri oyster sauce has a sweeter taste, said Carmen Liew, Regional Marketing Director of Lee Kum Kee (Malaysia) Sdn Bhd, speaking during the launch of the new look for the Mahsuri brand in the Malaysia market on 15 December 2016. In terms of the price point, Mahsuri is more affordable compared to Panda, which is premium and is targeted largely at ethnic Chinese consumers in Southeast Asia.
Relaunch in Myanmar end of Q1 2017
Lee Kum Kee plans to have a relaunch in Myanmar at the end of the first quarter of 2017, said Bong Tian Min, Regional Sales Director of Lee Kum Kee (Malaysia). Within ASEAN, the current focus is on Malaysia, Singapore, Myanmar and Indonesia. After Myanmar, Lee Kum Kee will concentrate on Indonesia. Lee Kum Kee currently has no plans to enter Cambodia with the Mahsuri brand, added Bong. In Cambodia, Lee Kum Kee's Panda premium oyster sauce are distributed by Hung Hieap (Cambodia) Co., Ltd.
Plans for Indonesia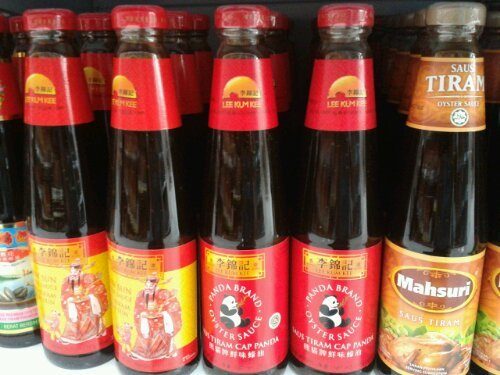 Lee Kum Kee has two oyster sauces in Indonesia under the Panda and Mahsuri brands and both are certified halal. (Image above from My Daily Product Review.
In Myanmar, the focus is on oyster sauce, soya sauce among others, while Indonesia is on oyster sauce.  The reason for focusing on oyster sauce in Indonesia is due to local regulatory issue that prevents importers from selling sweet soy in Indonesia to protect the local industry, said Carmen.
Maggi officially enters Myanmar
The introduction of the Mahsuri brand in Myanmar coincided with Nestle's official debut of Maggi oyster sauce and soy sauce in the country on 19 November 2016.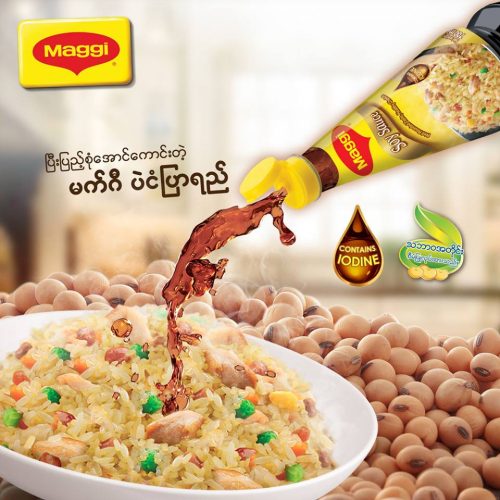 According to the press release, "MAGGI's Soy and Oyster sauces will be available in the wet markets, neighborhood retail shops & supermarkets. Each Soy sauce & oyster sauce will be available in two sizes with the price below from 1000 MMK for 200ml soy sauce & 210g oyster sauce and below 2000MMK for 700ml soy sauce & 760g oyster sauce. Myanmar Distribution Group (MDG) will be taking care of nation wide distribution."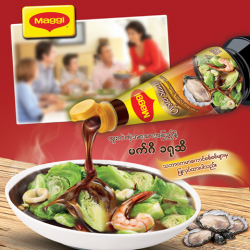 Oyster sauce is versatile and simple to use. The key challenge is affordability and making the sauce relevant to local dishes. Lee Kum Kee is addressing these with the Mahsuri brand to unlock opportunities in the oyster sauce category, making the sauce a part of the culinary habit of local consumers.