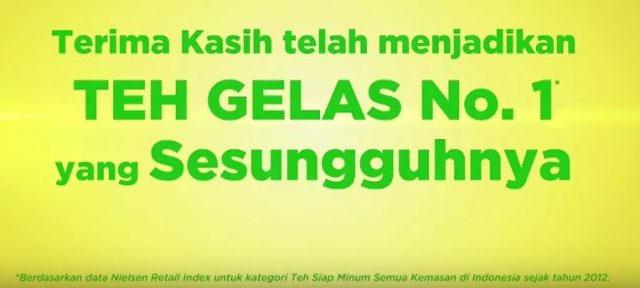 Interesting figures have come up lately on the performance of the Indonesian RTD tea category. The SWA magazine (25/2016) – 30 November to 7 December 2016 issue, comes with the theme "The Most Popular Products for 2016" (Produk Produk Terlaris 2016).
43% share of non-cup jasmine

The magazine features the story of Teh Pucuk Harum, an RTD tea brand of Mayora Group. The headline says "Teh Pucuk Harum needs only 5 years to control the market." According to PT Mayora Indah Tbk Beverage Director Riko Sistanto, the brand has a 43% market share in the non-cup jasmine segment in Indonesia, which makes it the market leader in this category without citing the source. The article describes the feat as an impressive achievement since Teh Pucuk Harum was only launched in 2011.
Sales surged 39.6% in 2016
Riko said sales of Teh Pucuk Harum in 2016 surged by 39.6% year-on-year with a total average production of 100 million bottles per month at its four factories in Ciawi, Makassar, Palembang and Pasuruan. The company put on stream a new factory in September 2016 at Ciherang with a production capacity of 40 million bottles a month. The sales target for 2017 is 140 million bottles per month.
What about Teh Gelas?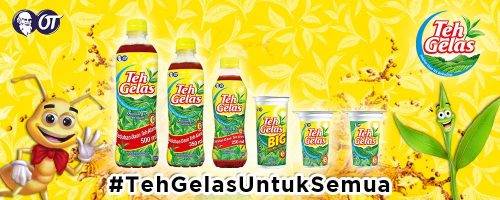 OT Group claims its Teh Gelas is number one in all RTD tea packaging sizes (teh siap minum semua kemasan) since 2012 according to the Nielsen Retail Index. This message was conveyed in a TV commercial in 2016 called "Teh Gelas No 1 Sesungguhnya" (Teh Gelas is number one indeed).
Teh Gelas is very strong in RTD tea in cup format, an affordable packaging popular with lower income consumers. This probably explains why Teh Gelas is number one in overall RTD tea as measured by Nielsen.
Other measurements

Frontier Consulting Group, a local market research company, puts Teh Botol Sosro as the number one RTD tea brand for all packaging as measured by its Top Brand Index (TBI). The top brand index is measured using 3 parameters: Top of Mind (TOM), Last Usage (LU) and Future Intention (FI). This approach does not focus on actual transaction but takes into account TOM and FI as well as usage.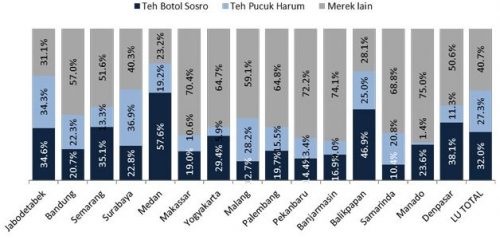 In terms of geography, Teh Botol Sosro scores well in Medan and in Balikpapan. Teh Pucuk Harum is popular in Surabay and in the Jabodetabek region, which encompasses Jakarta, Bogor, Depok, Tangerang and Bekasi.
Euromonitor claims PT Sinar Sosro "continued to dominate RTD tea with a 56% off-trade volume share in 2015" with its "share declined quite significantly from 59% in 2014".
What Mini Me thinks
With the absence of a central depository system that provides the public access to private company financial statements in Indonesia, market share is really depends on the coverage and the methodologies. The best hope for accuracy is for RTD tea producers to tap the financial market for capital, which would force them to issue financial statement about their operations and possibly shed light on their RTD tea segment.