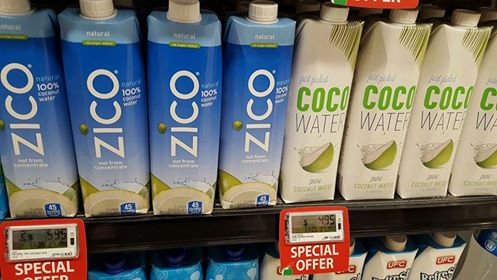 The author had a chance to visit Singapore in January 2017 and surprisingly found the packaged coconut water has already taken hold in the country.
One strong reason why Singaporeans are turning to packaged coconut water is the difficulty of getting hold of fresh coconut in the island nation. As a contrast, fresh coconut is abundant in Malaysia and can easily bought from the roadside vendors. The easy availability of fresh coconut has made Malaysians picky with the taste and as a result putting a cap on the growth of the coconut water category.
This article focuses on the product available in the different channels.
7-Eleven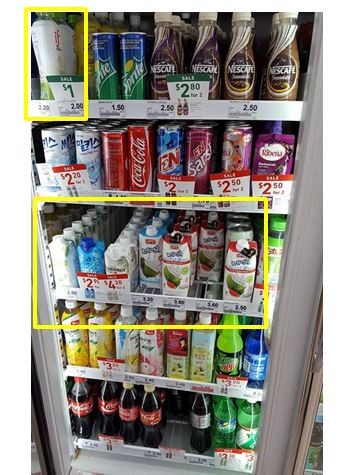 At 7-Eleven, the packaged coconut water products comprise:
IF Local Sensation Coconut Water (Thailand's General Beverage Co., Ltd.) – SGD 2.20
Yeo's 100% Natural Coconut Water 330ml – SGD 4.20 for two (SGD 2.90 for one)
F&N Coco Life 330ml – SGD 2.90 for two
UFC Refresh Coconut Water (Thailand) 500ml – SGD 3.20
UFC Refresh Coconut Water with Watermelon (Thailand) 500ml – SGD 3.60
Just Picked CocoWater (Thailand) 330ml – SGD 2.90
Yeo's Coconut Juice Drink 500ml – SGD 2.50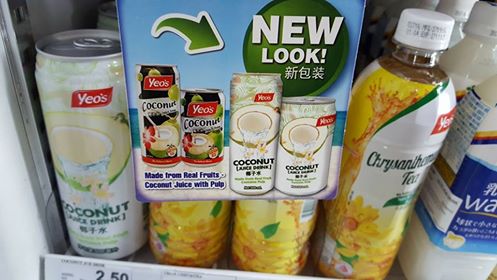 The UFC Refresh Coconut Water is the number 1 brand in Singapore, according to Nielsen Singapore Market Track value sales for coconut flavoured Asian drinks category MAT June 2016.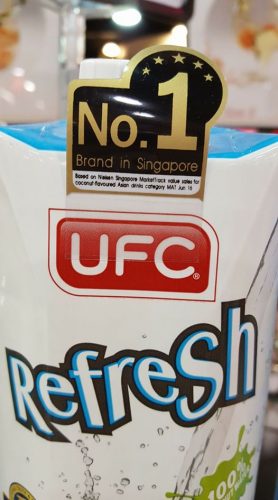 In some 7-Eleven, coconut water is scattered in different parts of the chilled section. In one 7-Eleven, the F&N Coco Life was located next to Minute Maid Orange, the Yeo's Coconut Juice Drink was placed next to Yeo's Chrysanthemum Tea and Yeo's 100% Coconut Water was put between Sprite and Mogu Mogu Grape Juice.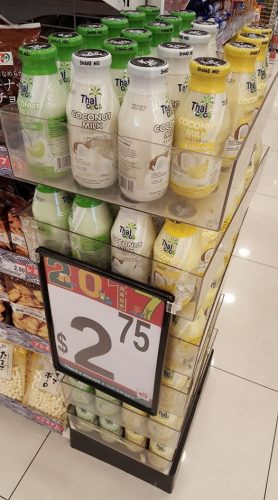 Thai Coco Coconut Milk – Original, Banana and Melon is available at 7-Eleven for SGD 2.75 each. This is the only coconut milk-based drink spotted in the modern retail outlets.
Giant HyperFresh at Suntec City Mall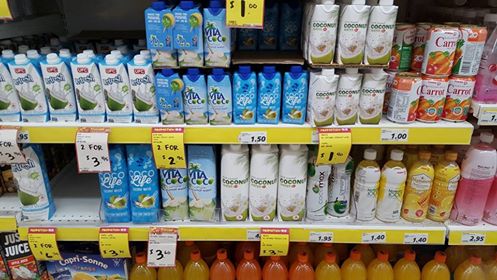 There are more choices at Giant HyperFresh Suntec City Mall compared to 7-Eleven. The products include:
Yeo's Coconut Juice Drink 500ml can – SGD 1.00 (usual price SGD 1.40)
Yeo's 100% Natural Coconut Water 330ml Tetra Pak – SGD 1.40 (usual price SGD 2.30)
Vita Coco 330ml Tetra Pak – 2 for SGD 2.95 (usual price SGD 3.80)
Vita Coco 1L Tetra Pak – SGD 3.60 (usual price SGD 4.50)
UFC Coconut Water 500ml Tetra Pak – 2 for SGD 3.45 (usual price SGD 3.90)
Wong Coco Coconut Juice with Pulp 520ml can – SGD 1.20
Ice Cool Coconut Juice with Pulp 500ml can – SGD N/A
F&N Coco Life 1L Tetra Pak – SGD 3.15 (usual price SGD 3.65)
Yeo's 100% 100% Natural Coconut Water 1L Tetra Pak -SGD 3.30 (usual price SGD 4.40)
CocoMax 100% Coconut Water 500ml PET – SGD 1.95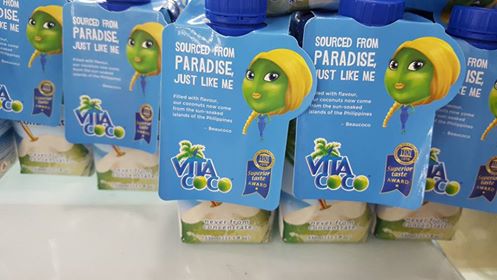 Greater choices at NTUC FairPrice
The NTUC FairPrice at Chinatown Point sells more varieties of coconut water and has bigger space to give brands better shelf placement for their products.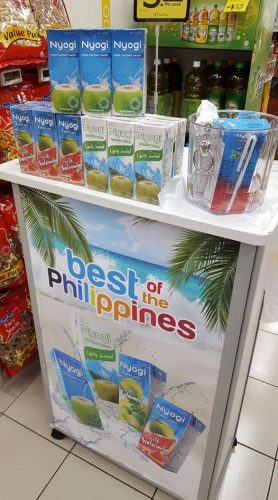 Nyugi coconut water from the Philippines was having a sampling activity in the supermarket. The Nyogi Coconut Water with Watermelon, Nyogi Coconut Water Lightly Sweetened and Nyogi Pure Coconut Water were made available in NTUC FairPrice in November 2016, while Zico was launched in Singapore in June 2016.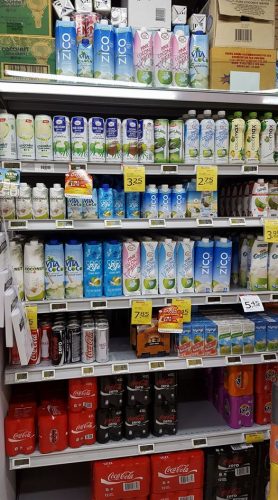 The Zico 100% Natural Coconut Water 330ml Tetra Pak was selling at SGD 1.60. Other products in the shelf were Ice Cool Pink Coconut Water, CocoMax Coconut Water with Mango 500ml and FairPrice 100% Coconut Water 1L.
NTUC FairPrice has just introduced the private label 100% coconut water under the FairPrice label in early 2017, making it likely the first private label coconut water in Singapore.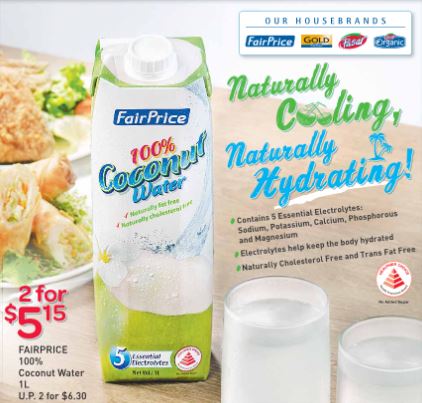 Cold Storage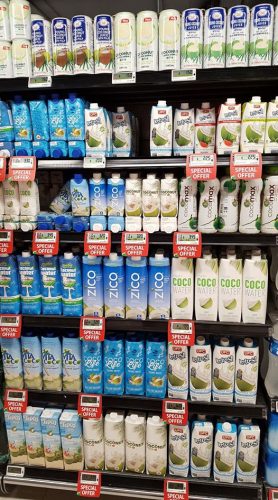 Nudie's and Tipco's coconut water are available at Cold Storage.
Redmart – Maprao Organic Coconut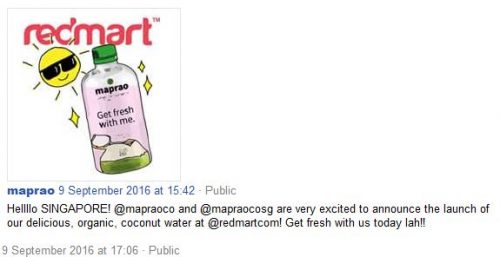 Thailand's Maprao Organic Coconut was launched in Singapore in September 2016 and is available through the online supermarket RedMart.com. The retail price is SGD 3.90 for a 250ml bottle. Other coconut water sold on RedMart.com include Nudie, Meko, Merito, DJ&A, Cocoxim, Absolute and Nakula.

Lesser known imported brands target foodservice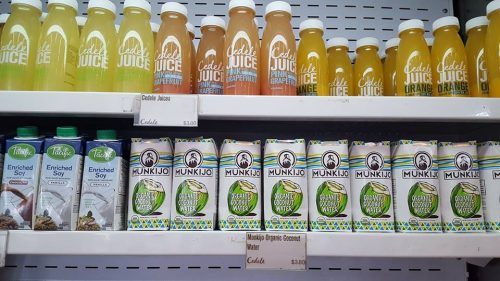 A greater varieties of imported coconut water are stocked by foodservice operators. This comes as importers find it easier to target restaurant owners as they have lower shelf placement fees compared to supermarkets or convenience stores. The Munkijo 100% Organic Coconut Water 330ml Tetra Pak is selling at SGD 3.30.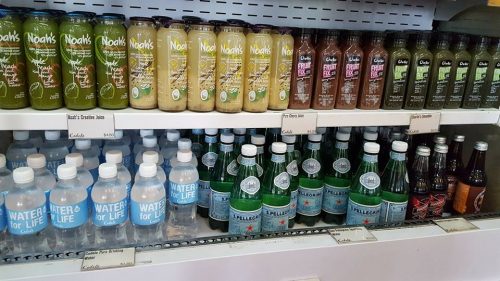 Bus advertising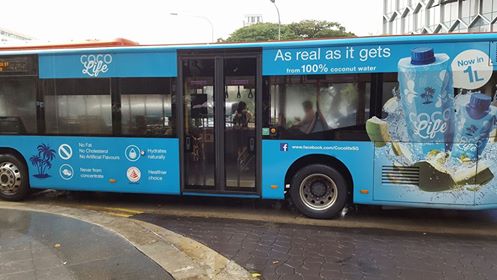 With high level of public transport commuting, companies are using bus for out-of-home advertising as seen in the example of F&N's Coco Life announcing the availability of the new 1L pack.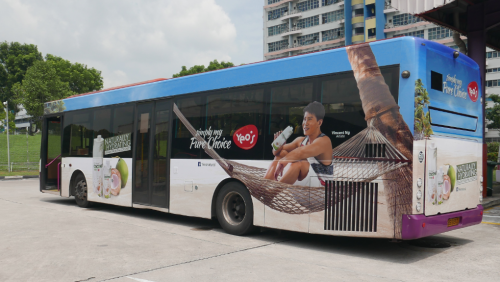 Moove Media Pte Ltd, the advertising arm of ComfortDelGro Corporation Ltd, has turned the bus into a tropical island for Yeo's coconut water.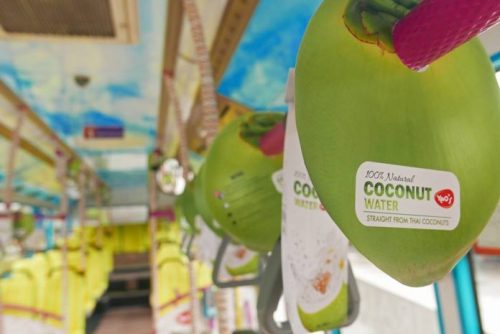 The interior is designed to feature sand and a boardwalk line, while the ceiling is adorned with blue sky stickers to associate coconut water as the refreshing option in the humid condition in Singapore.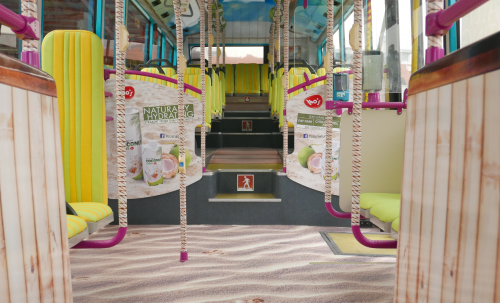 What Mini Me thinks
The vibrant coconut water scene in Singapore has driven the growth of the juice market in Singapore in 2015, according to Euromonitor where juice accounted for 32% of the Singapore soft drink market in 2015, the largest category. The closet competitors are carbonates at 25% and RTD tea at 20%.
The market will continue to attract the entry of new brands into the market. We will also be seeing flavour and coconut milk-based products playing a larger role in engaging with consumers going forward.