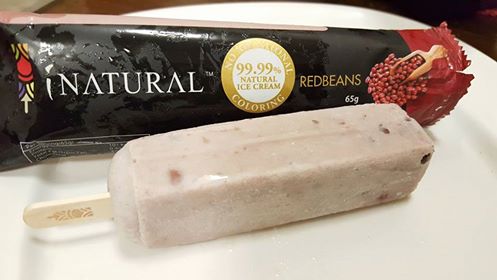 In Malaysia, a new ice cream potong iNatural has joined the big family ice cream potong family. Ice cream potong can be traced back to the 1930s and 1940s. Back then, the cold treat was sold in long stick and cut according to customer's request.
At least six million ice cream potong sold each year
The humble cheap and cheerful Ice cream potong has attracted a lot of attention and following in Malaysia and Singapore. According to the Star in August 2012, at least six million ice cream potong were sold annually. Many more ice cream potong would have been sold since the article was published in 2012. The popularity of ice cream can be largely attributed to its nostalgic appeal and its local flavour where everyone can relate to.
Recent launches
Recent launches include Nestle Aiskrim Tradisi Potong (Red Bean, Coconut Gula Melaka and Bandung Syrup) and the limited-edition King's Potong Gold Musang King.

Japanese take on ice cream potong
Unlike other ice cream potong, iNatural is a new ice cream potong founded by Japanese Kohei Taki who operates under Matsuya Ice Cream Sdn Bhd. What makes iNatural different is the range is positioned as a premium, natural ice cream made from Malaysian fruits and ingredients.
First ice cream potong sold in premium black packaging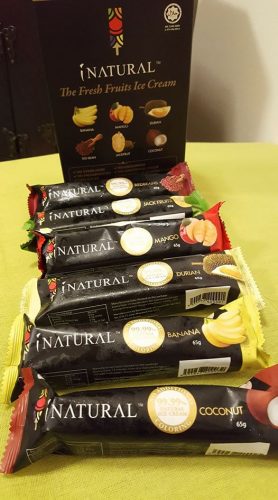 iNatural is also likely to be the first ice cream potong selling in a black packaging. Black is often used to denote the premium quality of a product. The logo also gives the impression that it is an ice cream from New Zealand.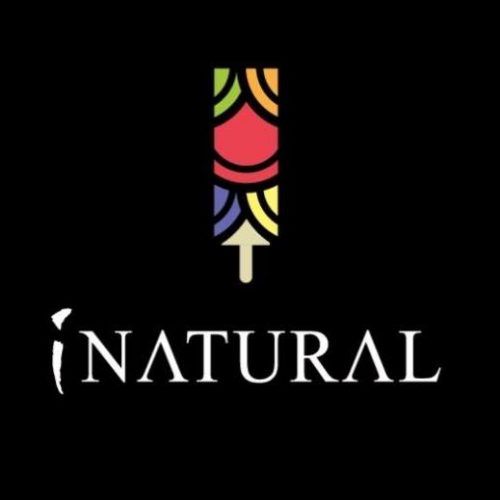 According to the product packaging and website, iNatural is 100% made in Malaysia.
Six flavours
The iNatural range has six flavours: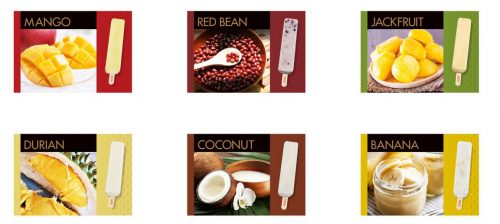 They come in 4-stick value pack (RM 13.95), assorted value pack (all six flavours – RM 19.95) and single stick (RM 3.95).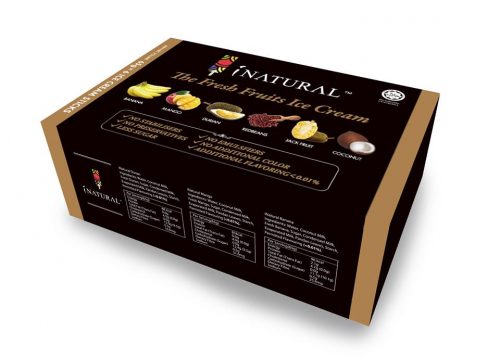 99.99% natural ice cream with real fruit pieces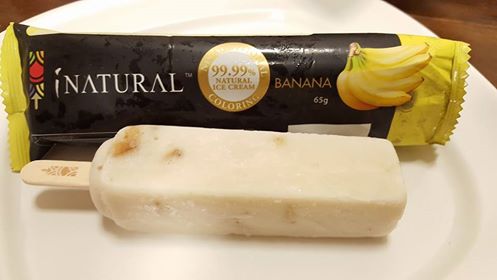 According to Matsuya Ice Cream, iNatural is free from emulsfiers, stabilisers, preservatives, additional colour or additional flavouring (less than 0.01%). It is 99.99% natural made from fresh fruits. Each ice cream contains 20% of coconut milk.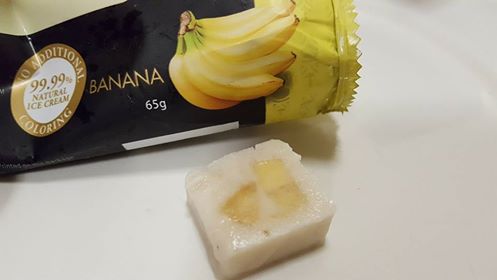 The banana ice cream contains fresh banana pieces, which makes it tasty and unique. (image above)
iNatural durian comes with natural colour
Durian is a popular flavour in ice cream potong. The iNatural durian ice cream does not have the bright yellow colour often associated with durian ice cream. This is because the ice cream is made with water, coconut milk, fresh durian, sugar, condensed milk, evaporated milk, pandan leaves, starch and permitted flavouring (<0.01%).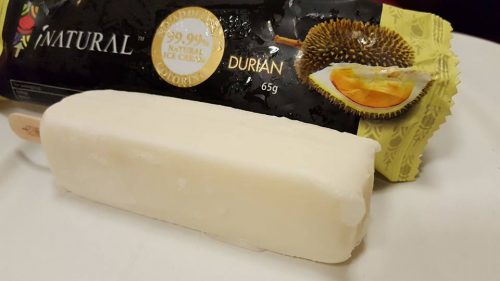 Each ice cream has a shelf life of 12 months from the manufactured date and has to be kept frozen below -18'C.
Halal certified
iNatural is certified halal by JAKIM.
Sold at premium grocers
iNatural is available in the Klang Valley area at Cold Storage, Mercato, Jason's Food Hall and Ben's Independent Grocer. Click here for more information on the outlets.
What Mini Me thinks
iNatural has added a new dimension to the local vibrant ice cream potong scene and has raised the quality standard. The ice cream demonstrated how the use of natural ingredients and the free-from claims help elevate the taste experience and in the process justify its premium pricing.
The ice cream is therefore ideal for consumers who have tasted the normal ice cream potong but wants something more premium in taste.
However, the packaging does need some improvement to grab the attention of consumers with cues to show that it is an ice cream.