Tipco Foods Plc launched a new sport drinks Tipco Wave at the end of April 2017. The drink features BluBio containing nutritive minerals from New Zealand's Pacific Ocean.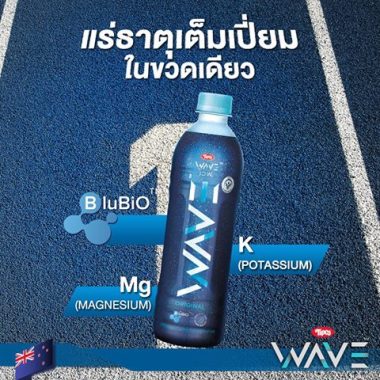 The author finally had a chance to try it yesterday (1 June 2017). Tipco Wave tastes like a diluted energy drink without the strong 'medicinal' taste often associated with energy drink. When asked about Tipco Wave, the person in charge described the beverage as a "natural Gatorade."
Key ingredients
White grape juice from white grape juice concentrate 10%, fructose syrup 5.8%, magnesium lactate dihydrate (0.1%), sodium chloride (BluBio) 0.07%, potassium choloride 0.03%, acidity regulator, natural identical flavour and no preservatives.
It comes in the original and orange flavours. The introduction of Blue Wave shows Tipco is diversifying into a new category – premium sports drink. This ties in well with the company's focus on the healthy drink segment. Blue Wave has an energy of 60kcal per serving of 250ml.
Targeting 20-50-years-old
Kittichet Sathitnoppachai, Tipco marketing director, said Tipco Wave is aimed at 20-50-years-old who like sports and are conscious of their health and concerned about organic, reported The Nation on 26 April 2017.
100Plus dominates sports drink market
According to Kittichet, Thailand's sports drink market in 2017 is expected to reach THB 6 billion in 2017, up 10-15% over the same period ago. ThaiBev's 100Plus is the market leader in sprots drink in PET bottle with a 45% market share, followed by Coca-Cola's Aquarius with 28-29% and Gatorade with 15%. In the glass bottle format, Sponsor has a clear lead with an 85% market share, according to the article in Brand Buffet.