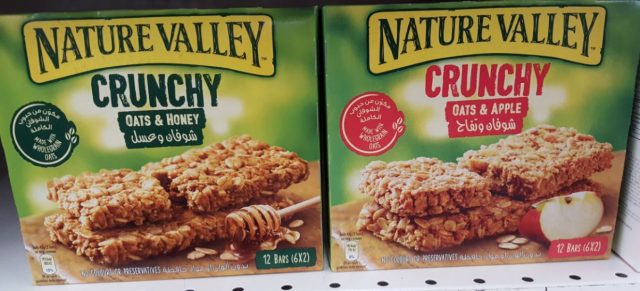 Fitbar used to be the only snack bar option in 7-Eleven in Malaysia before the arrival of Kellogg's Coco Cereal Bar. In recent months, General Mills has enriched the snack bar choices at 7-Eleven with Nature Valley Crunch.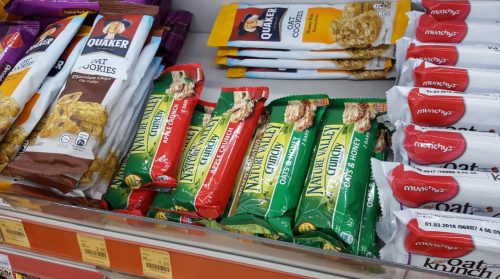 The snack bar comes with 2 bars each and weighs a total of 42g. It is imported by General Mills Malaysia Sdn Bhd from Spain. Each pack is priced at RM 2.90 (USD 0.67). The snack bar is certified halal by the Halal Food Council of Europe and is meant for the Middle East market. Click here for Nature Valley's Middle East Facebook page.
The Nature Valley snack bars in a box of 6 is also available in hypermarkets and supermarkets.
At 7-Eleven, Fitbar from Indonesia's Kalbe Farma is priced at RM 2.90 for a pack of 25g, while Kellogg's Coco Cereal Bar is retailed at RM 2.40 for 22g.
What Mini Me thinks
It is interested to discover General Mills has become active in the snack bar category tapping into portable on-the-go snack for working adults and children and consumer interest in oats and ancient grains such as quinoa, millet and chia.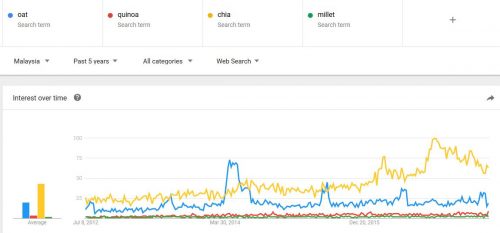 The spike in the interest on oat coincides with the 30-day Ramadan fasting period and Eid al-Fitr, which is the end of Ramadan. This is explained by the popularity of using oat and cornflakes in making festive cookies, thanks to promotions by brands like Quaker and Kellogg's.
At the moment, there are more snack bar choices in the large store format for home consumption and less as an impulse purchase at convenience store chain.