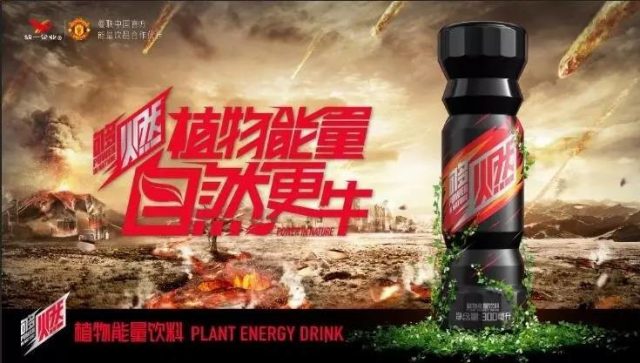 Energy drink (功能饮料) has seen strong new product development (NPD) activities in recent months in China.
Eros
The sign this category has reached a feverish pitch is the latest 爱洛(EROS) energy drink by Wang Sicong, the only son of Chinese tycoon Wang Jianlin who is the founder of Dalian Wanda Group, China's largest real estate developer.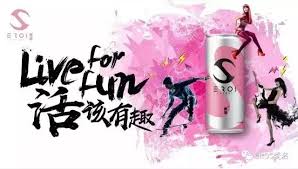 Eros energy drink was launched in June 2017. It contains maca, phytolin, guarana and taurine. The retail price is CNY 9.9 per can.
Gouran
Uni-President China (统一) rolled out its 够燃 (Gouran) plant energy drink in early June 2017 after testing the drink in Suzhou in May 2017. Gouran does not contain taurine as it is considered a plant-based energy drink. The key ingredients are ginseng, rooibos and green coffee.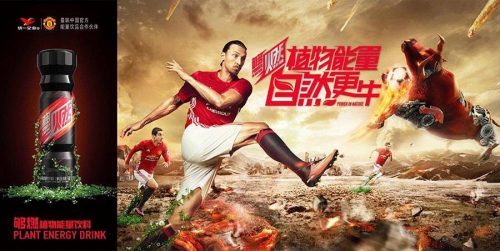 The retail prices is CNY 6 for a 300ml bottle. Uni-President has previously introduced a super premium plant-based energy drink Revive (唤醒) or Huan Xing in 2016. The key ingredients are Elder Flower (接骨木花) from Austria, green coffee (绿咖啡) from Brazil, ginseng (人参) from China and Maca (玛咖) from Peru. Each 286ml can contains 30g of caffeine, 0.8g of Maca powder and 0.4g of ginseng. The price was CNY 19.9.

Dongpeng in gold can
Shenzhen Eastroc Beverage Industrial Co., Ltd. (东鹏饮料实业有限公司), the producer of Dongpeng (东鹏) energy drink in PET, rolled out its gold can version (金罐特饮) in March in 2017. The gold can is aimed at making it more convenient and appealing to young consumers.


In mid-2017, Estsroc unveiled the 500ml energy drink in PET bottle (CNY 5) to complement the existing 250ml variant.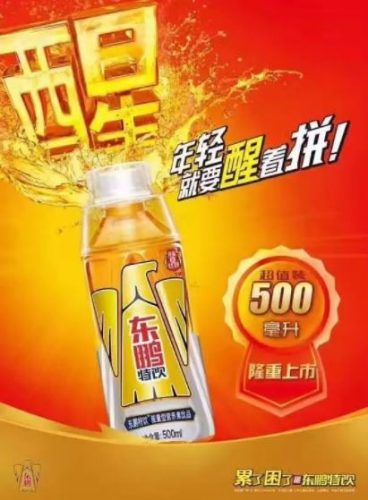 Red Bull War Horse
Reignwood Group, which holds the license to Red Bull in China, faced with licence renewal issue at the end of 2016. As a precautionary measure, the country's largest energy drink company, debuted 战马 (War Horse) or Zhan Ma in Mandarin at the end of 2016.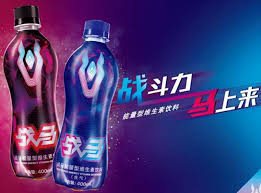 The War Horse in a 400ml PET bottle comes in two versions – carbonated and non-carbonated. War Horse is different from TC Pharmaceutical's Warrior carbonated energy drink for the Southeast Asia market.
When the author visited Shanghai in May 2017, War Horse had little presence in the key convenience store channel in Shanghai.  Reignwood Group is still battling for the rights to Red Bull in China.
Amway XS
Multi-level marketing (MLM) company Amway announced it would launch the XS energy drink in China in September 2017. The sugar-free energy drink will be sold through MLM as well as in physical stores. XS was launched in Macau and Hong Kong in 2016.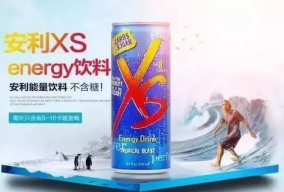 L.I.F.E.
L.I.F.E., a sparkling energy drink, was officially launched in China in June 2017. L.I.F.E. Energy Drink is owned by basketball champion Mike Miller who rolled out this product in Macau and Hong Kong in 2015. The Shanghai launching event was graced by legendary Shaquille O'Neal.

Tibet Water Resources Ltd (西藏水资源有限公司), the maker of 5100 Tibetan mineral water, is the key distribution partner in China.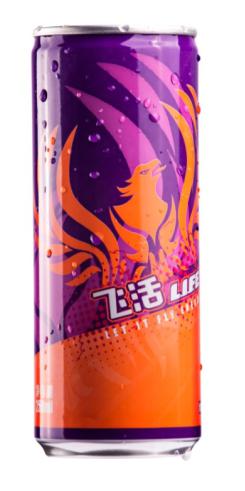 Asia Powerful Wave
Guangzhou Xiangxue Pharmaceutical Co., Ltd. (香雪制药集团) announced the launching of a new energy drink called 亚洲雄风 (Ya Zhou Xiong Feng) or literally translated as "Asia Powerful Wave." The 380ml bottle contains gaurana and ginseng and has a suggested price of CNY 5.
Bacchus zero caffeine
South Korea's Dong-A Socio Holdings Co., Ltd. will release the zero caffeine Bacchus energy drink in China in 2018, according a company executive when contacted at SIAL China 2017.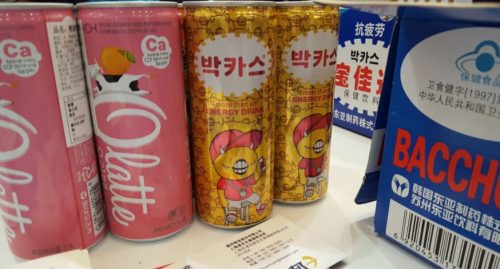 Zhongwo gold can
Henan-based Henan Woerma Beverages Co.,Ltd. (河南中沃实业有限公司), a regional brand known for its (体质能量) or Ti Zhi Neng Liang energy drink, announced the launch of the gold can Ti Zhi Neng Liang in March 2017. The 320ml gold can enriches the current 600ml PET bottle variant. Zhongwo gold can comes in three variants – 金罐牛磺酸 (taurine)、金罐黑玛咖 (maca)、金罐功夫麻椒 (pepper).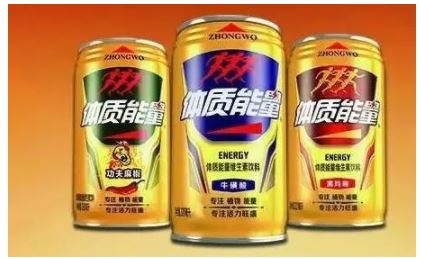 Apart from the 350ml, Zhongwo also has the 500ml energy drink in can comprising three variants – maca, taurine and fortified with ginseng.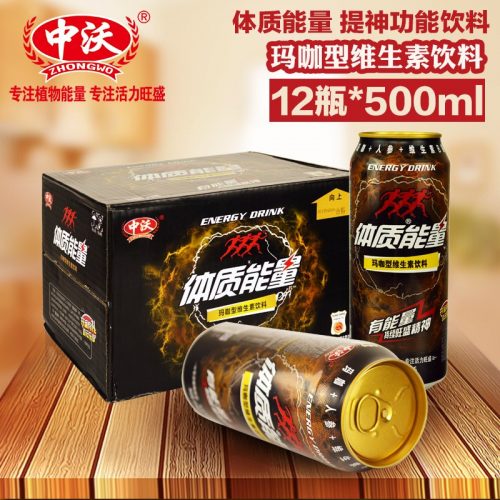 COFCO Bigbang
At the end of 2016, COFCO (中粮) introduced Bigbang (嗨棒) energy drink. Bigbang contains taurine, vitamin B6, B3, B5 and B12 and guarana. The 250ml can is fully imported from the Netherlands. It is produced in collaboration with Refresco.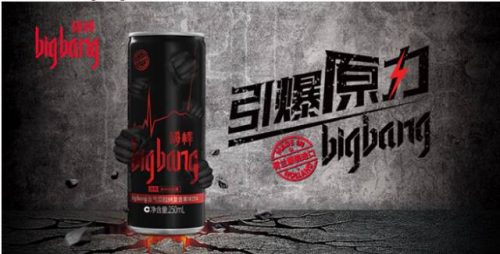 What Mini Me thinks
China's energy drink market still has room to grow as penetration is low. However, the established players and newcomers are likely to canabalise the market share of Red Bull, currently the market leader.
With low or negative growth in other beverage segments like carbonated soft drinks, more players are expected to enter the market including possibly by Tingyi (Cayman Islands) Holding Corporation, the company behind the Master Kong brand. We will see a possible risk where explosive growth may end and a period of consolidation sets in. At the moment, we are in the stage where the night is still young and enjoy while you can as the party will come to an end.
*All the images are from the web otherwise stated.