Three retailers in the Philippines are reaching or have reached their 1,000th store milestone.
Jollibee clocked in 1,000th outlet
On 3 July 2017, the homegrown fast food chain Jollibee opened its 1,000th store in the Philippines at Bonifacio Global City (BGC) Triangle Drive in Taguig.
At the end of February 2017, there were 989 Jollibee outlets in the Philippines and 171 overseas, up respectively from 916 and 171 at the end of 2015.
Potato Corner

Potato Corner, the homegrown French fries brand, announced it would be opening its 1,000th outlet in August 2017. Company Chairman Jose P. Magsaysay Jr. said it will have over 140 branches overseas by August 2017 including 98 in Indonesia, 35 in the US and 11 in Thailand.
Potato Corner, first set up in 1992, is looking for partners in Malaysia, Vietnam and Brunei. A store in Cambodia and Kuwait will open in August 2017.

Potato Corner timeline
1992 – Founded as a kiosk outlet
1993 – Started franchising
1994 – Opened around 70 outlets
1997 – Opened 170th outlet
2006 – Opened first outlet in Jakarta, Indonesia
2008 – 170 outlets in the Philippines and 10 in Indonesia
2010 – Entered the US with first outlet in California
2015 – Opened 500th outlet
2016 – Opened 800th store
Shell Philippines
Pilipinas Shell Petroleum Corporation said on 5 July 2017 that it has opened its 1,000th outlet in Eton City in Santa Rosa, Laguna. The new Shell petrol station is complete with Select Deli2Go store offering fresh and tasty ready-to-eat meals, quick snacks and coffee.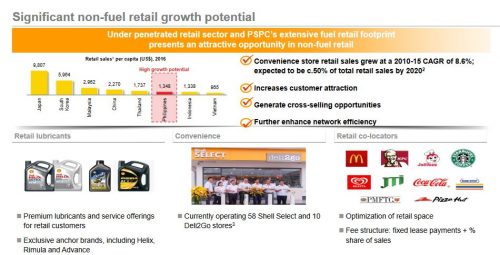 Non-fuel retail offers strong growth potential for Shell and other petrol station operators in the Philippines as the penetration is low compared with neighbouring countries like Thailand and Malaysia.

Shell had 19 Deli2Go outlets at the end of 2016 and 46 Shell Select, a 24-hour non-fuel retail concept introduced in 1993. The Deli2Go concept was introduced in Visayas with Deli2Go outlets opened in Cebu in 2016.
The fuel retailer is aggressively opening more convenience stores to grow non-fuel income. During the first quarter of 2017, 16 Shell Select and six Deli2Go as well as 17 Shell Helix Oil Change+ stores were opened across the Philippines.
7-Eleven surpassed 1,000th in 2013
7-Eleven is the other retail chain that has surpassed the 1,000th store mark in the Philippines.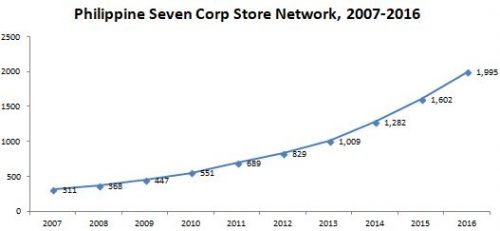 What Mini Me thinks
The examples of Shell, Jollibee and Potato Corner show the immense opportunities in the Philippines for retailers with the right business model.
*1st and 2nd image from Potato Corner, 3rd image from Pilipinas Shell Petroleum Corporation 2016 presentation and 4th image from Pilipinas Shell Petroleum Corporation 2016 annual report.