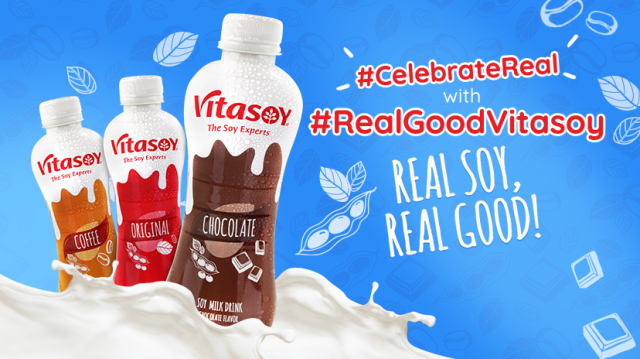 Finally, the long awaited Vitasoy soy milk from the joint venture between Philippines-based URC and Hong Kong's Vitasoy International Holdings Ltd has been launched in the Philippines.
Chocolate, original and coffee flavours
Vitasoy in the convenient plastic bottle and carton was introduced in the Philippines market in June 2017. The Vitasoy soy milk drink in 330ml plastic bottle features three variants – original, chocolate and coffee.
The choice of plastic bottle not only differentiates Vitasoy from market leader Vitamilk (glass bottle and carton) but also makes the soy milk more portable and convenient for consumers.
With real oat
The 1L carton is available as Vitasoy Plus (original and oat) and Vitasoy (chocolate). The Vitasoy Plus oat flavour is added with real oat, making it an innovation in the soy milk category.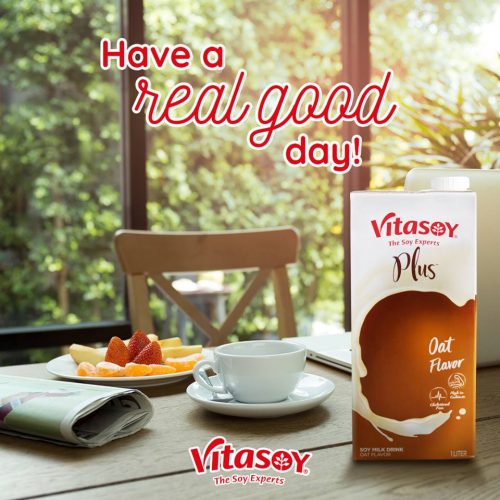 Vitamilk goes for RGB
Vitamilk from Thailand's Green Spot has the biggest share of the soy milk drink market in the Philippines with close to 90% market share based on Nielsen Retail Audit as of full-year 2016. AB Brewery, the beverage arm of LT Group, owns the local distribution and production rights to Vitamilk in the country. Vitamilk was first launched in the Philippines in 2011.

In April 2017, AB Brewery added the 200ml new returnable glass bottle (RGB) to make Vitamilk affordable in the traditional channel, which comprises mainly sari-sari stores. Each bottle has a suggested retail price of PHP 15 (USD 0.30) for the content only, while the much bigger 300ml format sells in the convenience store and supermarket for a suggested retail price of PHP 23.50.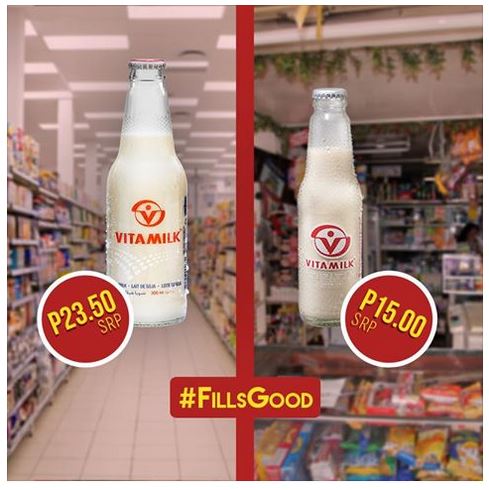 Even as soft drink companies in the Philippines are moving away from RGB in favour of non-returnable packaging, for a new category like soy milk drink, it does make sense to aim at consumers from a lower socioeconomic background to increase penetration and usage.
Apart from the 200ml RGB and the 300ml glass bottle, the Vitamilk range is available in 250ml and 1L carton.
Image below from Robinsons Supermarket on Honestbee.ph.

Also available is Vitamilk Thai Tea.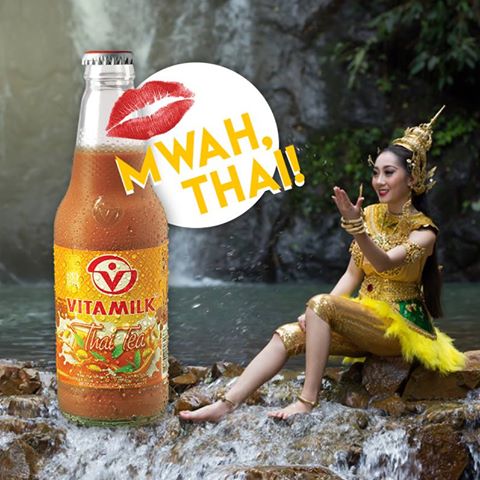 New Vitamilk plant opens
AB Brewery officially opened its new production plant for Vitamilk in May 2017. The factory, operating under AB Nutribev, is located in Santa Rosa City, Laguna. The manufacturing facility in Laguna is also the first overseas factory for Vitamilk outside of Thailand.
What Mini Me thinks
The packaged soy milk drink category in the Philippines is still relatively small and has further room to grow. The entry of Vitasoy, backed by URC, is set to provide a strong contender to Vitamilk, backed by AB Brewery. Both local partners have strong distribution channel and will help grow soy milk drink penetration even further.