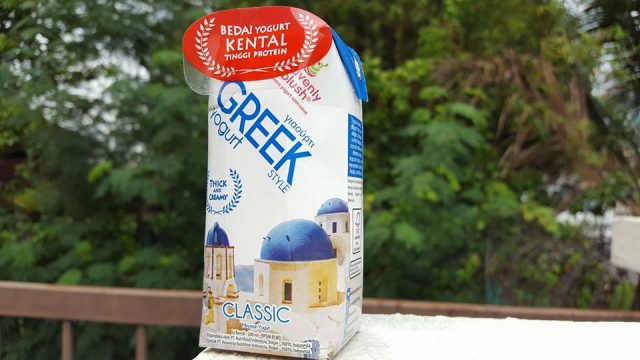 PT Nutrifood Indonesia has unveiled its latest Heavenly Blush Drinkable Greek Yoghurt (yogurt) in June 2017. The ambient Greek yoghurt drink is best served chilled and has a shelf life of six months. The texture is thicker and is high in protein.
Expansion of Greek yoghurt into drinkable
The new Greek yoghurt drink marks the expansion of the Heavenly Blush Greek Yoghurt range from spoonable to drinkable. The product also ties in well with Indonesian consumers who prefer to consume yoghurt in drinkable format. As an ambient yoghurt, it can be sold without being refrigerated, thus making it more accessible to consumers taking into account the country's poor chilled infrastructure.
Targeting 25-35-year-old female and male
The key targets for the Heavenly Blush Greek Yoghurt drink are females and males aged between 25 and 35, said Amelia Anggreini, Heavenly Blush product manager. The Greek yoghurt drink is high in protein with 7g of protein per pack. The high protein and amino acid in the 200ml drink can keep you full longer and it is also a healthier choice for consumers, said Amelia. She added the drinkable Greek yoghurt is also suitable for men undergoing a fitness regime as the drink offers a high amount of protein to help achieve their fitness goals.
Heavenly Blush Greek Yoghut drink is the first yoghurt drink to be packed in Tetra Prisma aseptic packaging in Southeast Asia, making it portable to be carried around and consumed anytime and anywhere.
Focusing on distribution
Nutrifood is currently focusing on distribution before launching below-the-line (BTL) and above-the-line (ATL) activation, said Amelia.
The key channels for Heavenly Blush Greek yoghurt are supermarkets, online, delivery and special channels such as gym, cafe and canteen.
Heavenly Blush Greek Yoghurt Drink (200ml) is selling for IDR 11,900 (USD 0.90) at Indomaret, which is slightly more expensive than the Heavenly Blush Yoghurt Drink (200ml) priced at IDR 9,400 to take into account the Greek yoghurt premium positioning.