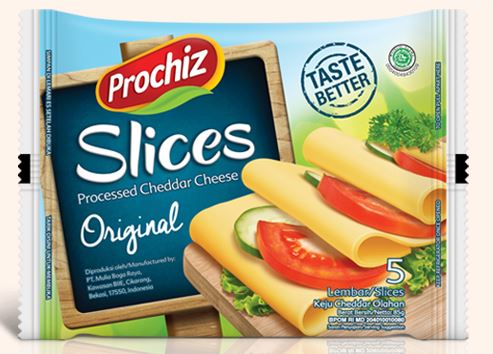 Prochiz, the highly successful cheese brand from Indonesia's PT Mulia Boga Raya, has refreshed its packaging and logo design. Prochiz now looks modern and fresher with a stronger aesthetic appeal. The packaging comes with the "taste better" claim, which has always been on the packaging but is now more prominent. The previous packaging has not been changed for six to seven years.

Here are the ingredients of Prochiz Slices Original:
Water, Cheddar Cheese, Vegetable Oil, Thickener Acid Treated Starch, Emulsifiers (Sodium Citrate, Disodium Phosphate, Sodium Heksamethaphosphate), Salt, Acidity Regulator Lactic Acid, Natural Cheese Flavour, Preservatives (Potassium Sorbate, Nisin), Coloring Annatto Cl 75120.
New packaging (right) old packaging (left). "Langsung Hap" means it can be eaten as a snack. Image above was taken by the author
New Prochiz TVC
The new Prochiz TV commercial focuses on the relationship between the mother and the child. The TVC strengthens the concept of using cheese as a breakfast ingredient. It also demonstrates how slice cheese can be eaten while on-the-go as seen in the child eating slice cheese while commuting to school. The key message is "selalu ada rasa dan cinta," which is translated as "always with taste and love."
Competitive landscape
In the sliced segment, Prochiz competes against Kraft, Megmilk (PT Megmilk Snow Brand Indonesia) and Australia's Bega.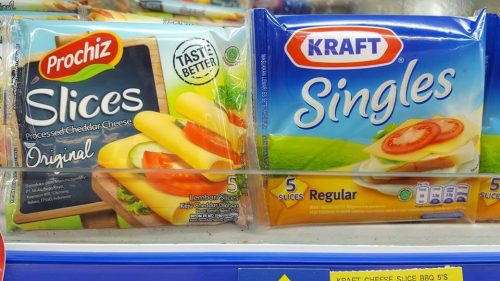 Prochiz new packaging makes it looks fresher than Kraft. Image above was captured by the author
The "taste better" preposition plus the low price point are some of the key success ingredients for Prochiz. The Prochiz 10 slices is only two-thirds of the price of Kraft 10 slices. However, Kraft is still the market leader as the Kraft brand is synonymous with cheese since it has been in the market for a long time. In contrast, Prochiz as a company was only established in 2009.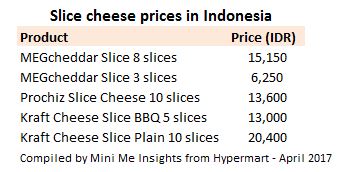 Prochiz Vaganza
Prochiz will have a major event on 7-9 April 2017 to celebrate the launch of Prochiz with the new look. The event will be held at Central Park Mall in West Jakarta with the theme "Save the environment with Prochiz!" Consumers who bring the old packaging with them to the event will be rewarded with gifts.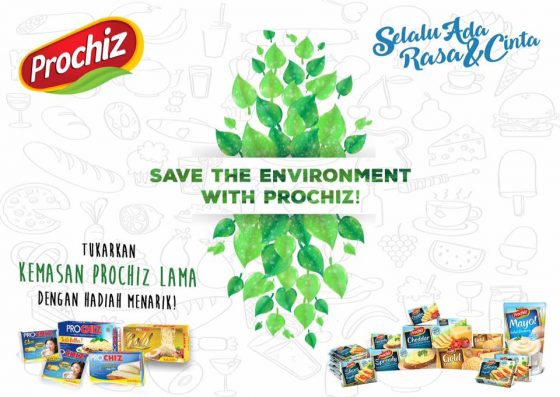 Prochiz goes international with new packaging
Mulia Boga Raya has exported Prochiz to nine countries including the Philippines and Malaysia. The new packaging helps to improve the image of the brand in overseas markets.
What Mini Me thinks
The makeover of Prochiz is timely. This enables Prochiz to compete with Kraft on a new level through price and aesthetic appeal.
What happened to flavoured Prochiz?
We caught up with Arifur Rahman, national sales manager Prochiz at FHI 2017 (Food and Hotel Indonesia). He told us that the flavoured Prochiz slices are no longer in the market because of issue with one of the ingredient suppliers.