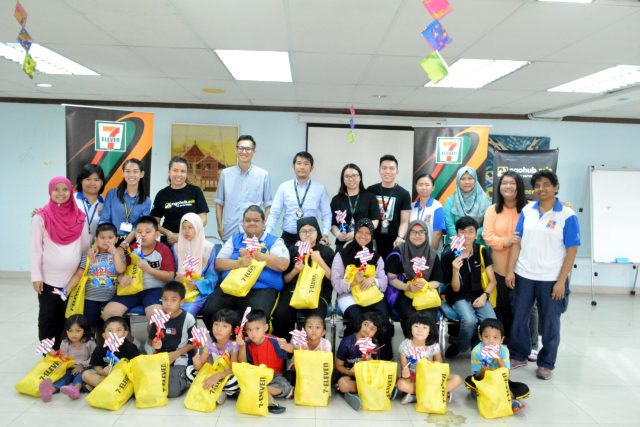 Puchong – 7-Eleven Malaysia and NGO Hub Asia has recently initiated an arts and craft activity at Malaysian Federation of the Deaf (MFD) to nurture inner creativity and instill the spirit of unity amongst the community there, which mostly consists of children.
Located at Menara KLH, Bandar Puchong Jaya, the Malaysian Federation of the Deaf began operating in 1997 and supports the deaf community by offering educational and living skills programs such as reading, writing, and basic calculation that would enable them to be more independent on their own. The organization also provides Malaysian Sign Language classes and interpreters for hire.
"Even though we have translators to facilitate the programs that we have, they are often needed elsewhere to assist clients. We require more interpreters to expand our services further and provide a wider range of courses that would benefit the community greatly," said Eamienor Zakiah Bt Mohd Zuki, Executive Secretary of Malaysian Federation of the Deaf.
She added, "With approximately 47,000 deaf people across the nation, we want to help improve the lives of the community. We hope that raising public awareness of our cause would encourage the society to learn sign language and extend their efforts in aiding the community as well."
7-Eleven Malaysia distributed goodie bags to the community, which contained a variety of delectable treats such as sweets, milk, bread, and 7-Eleven's in-house brand products. They include stationeries and materials that were used to construct a Malaysian flag-themed pinwheel fan during the arts and craft session.
Upon receiving their goodie bags, participants got hands on in the arts and craft session which was conducted by a 7-Eleven representative. Volunteers from 7-Eleven, NGO Hub Asia, and interpreters from the organization also guided participants when they required help with the craft project. Participants were delighted once their pinwheel fans were completed, and eagerly gave them a spin. As communication is important for the community, the activity would help build their confidence and ability to interact with others. Concurrently, it would enhance their creative skills and encourage them to develop further interest in creative-based projects.
7-Eleven Malaysia also conducted a simple Q&A about Malaysia to educate the community and expand their knowledge about the importance of patriotism and unity. Special prizes were then awarded to participants who answered correctly.
Mr. Ronan Lee, 7-Eleven Malaysia General Manager of Marketing said, "It is truly a pleasure to be able to bring joy to the community in conjunction with the National Day celebration. Seeing their radiant smiles is rewarding, and we are elated to know that they've enjoyed the activity immensely. We hope that this initiative would help foster creativity and cultivate the spirit of unity as embedding positive values in our current generation would lead us to a bright future.
He further commented, "We believe in enriching the lives of those who need us, and knowing that the positive change we make for the community encourages us to continue our efforts of being Always There For You."