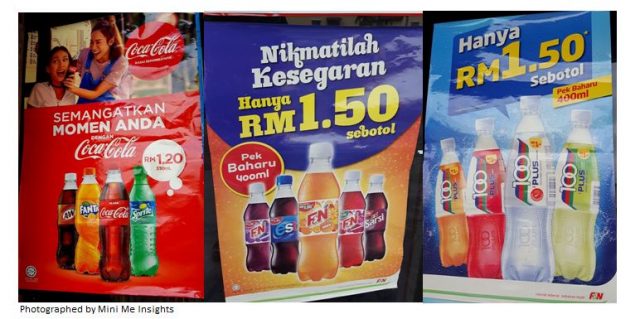 In Malaysia, F&N has officially dropped the bombshell by foraying into the 400ml packaging for it carbonated soft drinks (including Est Cola) and 100Plus. Each PET bottle has a suggested retail price of RM 1.50 (USD 0.35).
Coca-Cola vs PepsiCo in 2016
To recap, The Coca-Cola Company first introduced the 390ml (RM 1.00) pack in 2015 and this affordable beverage lineup was sold in the market until the middle of 2017.
Around August 2017, the Coca-Cola Company hiked the price of its affordable range by offering more packaging choices – 330ml (RM 1.20) and 425ml (RM 1.50) in addition to 1,250ml but dropped the 390ml (RM 1.00) option. Aquarius isotonic drink has never been included in the 390ml or the 330ml and 425ml affordable packs.
A year later in May 2016, PepsiCo participated in the price war by announcing the introduction of 390ml Pepsi and Revive, each priced at RM 1.00. However, entering into 2017, PepsiCo quietly discontinued the 390ml range, which left The Coca-Cola Company as the only carbonated soft drinks maker with the affordable range until F&N announced the 400ml variant.
F&N joins the battle in 2017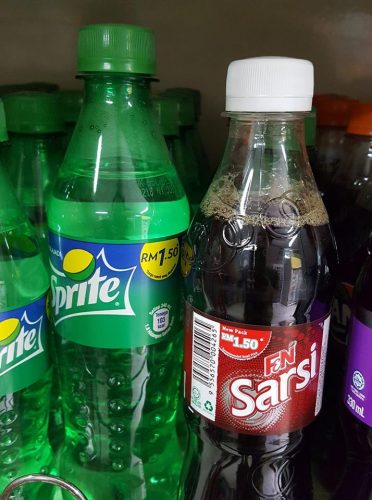 During the Coca-Cola/Pepsi price war in 2016, F&N opted to stay clear from the price competition. But in October 2017, F&N, the category leader in sports drink and the leader in flavoured carbonated soft drinks, took the advantage of Coca-Cola's price revision by introducing its own version of 400ml PET bottle.
So far, the 400ml PET bottle was spotted in selected food service premises and sundry shops but not in 99Speedmart, which was the epicenter of the previous price war.
What Mini Me thinks
F&N enters the price war at the opportune time as The Coca-Cola Company, the market leader in carbonated soft drinks, has set the price at a higher level to protect profitability. A 425ml Coca-Cola is now priced at RM 1.50, compared with RM 1.00 for 390ml previously. F&N's Est Cola has a smaller volume at 400ml and matches the price of The Coca-Cola Company's 425ml at RM 1.50.

As demand for soft drinks slows down, it has become important for market players to think of new ways to stimulate market growth through creative campaigns or innovating on the pack sizes/prices.