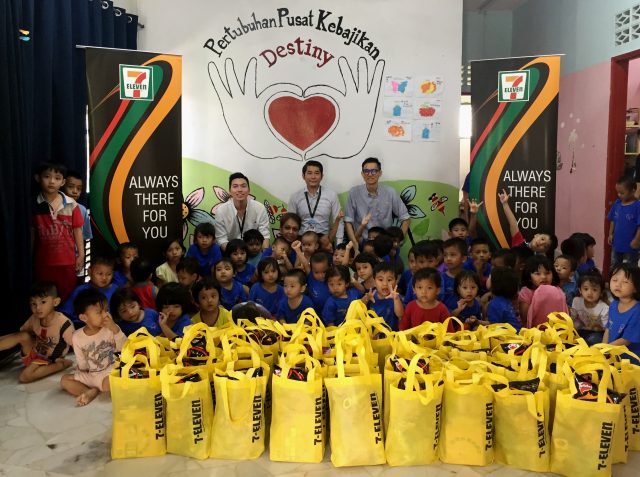 Klang, 25 October 2017 – 7-Eleven Malaysia conducted its latest CSR project with NGOHub Asia by spreading joy to the children at Pertubuhan Pusat Kebajikan Destiny.
Located in Klang, Selangor, Pertubuhan Pusat Kebajikan Destiny (Destiny Welfare Centre) fully began its operations in December 2016 by Ms. Irene J Dawson, who is dedicated in helping the underprivileged community live meaningful lives. The organization provides services such as day-care and education for children from refugee and low-income urban families; educate parents on effective parenting, and empower women to secure employment by learning new skills.
"As we also have plans of expanding, it would aid us significantly to have more teachers on-board to help facilitate classes for the children. We currently have 67 children with us. With support, we can focus on raising funds for renting more cabins and open up more opportunities such as sewing, computer and English classes for the underprivileged," said Ms. Irene J Dawson.
"In everything that we do, I believe that people can go further if we provide them with the right encouragement and motivation.  All they need is the support," she added.
During the event, 7-Eleven and NGOHub Asia split into groups to guide the children with their lessons on the alphabet and basic mathematics; as well as a game of 'Musical Chairs' with the younger ones. Volunteers also assisted the resident cook to prepare and serve meals for the children.
To brighten up the children's day, 7-Eleven distributed goodie bags containing various snacks such as cookies, bread, milk, stationaries, and toys to be brought home.
7-Eleven Malaysia General Manager of Marketing, Mr. Ronan Lee commented, "We are delighted to have fulfilled our part here for the community.  We've also given the children a special bag of treats that they can look forward to when they go home, as one act of kindness that we can do to spread positivity to these children can help them lead happier lives in spite of their circumstances. Knowing the positive impact we make encourages us to continue our endeavours of being Always There For You."