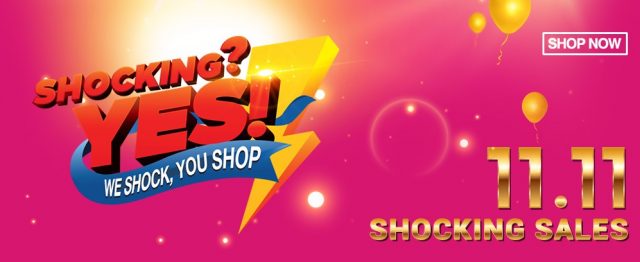 Have you been prepping up for the largest e-commerce sale of 2017? As the clock ticks, Malaysian shoppers are bracing themselves for a full swing of the largest 11.11 sales worldwide! 11street, the No.2 online marketplace in Malaysia, welcomes the Singles Day with Shocking Sales tomorrow. With that said, here are some of the deals you should look out for:
RM1 and RM11 deals
To celebrate the biggest online sale, 11street will be having up to 3 sessions of flash deals at 11am, 3pm, and 7pm. Each session will feature up to 50 products with deals as low as RM11! Also, at only RM1, shoppers may find deals for skincare products such as facial masks, and accessories like earrings and bracelets. RM 11 deals include a variety of products from most categories such as health and beauty, groceries, electronic, kids and baby, and one of their best-selling products, e-vouchers. Participating brands include Kinohimitsu, L'Oreal, Nescafe, Toshiba, Aukey, MamyPoko and Sunway Pyramid ice-rink. On top of the promotion, shoppers also get to enjoy free shipping for their entire cart purchase in these sessions. So, what are you waiting for? Visit www.11street.my to find out more about the deals now!
About 11street (www.11street.my)
11street is a trustworthy and convenient online marketplace that offers a great variety of products at competitive prices. It strives to revolutionise today's consumers' online shopping experience by making it more personalised and engaging. 11street has a diverse selection of product categories which are tagged on Fashion, Electronics, Groceries, Health & Beauty, Kids & Baby, Leisure & Sports, Home & Living, and Books & Services including deal offerings like E-vouchers. 11street is also an optimised marketplace where its merchandising ecosystem, education and training programs can fully support sellers regardless of the size of their businesses. Established in Korea since 2008, 11street is now one of the top global e-commerce marketplace providers with 400,000 sellers serving over 30 million consumers worldwide. 11street also has a presence in Turkey and Thailand, known as n11 and 11street respectively. For more information, please visit http://www.11street.my.