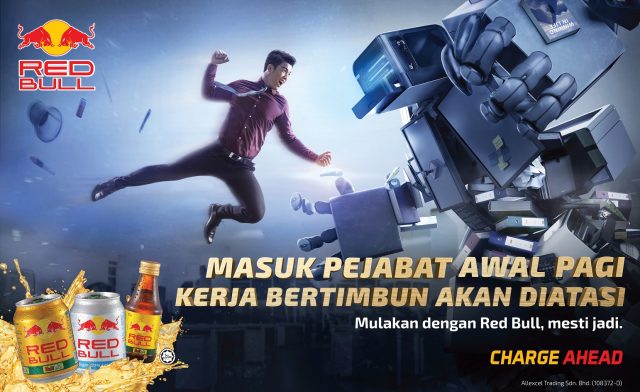 New campaign redefines consumption manner of energy drink, and ropes in top Malaysian YouTuber to set the tone to a productive start of day
KUALA LUMPUR, 15 December 2017 – Red Bull, an energy drink often associated with dynamism and ardour, introduced its 'Start Right, Charge Ahead' campaign and announced a corresponding consumer contest, with cash prizes of up to RM250,000 for grabs. Through the campaign, Red Bull hopes to redefine the consumption method of its history-rich energy drink; at the same time, empower consumers to realise their full potential for any task they undertake.
Jate Samathivathanachai, Director of Strategy at Allexcel Trading Sdn. Bhd. said: "When Red Bull began in Thailand in 1975, the brand's motivation was to create a beverage for those who worked long hours to help revitalise their bodies and mind. Over the years, we've continued to drive Red Bull as the energy drink of choice for those who need a burst of energy for both work and play. With 2018 dawning, we wanted to elucidate that while Red Bull can be/is consumed for energy replenishment, consumption can also and should occur pre-activity. What better way to communicate this point than through our new campaign – 'Start Right, Charge Ahead'!"
Get Set, Ready, and Go with Pre-Activity Fuel
Red Bull endeavours to redefine the most effective consumption manner of its energy drink through the campaign, which is based on the premise that if one starts each activity right, one would find the mental and physical energy to face challenges that may come one's way and successfully overcome them. Red Bull's synergy of  11 ingredients results in the brand leading the way in its sector.
"Our high quality ingredients are the very elements that provide fuel to the drinker. Oftentimes, consumers see us as the beverage of choice when they need energy to plough through the day, but little do they know that Red Bull should, in fact, be consumed before the start of any activity – be it work, sports, studying or driving – so they start the day with the right fuel to perform optimally at any task," Samathivathanachai explained.
Top Malaysia YouTuber Shows Consumers How to Generate Pre-Activity Fuel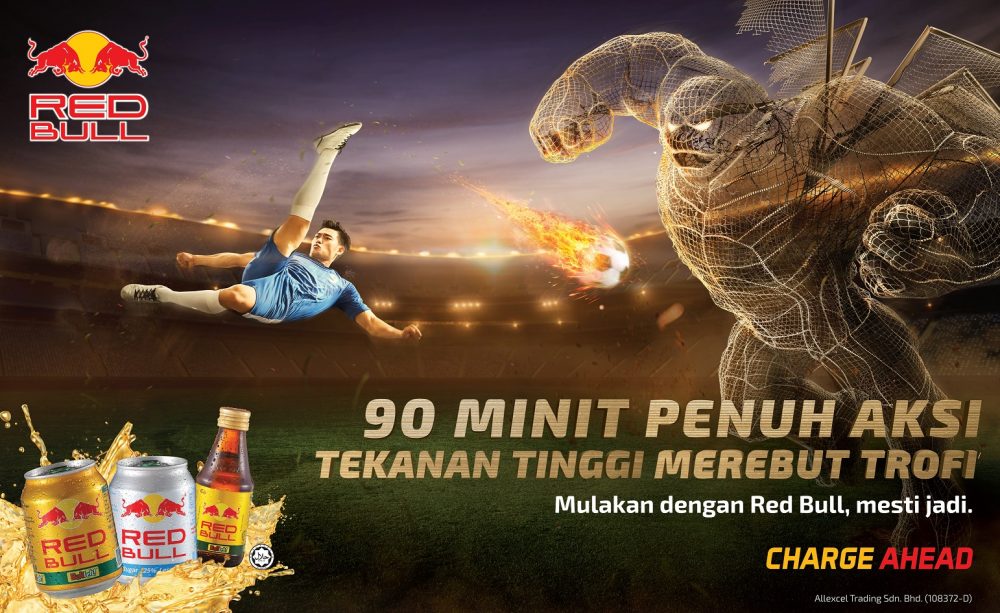 An average person's day-to-day life encompasses work, sports, studies and driving, among other activities. While these activities are routine in nature, they require a sustained level of concentration and can drain one mentally and physically.
As such, consuming Red Bull prior to one's numerous activities will set a productive starting point for that occassion. The leading energy beverage brand recently collaborated with Kyopropaganda, one of Malaysia's top YouTubers, to exemplify the most effective way to consume Red Bull. Watch the hilarious video here: Instagram (https://www.instagram.com/p/Bcrw7N9livb/) and Facebook  (https://goo.gl/QF8WYY)
'Start Right, Charge Ahead' to Win RM250,000
In conjunction with its 'Start Right, Charge Ahead' campaign, Red Bull announced a nationwide consumer contest, with total cash prizes of up to RM250,000 to be won. To participate, consumers only need to buy two Red Bull products; keep the original receipt and the pull tabs; and answer 'true' or 'false' to a question on the entry form. They will then need to submit their entries through one of four available channels: hardcopy contest form; SMS; WhatsApp; or the Red Bull Contest Website.
The contest will reward 900 weekly winners with RM200 each; two second prize winners with a cash prize of RM5,000 per person; one first prize winner who will receive RM10,000; and a grand prize winner who will take home RM50,000. The final submission date for the contest is Sunday, 31 December 2017.
Red Bull is available at all major convenience stores, petrol marts, independent  grocers, supermarkets and hypermarkets at a recommended retail price of RM 3.10 for the original and 25% less sugar canned variants and RM 1.80 for the bottled variant.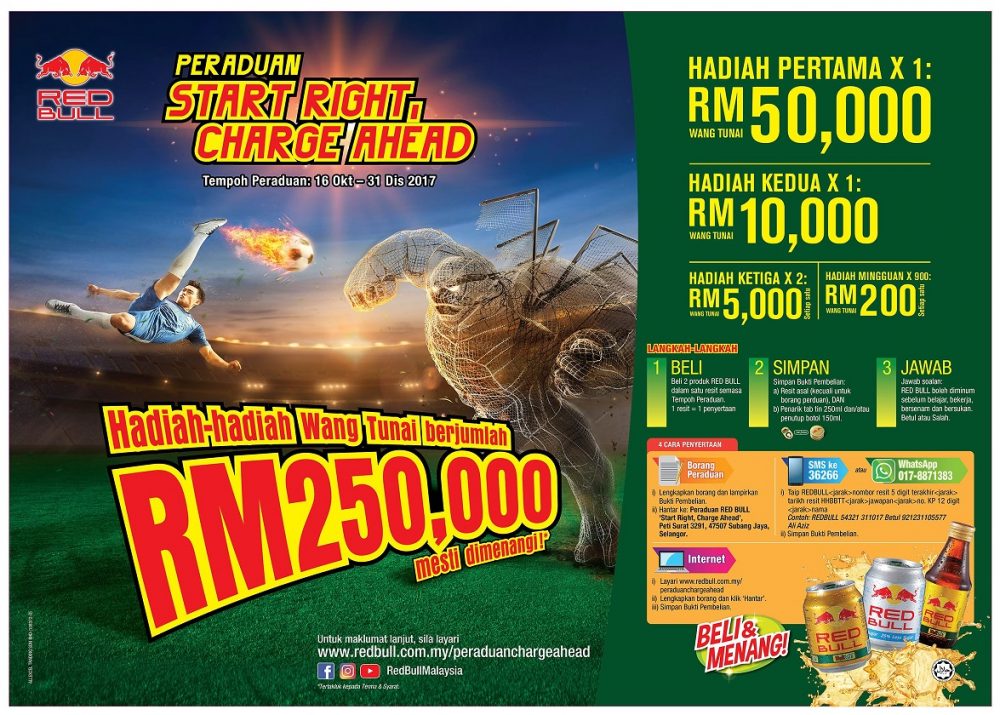 For more information about the 'Start Right, Charge Ahead' contest, please visit www.redbull.com.my/peraduanchargeahead. To find out more about Red Bull, please visit www.redbull.com.my or www.facebook.com/RedBullMalaysia.
About Allexcel Trading Sdn. Bhd.
Allexcel Trading Sdn. Bhd. ("Allexcel") is the brand representative and exclusive agent for Red Bull® Energy Drink and Warrior® Sparkling Lifestyle Drink in Malaysia. Allexcel launched Red Bull® in Malaysia in 1993 and the brand is currently the No. 1 energy drink in the country. Red Bull has proven to its consumers its product performance in maintaining alertness, endurance and enhancing performance – stimulating both mind and body. For more information, please visit www.redbull.com.my